Our Guide: Wet 'n' Wild Hawai'i
Our 8 tips to splashing, diving and sliding at Hawai'i's waterpark.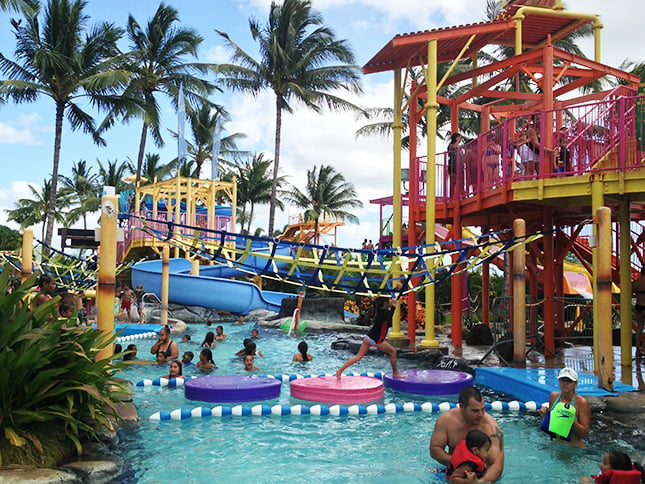 Photo: Lavonne Leong
Where: Wet 'n' Wild Hawai'i.
Who: Two families with five kids, ages ranging from 3 to 10 years.
When:A holiday weekend afternoon, just after lunch.
Perched on a hill on O'ahu's sunny west side, Wet'n'Wild Hawai'i offers a wonderland of water play: two splash-filled playgrounds for children, a lazy river, a teen hangout "spa" area for those too cool for both little kids and grownups, a wave pool, and a host of H2O-centric rides that range from the mild to the heart-stopping.
It's a barrel of fun, but it's not cheap. Day passes range from $37.99 to $49.99, according to height and age, so it makes sense to get a Season Pass for just about five dollars more. Or, take advantage of the park's "Buy a day, get the rest of the year free" promotions. If you visit the park just twice in a year, it's worth it. I'm guessing most of the park's users do, too; many people seemed to have their Wet 'n' Wild routine down pat.
"When we come next time (and the kids have already hatched a plan to return), here's our routine."
Our Tips:
1. Get there early, and plan to stay till the end. On most days, Wet 'n' Wild opens at 10:30 a.m. and closes between 3:30 (winter) and 5 p.m. (summer). Keep in mind, several of the attractions—including the infinite surfing wave called the Flowrider, and the lazy river—close at 3 p.m., no matter when the park officially closes. After three, the crowds thin out: this is a great time to ride the ones that usually have long, slow-moving lines, like the popular Raging River. During the summer, take advantage of the Twilight events when the park stays open until 9 p.m. On some of those evenings, you can even see a free family movie by the wave pool.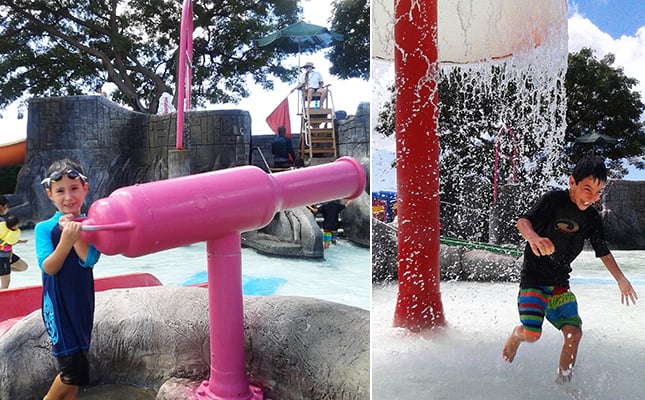 Photo: Fiona Hayashi
2. Do an early recon. There really is something for just about everyone, but each attraction has a different appeal. Kids may have to try several before they hit on their favorites. For the prime 7-to-11 age bracket, I recommend warming up at Water World (the older kids' playground) and progressing to the more "extreme" attractions. For large, varied groups, try the Raging River, a long, swirling slide on the milder side, whose rafts hold up to six people. And don't forget about the Wave Pool. It's like a day at the beach without the sand (or the sand cleanup afterwards).
3. Bring your stuff. Towels, sunscreen, a book, your phone. Just bring it all and then surrender to the fact that if you're with kids, someone's going to sit with it. Lockers sound like a great idea until you get there and realize that with a family, someone's always going to want something as soon as the locker is closed.
4. Bring extra adults. We thought we might be bringing too many grownups, but we were thankful that there was always somebody available to watch the stuff (who, being a parent, was also grateful to have a moment to check their phone in peace). Having plenty of grownups meant that nobody was stuck in "time out" too long, and everyone, even the parents, had plenty of time in the water.
5. Set up a home base. When we visited—on a holiday weekend Sunday—there were still lots of shaded seats with tables. Most families set up camp, and the grownups hung out with each other while the older kids had fun.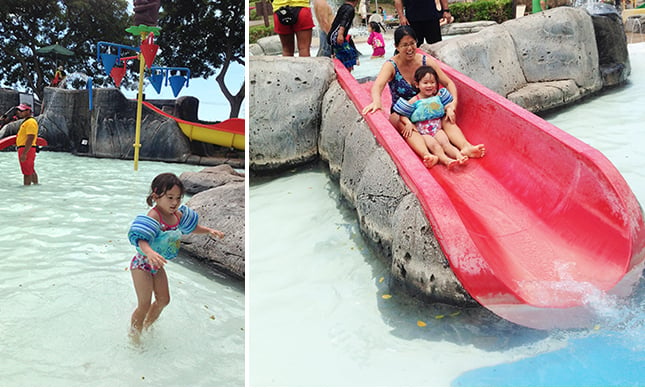 Photo: Lavonne Leong
6. Think carefully before bringing a small child. Remember that taking a kid who can't swim or roam by themselves yet means that an adult needs to be with them at all times (see Tip 4). For us, 8- or 9-years turned out to be a great age; they were water-safe, tall enough to ride almost all of the rides, and independent enough that they could have fun on their own and circle back for feeding and watering.
7. Allow extra time for littles. Little kids will have fun if you go slow. The Keiki Kove is a water playground designed for the under-five set where the water's knee-deep, and the adventures gentle: a barely canted mini-slide that couldn't have been more than ten feet long, for example, and a giant red-capped mushroom that sprinkled water from its gills. Our 3-year-old needed more than an hour to get up the courage to launch herself into the crowd at the Kove, but once she did, she didn't look back. Note: Life jackets are available for a $20 refundable deposit, and are mandatory under a certain height. We brought ours from home and saw that other families had done the same.
8. Set a budget, and consider a Gold Pass. Tips 1 through 7 will help you have a good time. Tip 8 will enable you to afford to come back. Wet 'n' Wild has amusement park prices, which means that a hot dog and fries cost $9.25, bottled water is $3.49, and lockers cost $15-$19. Even parking the car will set you back $8.00. Whew. A season's Gold Pass costs $64.99 (watch for specials that bump it lower), and includes free parking, priority entry and bring-a-friend-for-free days. Check the website for other special offers throughout the year.
Overall pros: There really was something for everyone—and who doesn't have fun at a water park? There was lots of parking, shade, restroom stalls and showers, and watchful staff.
Overall cons: The prices. The short-ish hours. The broken hook in the wet-floored changing room, which meant that there was nowhere to hang our bags. At peak times, the lines were long, which translated into a 30-minute wait for some attractions (see: short hours).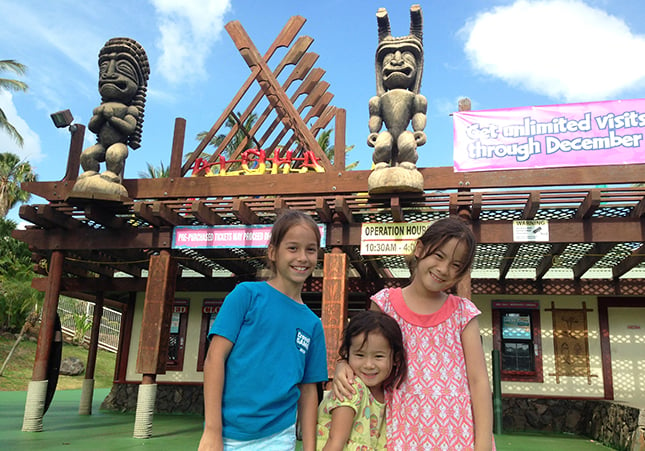 Wet 'n' Wild Hawai'i
400 Farrington Highway, Kapolei, 96707
(808) 674-9283
Hours: Vary seasonally – see website for complete schedules.
Prices: $49.99 for general admission; $37.99 for kids under 42 inches, seniors 65 years and older and handicapped; kids 2 years and under are free. Kama'āina deals vary throughou the year, see the website for special offers and season pass specials.
Parking is onsite, $8 per car