HONOLULU Family Guide: Waikīkī Aquarium
Our 7 tips to exploring this favorite family educational ocean spot.
Where: Waikīkī Aquarium
Who: Two families with three kids, ages ranging from 3- to 10-years-old.
When: A rainy holiday morning, 10 a.m. to 12:30 p.m.
If you grew up on O'ahu, chances are the Waikīkī Aquarium was a staple of family time and school field trips. Founded in 1904, it's the third oldest aquarium in the United States and is home to more than 3,500 marine creatures in six galleries holding 16 exhibits. It's a great place to take kids to learn about sea life for a few hours, and since it's just minutes away from the Honolulu Zoo and the beach, you can easily turn your trip into a day of family fun in Waikīkī.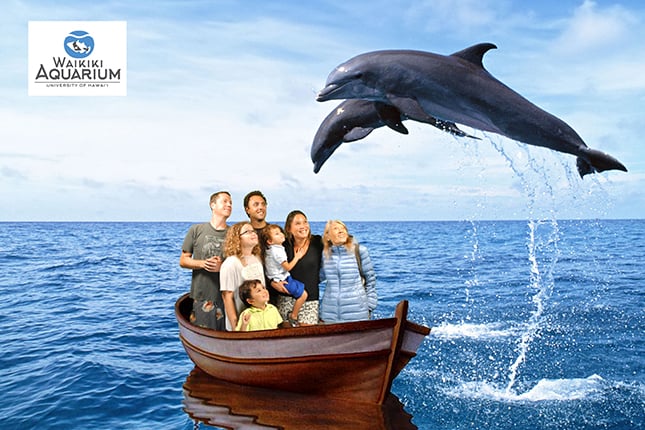 First up is a photo op. A photographer will take a picture of your group in front of marine scenes–think about dolphins jumping over Grandma–which you can buy as a momento. Then you'll walk into the aquarium.
The main indoor portion starts with "Corals are Alive!" This focuses on the colorful coral that may look like rocks or plants, but are actually living animals. They may be beautiful, but since the coral wasn't swimming around, our kids breezed right past this section in search of more mobile creatures.
Next is the South Pacific Marine Communities, a gallery which focuses on habitats and communities in the waters between Japan and Australia. It features a living mangrove forest where fish peek out from seagrasses and plants. But the biggest thrill for the kids were finding "Nemo" (clownfish) and "Dory" (blue tang) in the "Reef Partners" exhibit.
The sharks in the "Reef Predators" section are always a hit and the kids loved seeing the "monster fish" (giant grouper), fish and giant clams in the 5,500-gallon tank of the "Barrier Reef". The adults loved watching the grace and beauty of jellyfish in the "Ocean Drifter's Gallery," kids can learn how a primitive mollusk called the Chambered Nautilus and the Hawaiian Day Octopus travel for miles in the "Jet Setters" section, "and don't miss the Aquarium's newest exhibit, "Amazing Adaptations" with its sea horses, unusual sea dragons and pipe fish. The last gallery inside is focused on conservation. It's less colorful but also less crowded and has good information for older children and parents.
Outside, you will find the "Edge of the Reef" exhibit focused on creatures you would see while snorkeling around O'ahu. This is also where kids can touch tide pool inhabitants. Also outside is the pool with two male Hawaiian Monk Seals that were rescued as pups, a section on aquaculture –which also has a long table where kids stop to color a fish mural–and a big grassy lawn where kids can burn off steam and stop for a picnic lunch.
Our Tips
1. Watch the weather.
We visited on a rainy day so the reef touching exhibit was closed. Bad weather also means you'll probably not want to hang out on the grassy lawn and it seemed to make the indoor exhibits even more crowded as people packed inside. On the plus side, the overcast skies may have made the Hawaiian Monk Seals more active. We were told they usually just bask in the sun in the afternoon, but they were swimming around like crazy during our visit.
2. Take a break at the "Barrier Reef".
This is one of the few places inside the aquarium with benches, so you can sit and watch the fish swim by in the big 5,500-gallon tank. It's like watching a big screen television. The glass stretches from the floor to ceiling so even smaller kids can go right up to the tank, then they can play with the interactive touch screen to identify and learn more about each creature that goes past. Just around the corner, our boys found a display of shark skeletons and jaws that they enjoyed studying.
3. Look for the sea horse nursery.
"Amazing Adaptations" opened in 2014 with not only sea horses, but the only pipe fish and sea dragons on the island. Our friend's 10-year-old daughter said this was her favorite exhibit as she looked at the adorably strange little creatures, including some miniature sea horses that you may have to lift up your little ones to see as the glass is a little higher up. Kids learned that the males carry their eggs. Don't forget to turn around because across the hallway from all the sea horses, pipe fish and sea dragons, behind a porthole-shaped glass is the seahorse nursery tank where you may be able to spot baby sea horses.
4. Pack a picnic.
The aquarium does not sell any food but you are allowed to bring your own sandwiches or bentos. Coolers are not allowed. There are vending machines with drinks.
5. Bring quarters for parking.
Parking is extremely limited with just a few spots in front of this popular attraction. Free street parking is available on Kalākaua Avenue as well as metered parking all around Kapi'olani Park. As with any other parking situation in Waikīkī, the earlier you arrive, the more likely you are to find a space.
6. Stop by the gift shop.
We found a good selection of clothing, jewelry and art as well as toys and educational materials. Most items are affordable, especially by Waikīkī standards. The 10-year-old in our group bought six teeny weeny–the sea horse, puffer fish, hermit crab, penguin, sea turtle could all fit in the palm of her hand–but very detailed plastic animals for 75 cents each. We also found T-shirts, including some handmade designs, for less than $20. For other souvenir ideas, stop by the machines that press designs into pennies or you can purchase the photo taken when you entered the aquarium. The price while we were there was $18.95 for one, $24.95 for two and $34.95 for five images.
7. Check for special events.
The annual Ke Kani O Ke Kai features some of Hawai'i's top entertainers performing live on the lawn through the summer, with time to explore the aquarium before the concert. Family Fun Night in August offers special kids activities. A few fairs throughout the year also come with free admission to the aquarium. Check waikikiaquarium.org/interact for information on those as well as children's reef programs and more.
Waikiki Aquarium
2777 Kalākaua Ave., Honolulu, HI 968215
(808) 923-9741
Price: $12 for 13 years and older. $8 kama'āina and active military with ID. $5 for 4 to 12 years. Free for kids 3 years and younger.
Hours: 9 a.m.-4:30 p.m. daily. Closed Christmas the day of the Honolulu Marathon.