Our Guide: Train Rides on O'ahu
Where you can say "all aboard" for a trip on, or off, the tracks.
Editor's Note: Prices and hours of operation were updated in March 2016.
Just like every other 2- to 4-year-old in the universe, my kids were obsessed with trains. And even though our house was littered with tiny little tank engines and Thomas is on our TV more than I care to admit, somehow it was not enough. They wanted the real deal. Luckily, there's quite a few train rides around Oahu, and the following have been tested and approved by my little train fanatics. Take that, Island of Sodor! All aboard…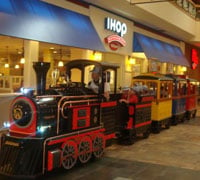 Cubby Caboose at Windward Mall
We're frequent users of this adorable little chugger. It's a quick ride throughout the mall, maybe five to ten minutes or so, usually with a short line and short wait. This one is perfect for toddlers and young kids – they love the whistle and waving to shoppers. For yourself, just try and think of it as an easy way to do some window shopping.
$4 per person, babies under 6 months free.
Operates during mall hours: Monday through Saturday, 10 a.m. to 9 p.m. and Sunday, 10 a.m. to 5 p.m.
Windward Mall, 46-056 Kamehameha Highway, Kāne'ohe.
253-1143, windwardmall.com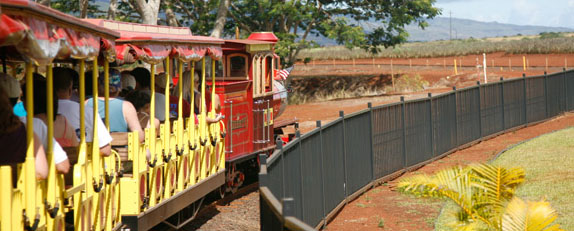 Photo: Courtesy Dole Plantation
Pineapple Express at Dole Plantation
Sure, it's for tourists, but it's a fun family outing every once in a while, and your kids will love it. Be prepared for a line, but it goes faster than it seems. If you have a group, one can wait while the other takes the kids to feed the koi fish or take some pics with the pineapples. This ride is great for all ages, and it clocks in at a perfect time of 20 minutes. You'll chug along through the pineapple fields and learn all you ever needed to know about them. Grab yourself a Dole Whip afterwards and call it a day. (Side note: the icy-cold pineapple wedges they stick in the Dole Whips are great for teething babies and toddlers to gnaw on.) Interested in other attractions while you're there? See Our Guide to Dole Plantation.
Kama'āina rate is $8.50 for adults, $6.50 for children 4 to 12 years, Kids 3 and younger are free. Pineapple Express runs 9:30 a.m. to 5 p.m. daily.
Dole Plantation, 64-1550 Kamehameha Highway.
621-8408, dole-plantation.com

Photo: Courtesy Hawaiian Railway Society
Hawaiian Railway Society
Now this is the real deal. This historical train begins in 'Ewa Beach, then treks down to Kahe Point and back. The ride seems underwhelming at first, with sweeping views of dusty construction areas and the Costco parking lot. But once you get down to the ocean, it is a beautiful view, and we even spotted some turtles and dolphins. The guide points out landmarks and tells historical tales of sugar cane, but your kids will be much more enthralled with the sightings of horses, fire trucks, and waving to drivers at the railroad crossings. The last ride on Sundays, at 3 p.m., are ice cream rides. The pit stop at an ice cream shop in Ko Olina adds about half-an-hour to the entire trip but it is the most popular option for riders.
This one's probably best for older kids. It's a long ride – 90 minutes round-trip – and almost half of the toddlers on board were asleep by the end. Other tips: get there early to use the bathroom—there's only one at the station and you'll wait. You can bring snacks on board. Back at the station, you can walk around and look at the other trains, and there's a small gift shop.
$12 for adults, $8 for children 2 to 12 years, Kids 2 years and younger are free but must sit in an adult's lap.
Trains run every Saturday at 3 p.m. and Sunday at 1 and 3 p.m.
Hawaiian Railway Society, 91-1001 Renton Rd., 'Ewa.
681-5461, hawaiianrailway.com.
And finally, a cop-out if your kids are young enough to fall for it: the monorail between Pearlridge Uptown and Downtown.
That's right. It's not really a train, but the younger set won't notice. Whenever we need to get some shopping done at Pearlridge, we always promise a "ride on the choo choo" although it technically does not, in fact, go choo choo. Anyhow, at just one dollar each way, it's a cheap thrill. Kids love the sky-high view out the window, and you'll get to rest your feet for a few minutes. I also love that you can just roll your stroller right in there. (Tip: make sure it's running before you make any promises to your kids. We learned that the hard way after showing up once and finding it was under construction. D'oh!)
$1 per way.Runs during mall hours: Monday through Saturday, 10 a.m. to 9 p.m. and Sunday 10 a.m. to 6 p.m.Pearlridge Center, 98-1005 Moanalua Road, 'Aiea.488-0981, pearlridgeonline.com.