Our Family Guide: Aloun Farms Pumpkin Festival 2019
14 tips covering what's new, what's free and what you can pick, eat, ride and buy at this year's huge fall event.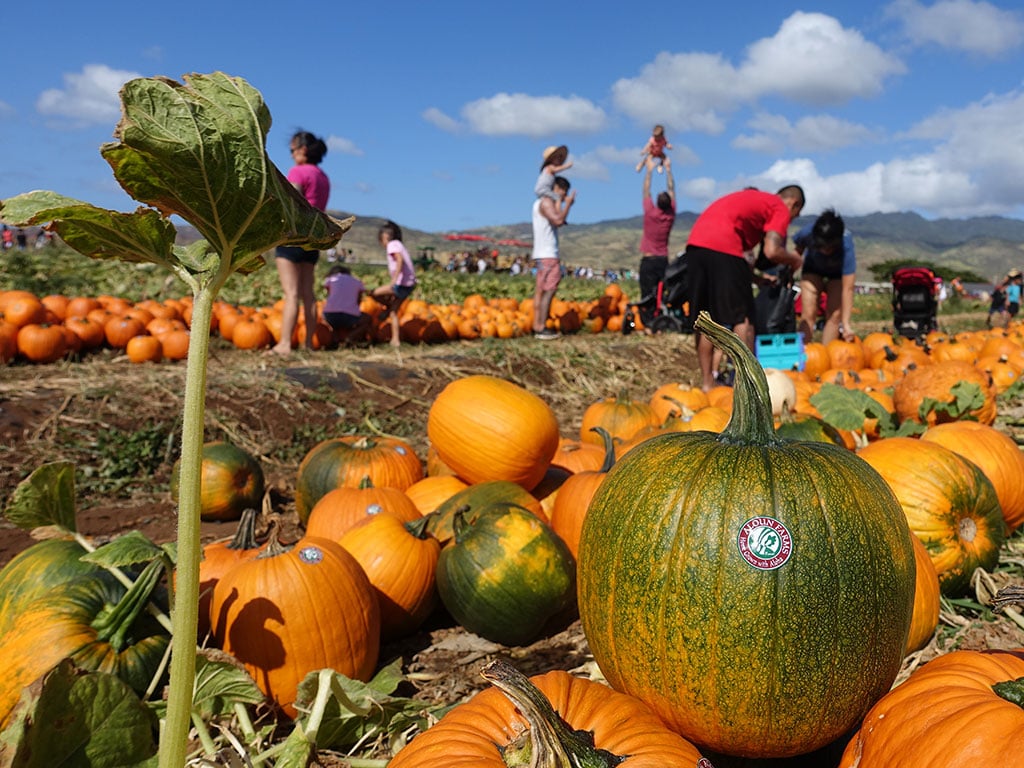 Photo: Courtesy of Aloun Farms
Editor's Note: This story was updated October 2019.
Aloun Farms hosts the biggest Pumpkin Festival on the island. When we say big, we mean BIG. After all, the Kapolei farm produces up to 36,000 pumpkins a year, providing 90 percent of our state's pumpkins. Hop on a hayride through fields and fields of the fall fruit, corn, string beans and sunflowers. Pick your future jack-o'-lantern, bounce through a new free obstacle course and take part in hands-on educational activities in the expanded Keiki Fun Zone. This year, there will also be a new place to learn about growing and a place for Nerf enthusiasts.
Here are our tips on what to bring, eat, buy and ride to get the most out of your visit as well as the list of free admission days for 2019.
---
SEE ALSO: Halloween Events in Hawai'i-2019
---
Our 14 Tips
1. Get there when it opens at 8:30 a.m. This way you can beat the heat and crowds and still get home for nap time. Organizers say that by 10 a.m. there is usually already a line to get in.
2. Pick your weekend wisely. The first and final weekends are usually less crowded. But, don't wait until the last minute or there will be fewer pumpkins to choose from and to snap photos with. Here is a list of the free admission days:
Saturday, Oct. 12: Military Appreciation Day. Free entry to all military card holders.
Saturday, Oct. 19: United Healthcare Community Plan Member Appreciation Day. Free entry and giveaways to members.
Any day, bring in two trash bags of gently-used clothing to donate to the National Kidney Foundation of Hawai'i to receive free admission. You'll also be entered to win free tickets to Wet'n'Wild Hawai'i.
3. Dress for a hot and dusty day. Expect red dirt and almost no shade. So, wear sunscreen, hats or visors, covered shoes, clothes you don't mind getting dirty and bring water. There are four stations where you can buy bottles of water, but last time we went we didn't find a free refill station.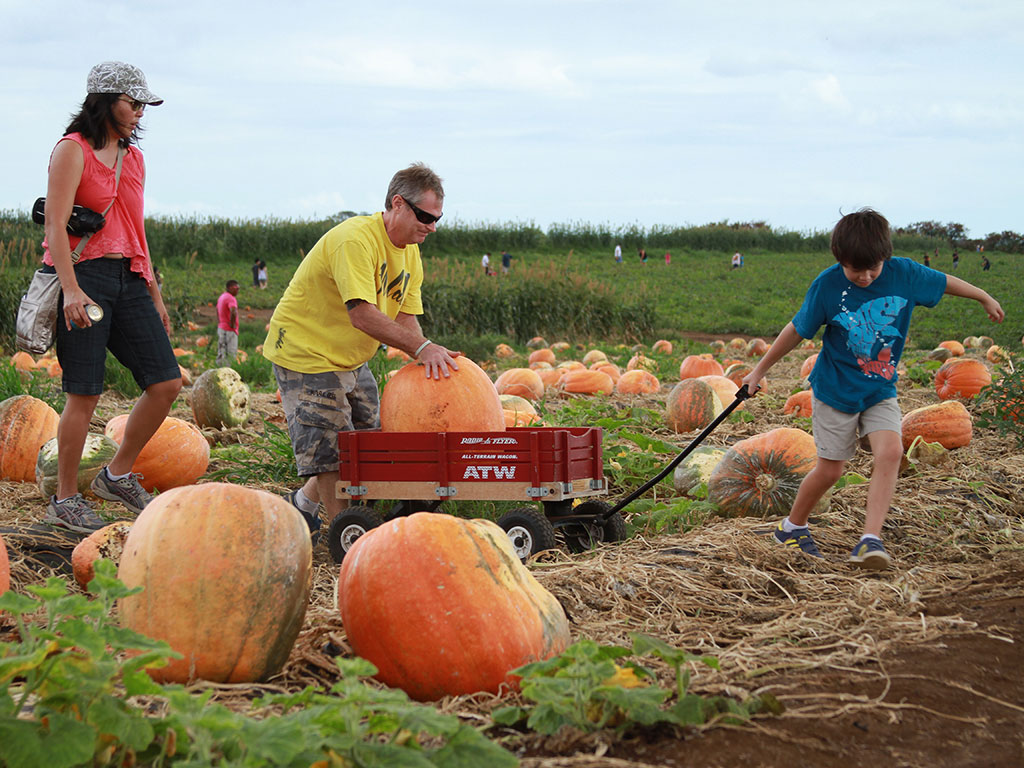 Photo: Courtesy of Aloun Farms
4. Bring a wagon to haul your pumpkins around. It's a long walk from the fields to the parking lot for little legs. A wagon lets you tote both the pumpkins and the kids back to the car. Aloun Farms offers several different varieties ranging from baby gourds (2 for $3) to giant pumpkins that can top out at 60 pounds (up to $35 each). Take your pick, pay for it and stash it in your car before trying out the rest of the activities.
---
SEE ALSO: How to Keep a Carved Pumpkin Fresh
---
5. Pick more than pumpkins. 'Ewa Sweet Corn is a favorite of many visitors. You can also self-pick string beans and sunflowers. See the full list of self-pick prices here.
6. Plan your route around the festival. Organizers say that if your goal is to grab the perfect pumpkin, you should get on the free tractor hayride first to see all the different harvest fields. Otherwise, you can do a loop around the grounds. Starting at the entrance, work your way around the carnival rides and games, see the entertainment on the stage, get on the hayride, do your self-pick harvest, and stop by the 'Ewa Sweet Market by the exit.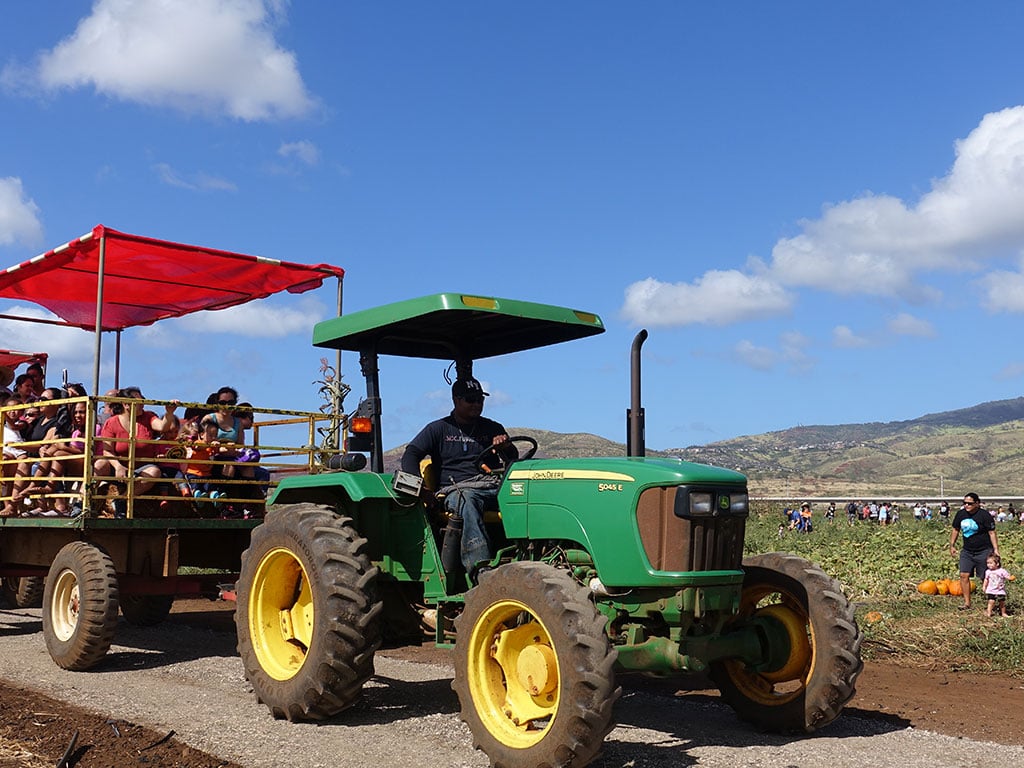 Photo: Courtesy of Aloun Farms
The tractor hayride is a free activity at the annual festival.
7. Find the free keiki activities. The Keiki Fun Zone is under a new 4,000 square-foot Growers Pavilion. It will be open every weekend so kids can learn about local agriculture and business. We have requested a list of the free activities and will update you as soon as we receive it. There will also be games at United Healthcareʻs Makahiki Tent.
8. Reserve Oct. 26 for your little cowboy or cowgirl. In partnership with Dita Holifield there will be free western carnival games, a cornhole tournament to win Aloun Farms corn and country music all day.
9. Bring cash for keiki activities. You know your kids will ask to play, so might as well be prepared. A petting zoo and pony rides by Paniolo Parties are available for an extra fee. Xtreme Fun will have rides and Party Rental Hawai'i brings water and mechanical bull rides. New this year, Pups of War will open a 1,600-square-foot Nerf arena.
10. Bring a canned good. A donation to the Hawai'i Foodbank will earn you a mini pumpkin or gourd.
11. Find your hotspot. The Family First Solar's Growers Pavilion will not only have free wifi, but. almost more importantly on the hot west side, fans. Games will also be streamed live so you won't miss any of your football or baseball action.
12. Take a look at the lines before you promise your keiki a shave ice. There are two shave ice booths but both usually have very long lines. There's a ton of other options with dishes ranging in price from $4 to $18. The full list includes Aloha Scoop, Floʻs Kitchen, Markʻs Specialties, Teddyʻs Bigger Burgers, Malai Thai, El Jalisciense, Crazy Country Corn, Brain Freeze Shave Ice, MM Island Shave Ice and Dragon Cones.
13. Buy locally produced treats and gifts. Head to the 'Ewa Sweet Market for pumpkin, macadamia nut and wildflower honey sold separately or in a mix-n-match gift bag. Also for sale are fresh produce, succulents, butterfly kits, Aloun Farms' tote bags and LED novelties.
14. Know where to go when you gotta go. There is a permanent restroom trailer located behind the mechanical bull ride.
Aloun Farms is open every Saturday and Sunday, Oct. 12 through 27, from 8:30 a.m. to 5 p.m. 91-1440 Farrington Highway, Kapolei. Admission to the Pumpkin Festival is $4 per person. Children 2 years and younger are free. alounfarms.com