Our Guide: Spalding House
6 tips to navigating the gardens, exhibits and even lunch at this family-friendly art museum.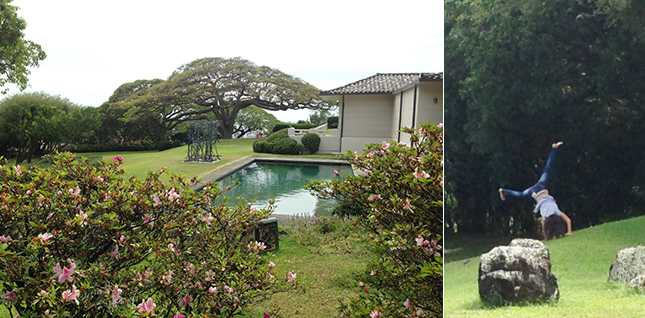 Photo: Lavonne Leong
Editor's Note: In 2019, Spalding House was closed to the public and the historic building went on the market.
If you are interested in visiting other museums, read Our Guides to Family Sunday at the Honolulu Museum of Art, Bishop Museum and 'Iolani Palace.
Where: Spalding House, the former home of Academy of Arts founder Anna Rice Cooke in upper Makiki that is now a museum, featuring galleries and a sculpture-filled garden overlooking Honolulu.
Who: Two families, five kids ranging in age from 3 to 13 years.
When:A Sunday afternoon. Allow for two-and-a-half hours with an exhibit, anywhere from one to two hours without an exhibit.
Kids are the target audience at Spalding House, the satellite campus of the Honolulu Museum of Art, which is our family's favorite place to retreat to on a lazy, no-effort weekend afternoon. Located in the hills above central Honolulu, its gorgeous green gardens and classic Territorial Era architecture contain a museum space whose exhibits showcase art in a curriculum-friendly way.
That translates into lots of hands-on activities for a range of ages, from the air-conditioned, yarn-bombed Family Room to the exhibits themselves, which are for older kids and teens.
The value-add, though, is the museum's grounds, which make families feel like they're drifting around their own private estate. The manicured gardens stretch away out of sight, and the lawns are spacious enough for little legs to get up some serious speed on (and sloped enough for small bodies to roll down). When the kids get hot and sticky, they can retreat to the cool, atmospheric permanent David Hockney exhibition. Often, on weekends, you can help a visiting artist make art at the outdoor gallery.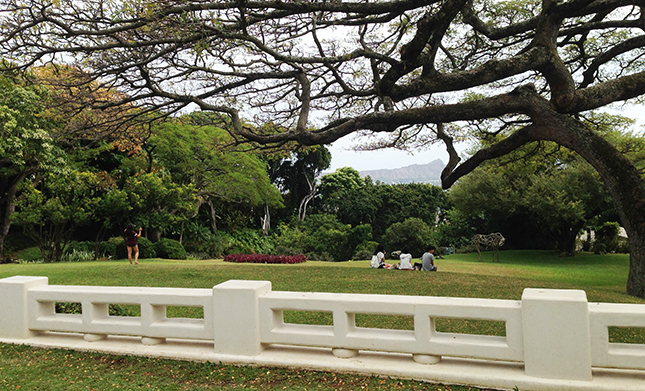 Photo: Lavonne Leong
In practical terms, Spalding House checks all the boxes, too. Parking's on-site, and free. Bathrooms sparkle with cleanliness, and there's never a line. The staff likes kids.
Did I mention that kids are free?
Although there are always children here, the place retains a gloriously tranquil vibe. And for frazzled parents getting through the weekend, that may be the greatest gift of all.
Our 6 Tips
1. Head outside first. There is a lot to see on the three-and-a-half-acre campus. Start in the gardens. As you wander through, you'll find not only shady trees and a great view of downtown, but kids can discover little surprises along the way. Stop to watch the wind play with the kinetic art by George Rickey (no motors required!), sit on a bench next to a snoozing cat sculpture or play who can find the 20 sculptures featured here first.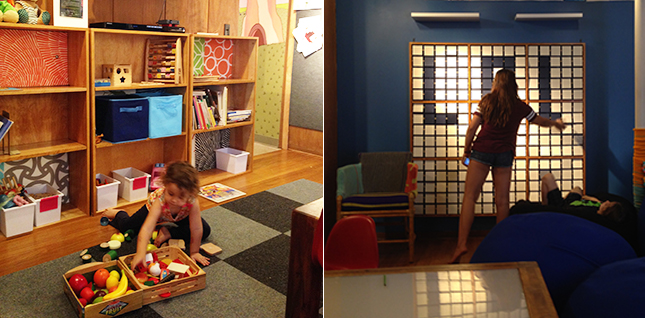 Photo: Lavonne Leong
The family room at Spalding House.
2. When things get sticky, go inside. The Family Room is air-conditioned and offers bouncy beanbags, crafts, arty television shows, child-sized Eames-style chairs, and toys for the youngest; think the play room of your dreams. You can also pick up complimentary issues of HONOLULU Family magazine here.
3. Make sure kids find their level. Every aspect of the Spalding House keeps kids in mind. But the interactive stations in the exhibits were a little too tall for our 3 and 4 year olds to reach themselves, resulting in frustration.
4. Don't be afraid to order "off-the-menu" kids' lunch. The Spalding House Café serves delicious adult fare such as fresh salads, paninis and wraps. There is no formal keiki menu but the friendly staff will give your child a ham-and-melted cheese sandwich on warm pita bread for five bucks. For $35, the café will pack up a sandwiches or salads for two along with drinks and cookies in a picnic basket so you can dine out on the lawn.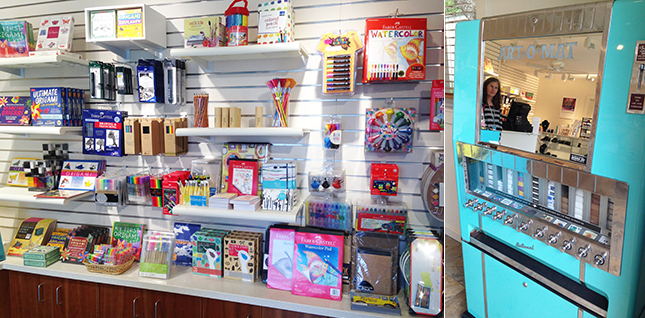 Photo: Lavonne Leong
The Spalding House Gift Shop (left) and the Art-O-Mat (right).
5. Don't miss the shop. There's a beautifully curated shop with intelligent toys and unusual museum curios, including an "Art-O-Mat" vending machine where you can order up a tiny handmade work of art for a few dollars.
6. Take advantage of free days. Admission is free on the first Wednesday of every month and on July 31. On the third Sunday of the month from 11 a.m. to 3 p.m. there are also free kidsʻ activities and you can catch a free shuttle to the Honolulu Museum of Art for Bank of Hawai'i Family Sundays.
Overall Pros: Super clean, very mellow, not usually crowded, made for kids but fun for adults, a great bathroom that's always close by, a combination of indoor and outdoor areas, gorgeous gardens and an air-conditioned family room if things get too hot and sticky. Free parking, excellent café, affordable prices. Kids are free and adult membership is $25.
Overall Cons: If your kids like more thrills and active activities, this may seem a bit slow for them. Call ahead if you want to know what the current exhibition is (or even, if there is one). You can still have a good time in between exhibitions, though, and the crowds will be even smaller.
Photo: Lavonne Leong
Spalding House
2411 Makiki Heights Drive, Honolulu, HI 96822
526-1322
Hours: Tuesday-Saturday, 10 a.m. to 4 p.m., Sunday noon to 4 p.m.
Price: $10 one-time visit, $25 for one-year membership to both museums. Children 17 and younger are always free.
Parking: Free onsite.