Our Guide: Obon Dances for Beginners
What your family should do, eat and see at these traditional Japanese celebrations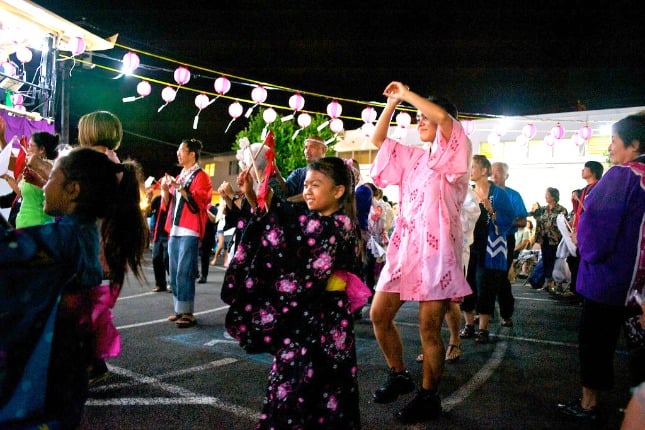 The Jikoen Hongwanji Obon Dance. Photo: Luke Takayama
Summer in Hawai'i usually brings in an abundance of three things: Mango, lychee and Obon dances. These celebrations held across the state are a Japanese tradition, welcoming ancestors who have come back to visit and celebrating life for those still on earth.
Festivals feature food and, of course, a big group Obon dance. Everyone is welcome but for first-timers, and those who haven't gone in so long that they're practically newbies, the idea of joining the crowd of experienced dancers can be intimidating. So we asked Derek Iwata, education specialist at the Japanese Cultural Center of Hawai'i, for his tips to enjoying this seasonal event.
SEE ALSO: HONOLULU Magazine's Ultimate Guide to Hawai'i's Summer 2019 Bon Dance Schedule.
Our 7 Tips
1. Find a seat or set up your portable chairs when you first arrive. Iwata says most temples have seating areas for spectators but often do not have enough chairs for everyone.
2. Attend a practice. Want to dance? Iwata says temples usually do a run through before the dance night. It's an opportunity for everyone in the family to see what will happen and become familiar with the moves in a less intimidating setting.
3. Ask before you jump in. At a Obon Dance, find an experienced dancer and follow his or her lead. But note, Iwata says before you cut into the line, it is polite to ask the person behind the spot if it is okay.
4. Don't stop moving. Even if you get confused, keep walking with the line. Sudden stops can mess up the person behind you.
5. Wear comfortable clothing and covered shoes. Any attire goes these days. If you want to find traditional outfits for the family, Iwata suggests checking the Japanese Cultural Center of Hawai'i gift shop in Mōili'ili, Marukai on Kamehameha Highway in Kalihi and Sanki in Pearl City.
6. Watch for different snacks. You can usually find shave ice, spam musubi and fried noodles to please the kids. But many bon dances serve different items. Keep an eye out for snacks best eaten fresh at these events including andagi, a fried Okinawan doughnut with the texture of a dense doughnut, KC waffle hot dogs and various types of mochi, a sticky treat made from pounding mochi rice often served plain, filled with sweet red bean or grilled or fried with kinako, roasted soybean flour that has a nutty flavor.
7. Looking for the most kid-friendly Bon Dance? Iwata suggests the Mōili'ili Summer Festival, scheduled for Saturday, July 6 this year. The annual event has a free shuttle from the UH Mānoa parking garage (many other Obon dances can be tight on parking), children's games and activities, food trucks and crafters.
Ready to jump in? Find a festival near you with HONOLULU Magazine's 2019 roundup of Obon Dances.