Our Guide: Magic of Polynesia Show
Levitating cars and other surprises at an award-winning Waikīkī show.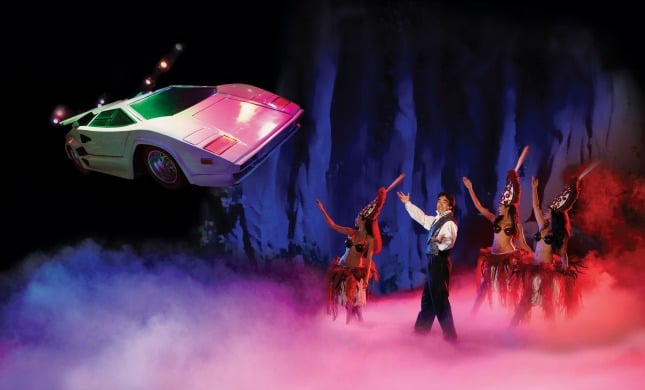 Photo: Courtesy Magic of Polynesia>
Where: Magic of Polynesia at the Holiday Inn Resort Waikīkī Beachcomber
When: Friday evening, 7:30 p.m. show
Who: A 6-year-old girl and her parents.
My family loves Waikīkī. The global diversity and relaxed vibe draw us to the tourist district at least once a month. So naturally, my 6-year-old daughter got excited when my husband made Friday-night reservations for John Hirokawa's "Magic of Polynesia" show.
Daughter: "A magic show? Past bedtime? Yessss!! Will they pull a rabbit out of a hat? Is it gonna be scary? Will they do card tricks?" she asked, as we drove to Waikīkī the following Friday evening.
Me: "We'll see."
I purposely didn't show her photos of "Magic of Polynesia." Why ruin a good surprise?
"Magic of Polynesia" has been around since 1990 and bills itself as a "spellbinding night of stunning illusions, dramatic special effects, amazing sleight-of-hand and professionally choreographed Polynesian entertainment in a beautiful, $7.5 million showroom." Sounds touristy? You bet it is. But here's the deal: I think local families should see the show at least once in their kids' lifetime. It's worth your precious time and hard-earned paycheck.
Friday evening traffic on Kalākaua Avenue was light, and we pulled up to the Beachcomber past 7 p.m. After handing our car key to the attendant (the hotel is valet-only), we rode a long escalator up to the hotel lobby and the box-office window. In less than five minutes, the agent found our online reservations, validated our valet-parking stub and handed us three tickets for the "Show Only" option.
My family and two other couples were the only ones in line. The majority of guests already was in the showroom, as part of the "Dinner Show" option that began at 6:15 p.m.
Next, another escalator took us up to an open-air deck, where an attendant led us to the main doors leading to a dark, cave-like entrance.
Inside the dimly lit showroom were about 150 people – Japanese, Canadians, Australians, Koreans, U.S. Mainlanders and local residents – seated at long tables and dining on garlic shrimp and filet mignon. Servers walked around, pouring drinks. The crowd was mostly adults with about half-dozen kids between ages 6 and 18.
We found seats close to the exit, stage right, and a server handed us the cocktail menu. Typical drink list in Waikīkī: Beer, wine, non-alcoholic beverages and tropical frou frou. My daughter – who adores live theater – ignored the menu and looked around the room in amazement at the colored gels over the lights; faux foliage and volcanic craters along the walls; fancy curtains over the stage; the glow of a Mac laptop where the crew controlled lights and sound.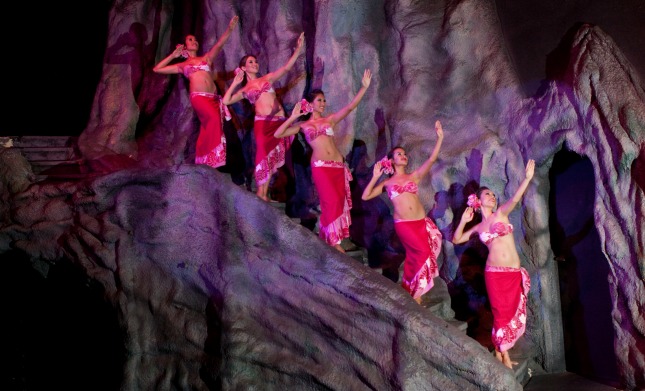 Photo: Courtesy Magic of Polynesia
Clearly, my 6-year-old was impressed. The set was like a mash-up of the Enchanted Tiki Room at Disneyland, a Vegas nightclub and a secret hideout for Mowgli and Baloo.
At precisely 7:30 p.m., a dozen Polynesian dancers appeared, and the show began. But award-winning illusionist John Hirokawa wasn't onstage. Subbing for him that evening was Kyle Kaneshiro.
It didn't matter. The stunts – which made Hirokawa internationally famous – were similar. For the next hour, there were floating cars, disappearing people, fire-knife antics and levitating women. A helicopter landed onstage. Hirokawa's female assistant vanished inside a box and reappeared on a table in the back of the room.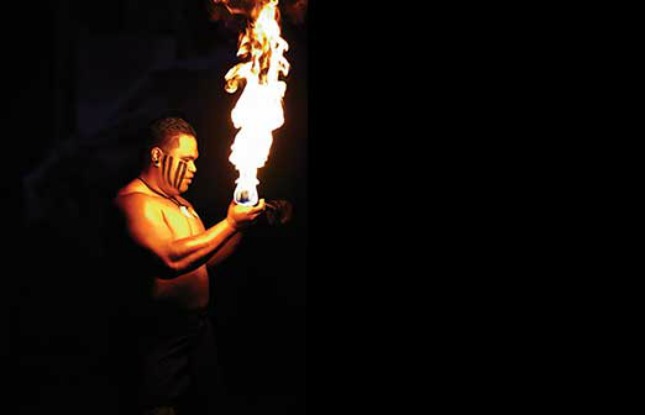 Photo: Courtesy Magic of Polynesia
In between acts, the Polynesian dancers came out to shake, chant and return us to Waikīkī reality – although the pounding music and crazy strobe lights screamed Vegas.
Throughout the night, the mama bear in me kept thinking, "This is overwhelming for kids!" I glanced at my daughter every few minutes.
Nope. She was captivated. Her eyes were huge! "Where did the car go?" "Uh oh! Oh no!" "The lady is flying!" "Why is that man is eating fire? There's an extinguisher next to him!"
Then, Kaneshiro's assistants pulled random people up to the stage to perform magic tricks. The audience howled and roared when he bantered with guest in their native tongues. It reminded me of Frank De Lima's old comedy shows in Waikīkī. Remember those? My kid was not amused, however. "Too much talking," she said, yawned and slid down in her seat. It was 8:45 p.m. Way past bedtime.
Just then, Kaneshiro's assistant sent a Japanese guest back to the table, and the comedy-magic act ended. Kaneshiro changed his vibe to "fatherly," and told the audience a sweet, heartwarming story about raising his own family in Hawai'i.
Then he did something that stunned everyone in the room, including my daughter, who shot up from her chair and lifted her hands above her head. Staring at the ceiling, she let out a happy squeal, as if someone released a piglet in the showroom.
"Woooaaaahhhhh!!!!" she said.
I won't tell you what Kaneshiro did to cause my daughter's reaction. But I think your family will like it.
Besides, why ruin a good surprise?
Our Tips
1. Reserve your seats early. You can do it via phone or online at least one week in advance.
2. Book the "Show Only" tickets. The dinner option will add about $35 to the adult price and about $26 to the child's ticket. You can save money by eating elsewhere before the show.
3. Bring sweaters or light jackets. The room can get cold.
4. Bring Cash. Parking is validated but you will still need $6 for the valet parking.
5. The newly opened Aroma Caffe in the hotel lobby, right next to the box office, sells snacks.
Overall Pros FUN! A terrific venue for families who appreciate theatrics, magic and Polynesian dancing. A friendly staff, top-notch service and easy access in Waikīkī.
Overall Cons: It is pricey. "Show Only" tickets for a four-member family will run you about the same price as one plane ticket to a Neighbor Island. Also, younger kids must stay up past 9 p.m.
Magic of Polynesia
Holiday Inn Resort Waikīkī Beachcomber
2300 Kalākaua Ave.
Shows: Seating at 7 p.m., show starts at 7:30 p.m. daily. "Deluxe Dinner" or "Dinner Show" seating at 6:15 p.m. Starting Monday, Sept. 5, the dinner show will begin at 6 p.m., the show-only seating will be at 6:45 p.m.
Kama'āina rate: "Show Only" tickets $31.20 for kids 4-11; $47.20 for 12 years and older; free for kids younger than 4. "Deluxe Show" tickets range from $63 to $119.
Parking: Validated, valet parking $6 for four hours. The hotel is valet-parking only.