Our Guide: Kualoa Ranch
Our 6 tips to sightseeing, snacking and swimming at this Windward O'ahu ranch.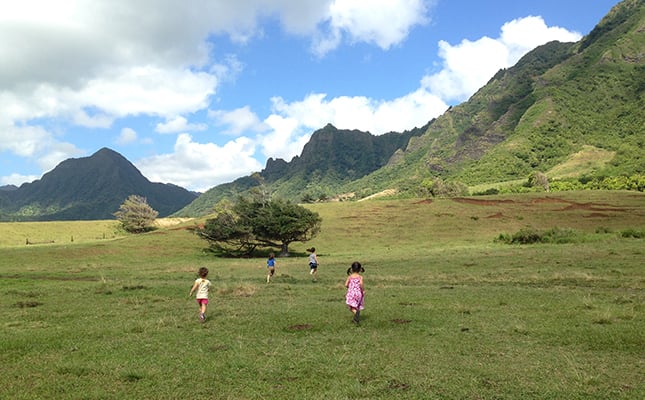 Photo: Lavonne Leong
Where: Kualoa Ranch, a working cattle ranch and farm that offers ATV, horseback, zipline, land and boat tours in Windward O'ahu.
Who: Two families with five kids, ages 4 through 13.
When: A holiday Monday, from early in the morning to mid-afternoon
Kualoa Ranch went big-time when its 4,000 acres on O'ahu's northeastern shore provided a backdrop for the first Jurassic Park movie, way back in 1993. Now they've also become known as a one-stop outdoor entertainment shop on O'ahu. Ziplining? Check. ATV tours? Check. Horseback riding? Check. There's even a morning or afternoon at a "Secret Beach." But until recently, I hadn't thought of it as a destination for families with young children, because many of these activities aren't available for children under 16 years.
Then a friend who has little ones mentioned that her family had had a delightful mini-reunion there. And I wondered whether, in Kualoa's long menu of options, there might be something we, with our two children aged 3 and 8, were missing. And there was: for example, there's a short horseback ride for ages 5 to 10 at noon and 3 p.m., a bargain at $5. The movie and ranch tour will accept people of any age, and the secret beach will, too.
You can have a great day out with under-10s at Kualoa Ranch, but plan carefully. We opted for a movie tour morning and a secret beach afternoon. The tour left at 8:45 a.m., which meant leaving the house at 7:30 a.m. to make sure we didn't hit traffic.
We found plenty of parking right in front of the ranch building. A greeter at the door directed us to the registration desk. The kids looked at the horses and played with the ranch cats while waiting for the movie tour bus. It was hard to tear them away when it was time to board.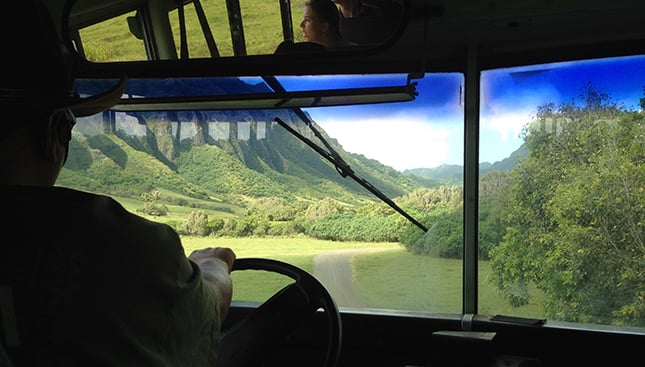 Photo: Lavonne Leong
The Movie Tour
Rolling through the ranch at perhaps ten miles an hour, we heard all about the ranch's crops and herds and film locations from Cowboy, our amiable driver. We stopped for ten minutes at a WWII bunker filled with paraphernalia from movies shot at Kualoa, and for five minutes at a famous Jurassic Park location, where the kids sprinted up and down a hill that in the film is swarming with dinosaurs—both super-fun stops. The rest of it was fine, but by the time the 90-minute tour finished, the four-year-olds, who were initially thrilled to be riding in a large vehicle without seat belts, had been asking when it was going to finish for about 45 minutes. Even the 8-year-olds were drooping a bit.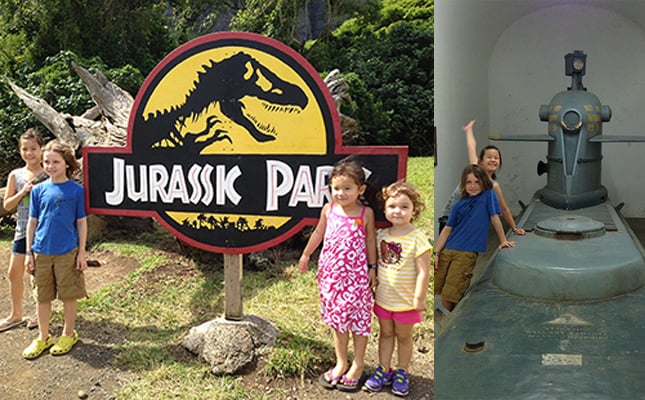 Photo:Lavonne Leong
Bonus: Break at Aunty Pat's for Lunch
Lunch was an unexpected highlight. The ranch provides oodles of shaded picnic tables and doesn't mind if you bring your own food, but they also have Aunty Pat's Paniolo Café, which serves up burgers made with juicy Kualoa Ranch beef and ripe red farm tomatoes—a big cut above most tourist attraction fare, for reasonable prices. The fries and onion rings were good, too, at a good value. There's even a freezer full of Kualoa beef for sale if you're planning ahead for dinner.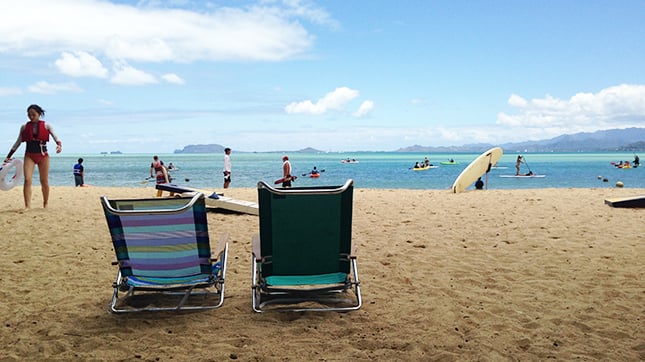 Photo: Lavonne Leong
Secret Beach
Then it was time for the Secret Beach. Getting to the beach is its own little adventure: you take a bus to a Hawaiian-themed pontoon shaped like a double-hulled canoe and motor majestically across the ranch's ancient Hawaiian fishpond. The boat provided a sense of beauty and occasion: "I can't believe we're on a real live boat!" exclaimed 4-year-old B as the captain pointed out location scenes from Gilligan's Island. But the boat also meant that we were committed to being there for the next three hours. As any person with small children knows, not being able to leave if necessary is a small source of stress. What if someone falls down? Throws up? (Spoiler: no one did.)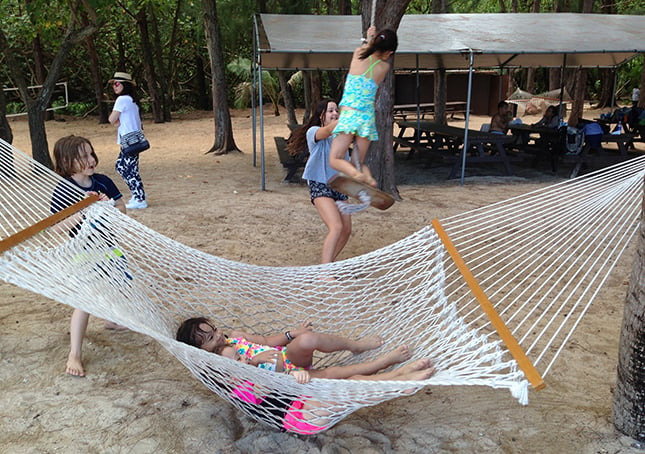 Photo: Lavonne Leong
The "Secret Beach" itself is lovely. We found plenty of shade, tents, and picnic tables, with several hammocks, a shower and changing room, two rope swings, and equipment for days: sand toys, snorkel gear, ping-pong tables, bean bag toss equipment, beach volleyball, and several kayaks and stand-up paddleboards. There's one section of the shoreline for swimmers, marked with buoys, and another for the watercraft, to avoid collisions. Several lifeguards were on duty. So far, so good. But my friend had described a blissful, relaxing day at Secret Beach, where they and a handful of others lazed in hammocks and had the whole place to themselves.
That was not this day. People were everywhere. Being relative latecomers to the party, we were assigned an area to set up our stuff that was not only away from the hammocks, but a distance from the swimming part of the beach—which made it difficult to supervise swimming children from our beach mat without feeling like we were breaking the rules.
The kayaks, hammocks, rope swings, and SUP boards were in constant demand, which made us wonder whether our kids would get to use them at all—not a fun feeling at $19-$25 a head. And those who were lucky enough to get a turn on the equipment were blown by a stiff breeze into the swimming area, which made it extra important to be vigilant about small children in the water.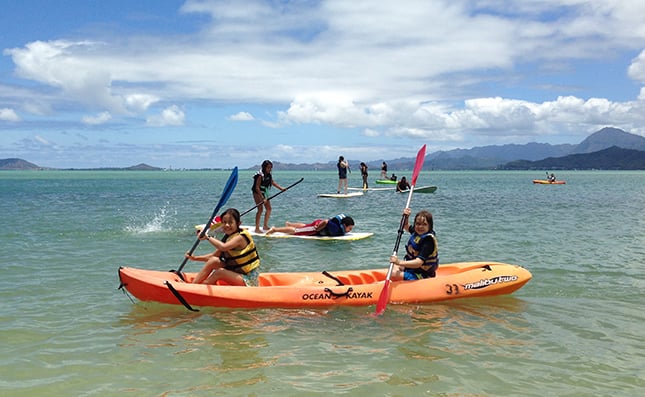 Photo: Lavonne Leong
That day, the lifeguards estimated that there were about 120 people on the beach. Was that a lot? I asked. About average, they said. Occasionally there were 500.
The lifeguards policed the hubbub with bullhorns and patience, but frankly, the first 90 minutes of our Secret Beach outing felt a bit like a trip to Costco on a Saturday morning, nearly naked and smeared with SPF 50. The kids didn't seem to mind.
But then: a large boatload of visitors departed the beach for other adventures, and suddenly the whole place opened up. We claimed a hammock, and looked up at the blue sky through coconut palm fronds. We took the kayaks and SUP boards out when we felt like it. We built sand castles and swung way too high on rope swings and attempted ping pong. It was wonderful. There was much left undone—we didn't snorkel, and we missed the glass-bottom boat ride, which doesn't run on holidays and Sundays.
Another thing we missed was the shower and changing rooms. I can't tell you what they were like, because we lost track of time, and had to go back salty or miss the pontoon back to reality.
Verdict: The movie tour can be worth it for movie-buff kids who will be wowed by the locations, or who will appreciate the great natural beauty. The Secret Beach: go when it's not crowded, especially if you want to sample a wide range of gear without having to rent it separately or schlep it anywhere.
Here's an alternate version of Kualoa family fun if you need to get the most bang for your buck. Book a $5 afternoon horseback ride for ages 5 to 10 years, have a great lunch at Aunty Pat's, pet the ranch cats, visit the petting zoo, and then pick your choice of public-access beaches up and down the northeast coast.
Our Tips:
1. For the movie tour: bring snacks and water. It's longer than you think. And see Jurassic Park beforehand, which will double the fun factor for kids.
2. For the beach: bring snacks. There's lots of cold water provided, but no food—and you're there for three hours.
3. Equipment you'll find at the beach: life jackets, SUP boards, kayaks and paddles, snorkels, volleyballs and nets, beach mats, beach toys, rope swings, hammocks, games, large tents with picnic benches. One of the lifeguards said he hoped the management would purchase some beach chairs. Yes, please.
4. Expect a certain amount of hustling your family from place to place. Kualoa Ranch sees a large volume of people, and though the employees are friendly, the buses need to leave with military precision.
5. Go when itʻs less crowded. Lifeguards say the crowds die down on non-summer weekdays and overcast days. Call ahead to hear how many people you might be sharing the beach with.
6. Other options for under-10s include a Native Hawaiian fishpond tour that runs only on Sundays, and a free petting zoo with an ostrich, a llama, a donkey, a macaw, a tortoise, goats, a calf, and a pony.
Overall Pros: Gorgeous landscape, great café food, clean and numerous bathrooms, lots to see. The most fun stuff for kids under 10 might be what's freely available: seeing the ranch cats and horses, and the petting zoo (which we didn't get to see).
Overall Cons: Kualoa Ranch can add up for families. The ranch has a lot of tourist traffic. And it can get crowded.
Kualoa Ranch
49-560 Kamehameha Hwy, Kāne'ohe, HI 96744
237-7321
Tour times vary: see website for details.
Prices: Prices for different experiences vary. Both our a la carte experiences cost $25 for kamaaina adults and $19 for kama'āina children.
Parking: Free onsite