Our Guide: Honolulu City Lights 2016
Insider tips to making the most of this family favorite event
From the best bathroom to a way to avoid long wait at the keiki rides, here are our tips to navigating Honolulu City Lights.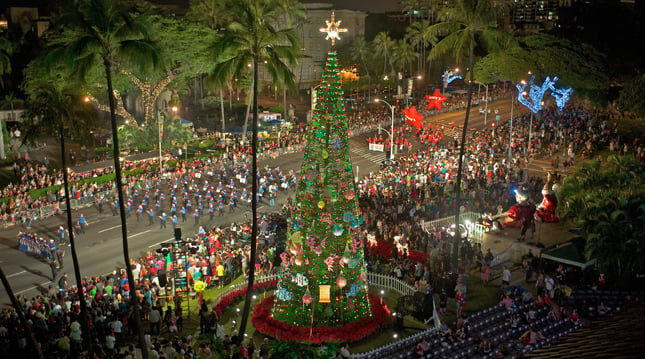 Editor's Note: This was first published in 2014 and has been refreshed to update the information for 2016.
Oahu families know it's Christmas when Shaka Santa arrives at Honolulu Hale. The annual Honolulu City Lights has grown enormously from its beginning in 1985, when a 50-foot Norfolk tree was illuminated by nothing more than flood lights. Now, the month-long celebration includes everything from kiddie rides to food booths, and, of course, tons of interactive photo opportunities. We chatted with Carol Costa, who has been with the Friends of Honolulu City Lights for many years, to find out what's new and her top tips to enjoying the city's most festive event.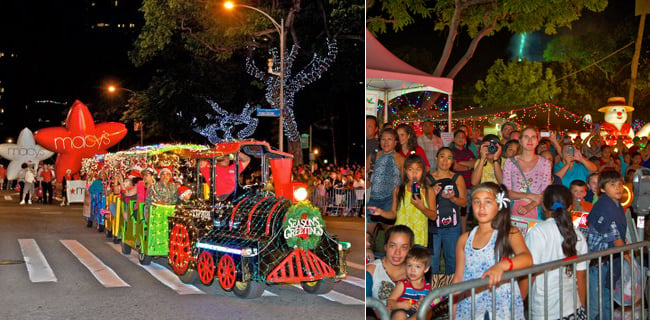 Opening Night
The Honolulu City Lights opens on December 3, kicking off with the tree lighting ceremony and the electric light parade at 6 p.m. The ceremony includes live music, rides and Santa.
Arrive around 4 p.m.–That way, Costa says, you can grab a free space in the centrally-located municipal parking lot. Plus, the food booths and keiki rides will be open at that time. So you can have dinner and take a turn on the mini Ferris wheel before the lines get too long after the parade. Mayor Kirk Caldwell will start the ceremony with Billy V acting as emcee. University of Hawaii football coach Nick Rolovich will flip the switch to turn on the lights at 6:30 p.m.
Head downtown for the parade–"When you're watching the parade by City Hall it's 10 people deep, but when you're by Bishop and King Streets it's three people deep," she says. Not only will it be a better parade-watching experience because there will be less people closer to the parade's start at Aala Park, but she also points out that the parade stops once it gets to City Hall so you'll miss that sense of awe watching the floats pass by if you stay there.
If the parade is your priority, Costa recommends skipping the tree lighting ceremony so you can get a prime spot. The parade units start walking from Aala Park at 6 p.m.
Can't make it on Dec. 3? Watch the parade live on Olelo Channel 49. It will rebroadcast again on Tuesday, Dec. 20 at 6 p.m., Wednesday, Dec. 21 at 8 a.m. and again after Christmas. Or you can watch a one-hour special about the parade on KITV4 on Friday, Dec. 23 from 7 to 8 p.m.
Follow Santa–Once the jolly elf passes you, make your way back to Honolulu Hale. The parade floats will be parked on the closed road, giving kid a chance to take photos in front of the decorated car. Some city vehicles will even be open for children to get into including a city garbage truck that Costa swears is clean enough to eat off of. The photo ops end at 8:30 p.m.
However, if your priority is a free photo with Santa, head straight to the Honolulu Hale Courtyard. That's where he will be opening night.
Look and listen for the choir–One new display will make its debut in 2014. A large sculpture of a keiki choir will actually sing!
Several live entertainers will also be on hand for opening night. Starting at 7:30 p.m., enjoy music of the season by Blayne Asing, Mailani Makainai and Sean Naauo.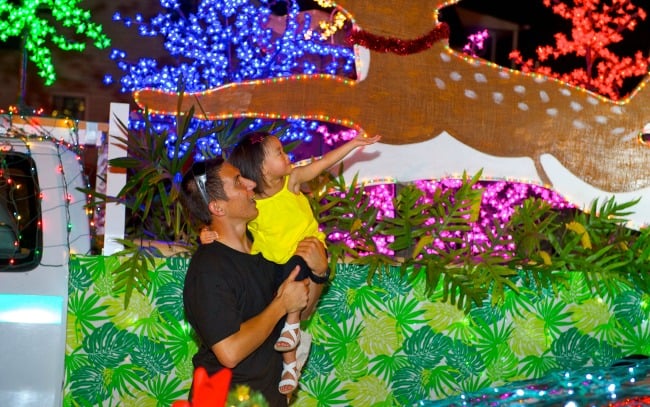 Anytime
Take advantage of free activities–Shaka Santa, interactive displays, keiki rides, the decorated trees inside Honolulu Hale can be enjoyed throughout the celebration. But every year, there are a few special nights with free activities for families.
In 2016:
December 3, 9, 16 and 23–Free picture taking with Santa in the Honolulu Hale Courtyard from 7-9 p.m. Note that if Friday nights are busy for you, Opening Night is the only Saturday Santa opportunity.
December 17–Movie night from 7 to 9 p.m.
December 23–Free milk and cookie night in front of the tree from 6:30-8:30 p.m.
Bathroom break–Skip the restroom, and the typically long lines, at Honolulu Hale. There is a large mobile restroom by the Sky Gate near the rides. Costa says it usually has a shorter line and the bathrooms are clean.
Know the menu–Typically, you'll find the most food vendors at the City Lights opening night. After that, you can usually choose from favorites including Papa John's pizza, Leonard's malasadas, popcorn and soda. Otherwise, pack a picnic dinner. There is plenty of open green space on the grounds.
Leave time to drive around–Don't forget that Honolulu Hale isn't the only place decorated for the holidays. On your way out, make sure to go past the Board of Water Supply (you may have to pass it a few times so you can see the Christmas tree and flower light displays actually "grow"), past the State Capitol and through downtown to see the festive looks of buildings such as the Department of Transportation and the holiday displays in front of the banks.
Honolulu City Lights runs from December 3 through January 1. Learn more about the events and schedules at honolulucitylights.org.
---
There is a lot more fun for families this holiday season. Also in our Holiday Corner, find a full listing of parades on Oahu, our guide to more than 30 family-friendly events and new festive crafts, snacks and present ideas every week through December 25.