Our Guide: Hello from Japan! Exhibit
5 tips for the Hawaii Children's Discovery Center's newest exhibit
What you'll see, study and play with at the Hawaii Children's Discovery Center's new exhibit.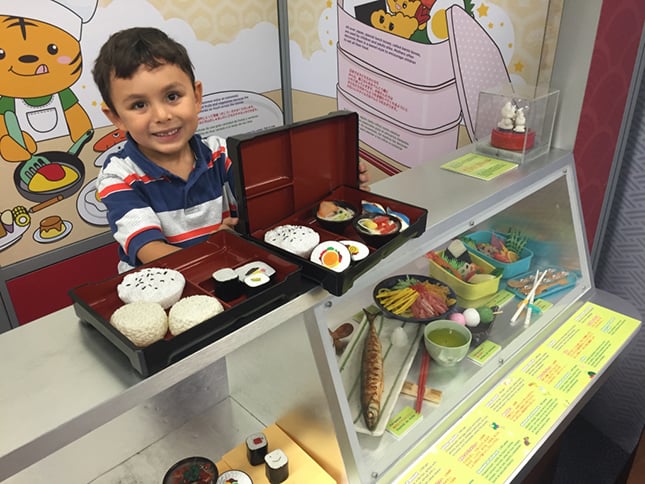 bento joy at "Hello from japan!" Photo: Jennifer Carlile Dalgamouni
What: "Hello from Japan!" exhibit

Where: Hawaii Children's Discovery Center, 111 Ohe St. 

Who: A family of four: Mom, dad, two sons (ages 5 and 3)

When: A Friday morning before the exhibit opened.
My boys love sushi and are convinced they speak Japanese after learning "Goo Choki Pa," a "Rock, Paper, Scissors" song at their preschool. (Disclaimer: No-one in our immediate family speaks any Japanese.) So I jumped at the chance to take them to the Hawaii Children's Discovery Center's new exhibit, "Hello from Japan!" The 1,500 square-foot experience showcases both of the country's modern and traditional cultures from Shinto shrines to cutesy photo booths.
You can't miss it. Just to the right of the main entrance, a green arch decorated with cartoon suns welcomes you to the new exhibit. Once we entered, I tried to show our boys the map of Japan, photos and information on its topography, high-speed bullet trains and food, with fun facts like "the number of disposable pairs of chopsticks used in Japan each year: 24,000,000,000." While I found it interesting, they ran straight into the "Kawaii Fashion" area on the other side of the room.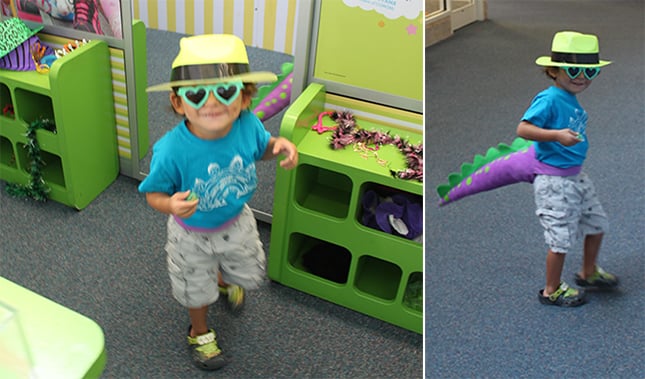 (left) Kawaii fashion area. (right) dinosaur lookalike on the run. photos: jennifer carlile dalgamouni
The cutesy dress-up area has about a dozen cubby holes full of clothes, capes, tails, hats, wigs, glasses and more with inspirational photo montages of dressed-up Tokyo teens on the wall. A cash register lets kids ring up your creations. Our oldest priced our outfits at hundreds of dollars while my youngest son thrilled in trying on everything. His favorite look included a yellow fedora hat, heart-shaped sunglasses, and a green and orange spiky tail­–he looked like a cross between Bruno Mars and a psychedelic dinosaur.
I think visitors are supposed to keep the dress-up clothes in the "Kawaii Fashion" area but he refused to take them off and wore them through much of the exhibit before we could wrangle the pieces off of him.
Next up was "Pop Pop Karaoke," with a karaoke machine that plays Japanese children's songs complete with cartoon characters and English subtitles. Our boys knew a few tunes from preschool and belted out a song about frogs going "kwa, kwa, kwa, kwa," or "croak, croak, croak, croak."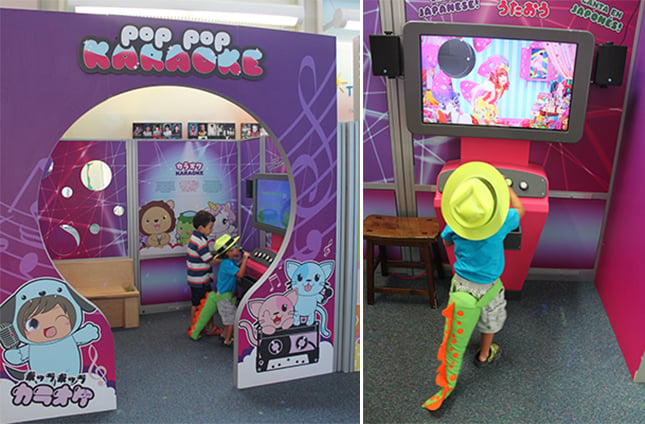 Once we got them past the entrance, you'll find the "Streets of Japan" display, with pictures of kawaii street signs and a dress-up area with high visibility vests, hard hats, protective eyewear, a small truck to play on, orange cones and a shovel. This area may not be specifically Japanese, but preschoolers on a field trip at the time loved it. The "Katakana Club," teaches children to trace the Japanese characters for different fruits and vegetables. Just make sure that the translation is set for Japanese to English, and not Spanish. I heard my oldest learning the word "fresa": the Spanish word for strawberry! The "Mascot Maker" allows you to create your own personalized kawaii mascot based on your interests. But my kids quickly skipped over it to get to the purikura photo booths nearby. Kids can pose for selfies, add kawaii decorations and email them to others. My oldest son superimposed his face on a boy riding a carp fish and added a duck icon. The photo told us carp "represent determination and perseverance, like the fish that swim upstream" and ducks represent "happiness and loyalty."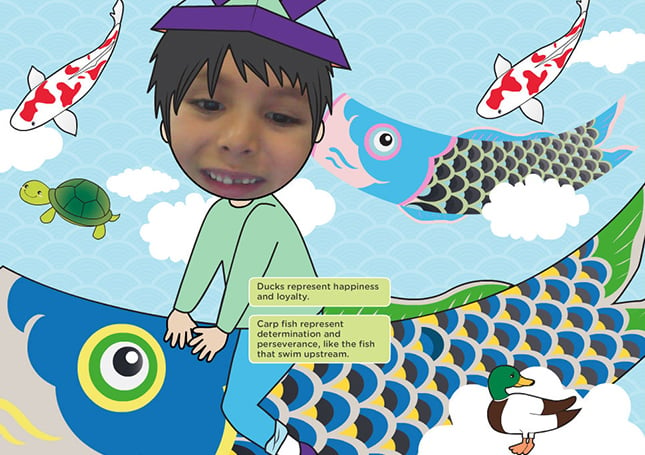 our purikura photo.
"Bento Joy" proved to be my oldest son's favorite part of the exhibit. Three wooden bar stools at a counter face a kitchen with enough room for about four keiki to serve up bowls of rice, fish, sushi and udon soups. Our boys spent 15 minutes taking orders, and giving us "salmon sushi" no matter what we requested. Our plastic meal set us back a pretend $200!
After they'd had their fill of "Bento Joy" (and we were broke) we crossed a small, traditional Japanese bridge with a scenic backdrop of a river and cherry blossom trees, and ended up in the serene, leafy-green side of the exhibit. At this point, our 3-year-old ran around a mini bamboo forest, rang a shrine bell, darted around scenes of Mount Fuji then decided he was done and took off to the rainforest water play area in the main part of the center (where Dad followed him around for another half hour or so.)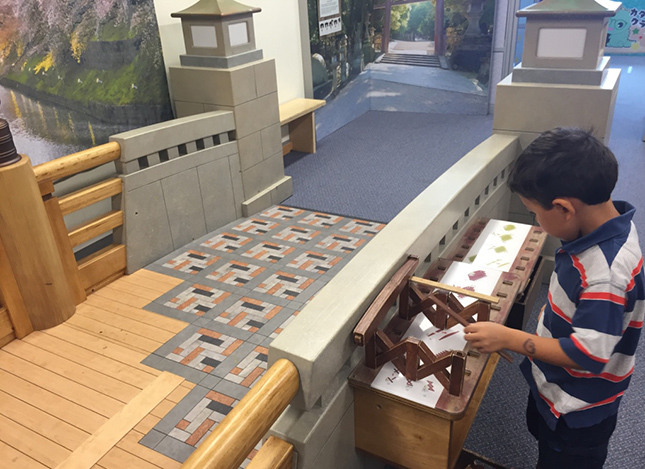 the bridge into the shinto shrine area. photo: jennifer carlile dalgamouni
I stayed with our 5 year old in what I found to be the most beautiful and thought provoking part of the exhibit – the Shinto shrine area. The Inari Okami Shrine looks like a small wooden house with a large metal bell kids can ring to light up two lanterns. My son enjoyed following the shrine directions on how and when to bow, place a 1-cent donation, ring the bell, clap and bow again. He also was excited to learn about kami (nature) spirits and kitsune (spirits messengers) such as the fox, which is said to have magical powers like shape-shifting.
Next to the shrine is the "Shrine Grove," a very small forest of bamboo trees, where kids can hunt for Jizo statues, a beloved Buddhist figure that protects women, children and helps guide travelers. Then they can stick their heads through images of people wearing "kimono" and pay 1 cent to get their fortune from a fortune-telling machine. Our last stop was the wishing tree, where kids can write down their hopes and dreams and leave them on the branches. My son wrote his name on his piece of paper and then asked me to write for him: "I will love my mommy for my entire life."
While I believe he loves me, I think he was also trying to sweet talk a return trip to "Hello From Japan!" Given how much fun our boys had and the interactive, educational set up, I think he'll get his wish.
Our Tips
1. Start backwards. The popular kawaii dress up and photo booth areas get crowded quickly. The traditional, shrine area tended to be more relaxed. The information back there may also be easier for little ones to absorb when the exhibit is new to them, not when they've been there for 30 minutes and just want to run around.
2. Go to the purikura, photo booths, as a family. You will need to help younger ones line up properly for the photos. Even our taller-than-average 5 year old was too short to access the camera. Plus, a family picture is a fun souvenir for later.
3. Don't forget your own camera or camera phone. This exhibit is full of kawaii photo ops of your keiki.
4. Reserve an hour for "Hello from Japan!" It is not a huge exhibit but has a lot to offer if you really engage in each section of it. You may need to go through twice to find everything there is to do. I overheard a teacher saying she wanted to return with her grandkids and spend the whole day there. Children under five will likely run through it quickly, especially if they want to get to their favorite parts of the Center. But, 5 to 8 year olds could enjoy the activities for up to an hour and a half.
5. Expand the experience with Kids in the Kitchen. The Children's Discovery Center is focusing on Japanese food for its popular monthly cooking workshops. March is full but there are still spaces in the April session. Sign up now because the events fill up quickly.
"Hello from Japan!" is at the Hawaii Children's Discovery Center, 111 Ohe St. through May 14.
Open Tuesday through Friday 9 a.m.-1 p.m. and weekends 10 a.m.-3 p.m. $10 general admission. Kamaaina and military are $8. Kids under 1 year are free.
524-5437. discoverycenterhawaii.org