Our Guide: Hawaii State Farm Fair 2015
We find out what's new, when the crowds arrive and how your keiki can get a free treat at this year's Farm Fair.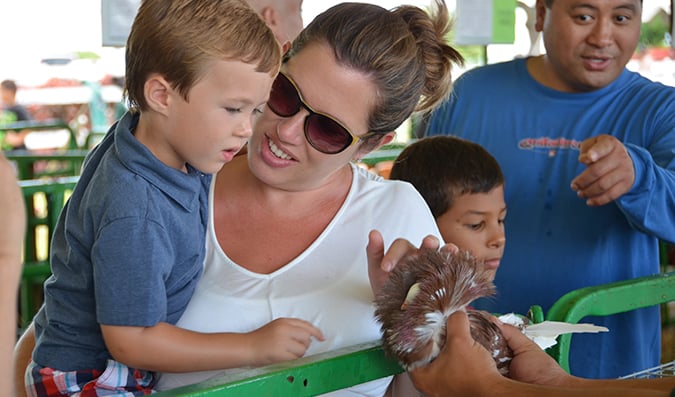 Photo: Courtesy Hawaii State Farm Fair
The tents are going up at Kualoa Ranch this week. The animals are on the move. It can only mean it is Farm Fair time again. This annual celebration of the state's agricultural and ranching industries is in its 53rd year and it means fresh produce, 4H livestock and all kinds of eating contests.
It's easy to get lost in all the activities. So we asked organizers for their tips to getting the most out of the free-for-kids festival.
Our Tips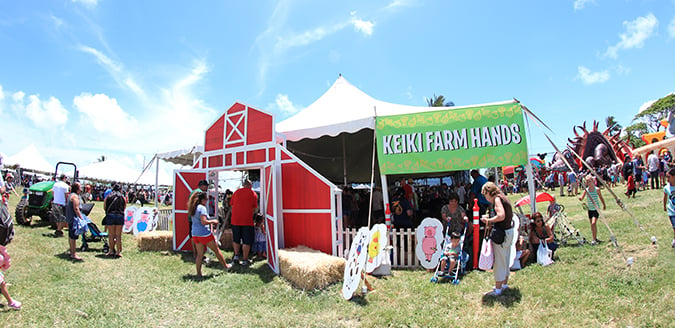 Photo: Courtesy Hawaii State Farm Fair
1-Visit the Keiki Farm Hands Activity
One of the new attractions this year is this hands-on space just for kids. Make your way through the educational exhibits to get a coupon for a free treat. The farm activities include collecting an "egg" near the hatchery with live chicks, plant a seed, harvest vegetables, milk a cow, learn about honey bees then test out a few farming tools. Also new for 2015 is the Teddy Bear Clinic where your child's favorite stuffed animals and dolls can get a check up by Shriners Hospitals for Children staff.
2-Visit in the Evening to Miss the Crowd
The busiest times at the fair are right around lunchtime, about 10 a.m. to 2 p.m. So you might want to get there when the gates open at 9 a.m. or plan an evening visit. This year, you have one more hour to play on Saturday since the closing time has been pushed back from 7 p.m. to 8 p.m.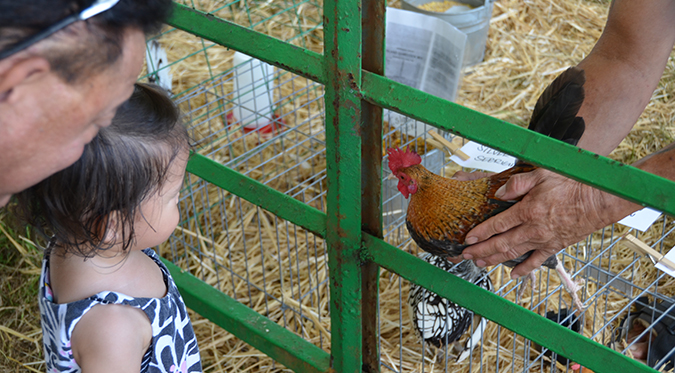 Photo: Courtesy Hawaii State Farm Fair
3 – Want to Win Prizes? There are Two Ways
Fill out a survey at the Hawaii Farm Bureau Information booth for a chance to win University of Hawaii athletics tickets or even a one-night stay at Turtle Bay Resort. Another opportunity is "treasure hunt" at the Education Pavilion. Answer questions by visiting all the exhibits and you will be entered to win a grand prize from the Hawaii Agriculture Research Center such as a Go Pro, Galaxy Tablet or smaller prizes.
4-Portapotties are Just One Option
There are also regular restrooms at the Kualoa Ranch Visitor Center.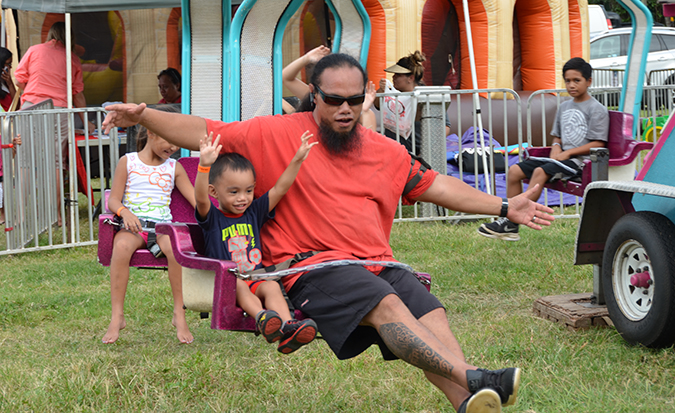 The Twister. Photo: Courtesy Hawaii State Farm Fair.
5-Expect a Line at the Rock Climbing Wall
This is new at the fair for 2015 and, because it does take some time to complete, the wall tends to mean a wait at any event we've visited. Extreme Fun is also bringing some rides for smaller kids such as the Lil Swing, Boomerang, Twister, Turbo Tubs and two jumper combos. Prices range from $2 to $3 per ride or buy a $20 wristband for unlimited access for the day.
6-Bring Water
It can get hot at the ranch. So, it is no surprise that Waimanalo Country Farms lemonade is usually a big seller. This year, the list of food vendors includes Olay Thai, Guava Smoked, Inferno will sell pizza and pastele stew, Beyond Burritos, Imu Style, Petit Suisse Crepes, Waimanalo Country Farms, Ono Pops, Kualoa and Jamba Juice.
7-Pack a Grocery Tote
Chances are you'll visit the Country Market and, chances are, you'll want to buy local produce to take home. The selection varies every year but pineapple, watermelon and corn usually go first. You'll also find bok choy, kale, beets, kalo, tomatoes and more.
Hawaii State Farm Fair
Saturday, July 11. 9 a.m.-8 p.m.
Sunday, July 12. 9 a.m.-5 p.m.
Kualoa Ranch, 49-560 Kamehameha Highway, Kaaawa
Admission: $5 for adults. Children and students with ID are free. Foodland Maikai card holders receive $1 off admission when they show their card.