Our Guide: ESPN 1420 Sports Festival 2016
7 tips to this free, active family festival.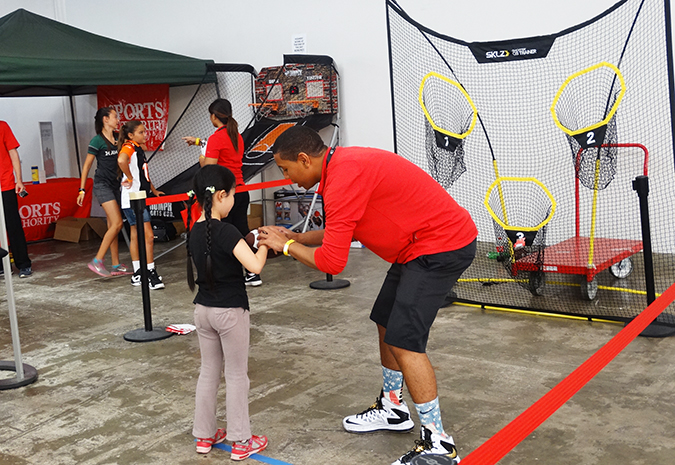 Photo: Courtesy ESPN1420
The 6th annual festival is this weekend at the Blaisdell Center. Kids can try their hand at everything from basketball to fishing, check out ocean activities, try samples and more for free. We asked the ESPN1420 Sports Festival organizers.for their tips to navigating the activities, avoiding lines and what fast-flying arrow activity they're excited to try.
1 – Go early or late to avoid crowds. The busiest time at this one-day festival tends to be about 11 a.m. to 2 p.m. So go right when it starts at 9 a.m. or during the last hour, 3 to 4 p.m., when the crowds really thin out. Two other things to keep in mind—another event will be starting at the Blaisdell Arena at around the same time, but it will end earlier. It could affect parking. Also, this year ESPN1420 will be handing out 1,500 goodie bags first come, first served.
2 – Stop by the check-in booth first. You'll find it immediately to the left of the entrance. Pick up a map to the floor then sign a waiver form. Participants will receive a wristband, which they will need to participate in any of the activities. The activity zones are along the sides and back of the hall, so you may want to stick to the perimeter to check out all the action. In the inner aisles are the vendor booths.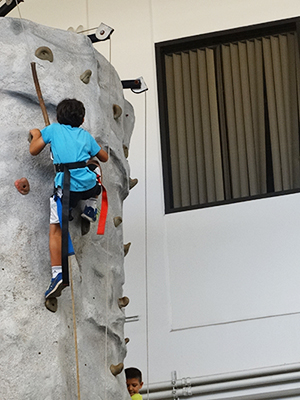 Photo: Courtesy ESPN1420
Photo: Courtesy of ESPN 1420
3 – Expect to wait to test your abilities. Hawaii Speed & Quickness' tests are always popular. The new Kakaako Fitness Parent-Child Challenge is expected to also draw a crowd because the parent-child team that finishes the obstacle course first could win airfare for two on Alaska Airlines. Organizers also say you may want to arrive early if you want to watch the Action Zone Wrestling, that tends to be busy. In years past, the rock-climbing wall has a line because only two people can go at the same time.
4 – Match your child's age to the activity. There are more than a dozen types of hands-on activities. For the youngest, there are bouncy houses, mini golf, tennis and Archery for All, Kids older than 9 may enjoy the bigger items including the rock climbing wall and ropes course.
5 – Don't miss "Dodge Bow". This dodge-ball-like activity has kids and adults racing to avoid soft-tipped arrows. Best of HONOLULU Family winner Archery for All will have it running in the Galleria part of the Hall, so you might pass right by if you're not looking for it. The ESPN1420 team says this activity is always fun. Please note, dodge bow is for kids 12 years and older.
6 – Take on the parent-child challenge. This is the first year for the Kakaako Fitness Challenge. Teams of parents and kids 11 and younger will be timed running an obstacle clock. The winner will walk away with airfare for two on Alaska Airlines. Qualifying rounds are 10 a.m. to 1 p.m. with the top eight racing off from 1:30 to 2:30 p.m. There will also be individual competitions for men, women, kids and teens with prizes from water bottle company h2go Hawaii.
7 – Check out what's new. Zumba will be offered for the first time as well as SURFSET, a workout using weights and more while balanced on a board. A silent auction will also have sports memorabilia for sale including a magazine autographed by the late Muhammad Ali.
The ESPN 1420 Sports Festival is Saturday, June 25 from 9 a.m. to 4 p.m. at the Neal Blaisdell Center Exhibition Hall. See the full schedule on espn1420.com.