Our Guide: Children and Youth Day 2016
What to see, what to do and when to go to this big, free family fun day.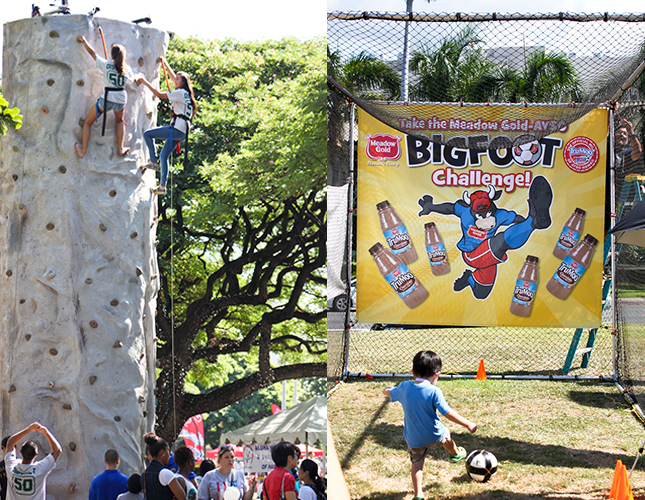 Photo: Courtesy Children & Youth Day
Children and Youth Day is just days away. Hundreds of groups will create free fun and entertainment for keiki and parents. Did we mention free? We've gotten a look at the list of interactive activities that will take over the State Capitol Grounds and more this Sunday afternoon. All we can say is "wow".
HONOLULU Family magazine is proud to be a sponsor of this great event. Stop by tent 21 (on the right side of the State Capitol between the building and Richards Street) to pick up our latest issue while kids run and jump through a course by Best of HONOLULU Family winner Keiki Parkour. Keiki Parkour owner Keith Mylett is an expert at helping little monkeys channel their energy into obstacle course running they can do anywhere—(he is the father of an active son, after all.) Ask him about his popular light saber academy, while you're there. We'll also be giving away prize packages to some of Oahu families' favorite spots including Dave & Buster's.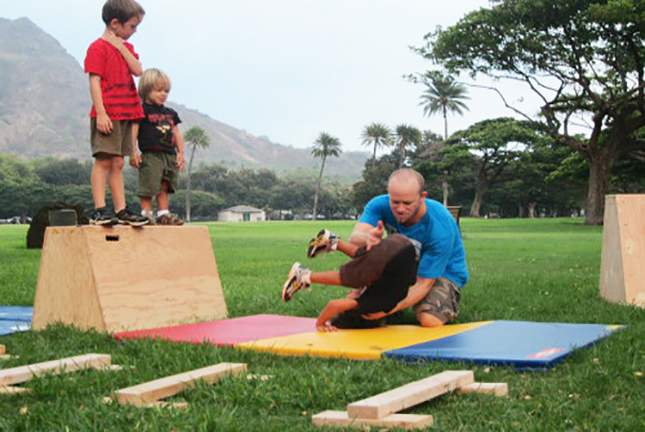 Photo: Courtesy Precision Parkour
That's just the start of it. Besides more than 300 activities, you can also expect big crowds, warm weather, lots of free fun and lines waiting for it. So here are our tips to navigating this once-a-year event.
1 – Get there early or late.
We know this is the rule of thumb at any free family day, we have often seen people arrive as early as half-an-hour before an event starts. But that is much earlier for Children and Youth Day. Organizers say in the past, families started parking at 8 a.m., two hours before the activities began because spaces ran out around 10 or 11 a.m. This year, more parking should help ease that problem. You will also find crowds easing up in the parking lot and on the grounds after 2 p.m. or so, but you may also find that free goodies may have run out at some popular stations. Get there too late and you may not even be able to get in line for some activities if people are already waiting.
In general, though, you should expect to wait in line. So you may want to go in a group so one adult can stand in line while the others watch the little ones running around on the lawn. And bring your aloha spirit.
2 – Know your way around.
Children and Youth Day spread out in 2016. First of all, parking options have expanded to not only the underground municipal lot, but also state parking lots at the corner of Vineyard Boulevard and Punchbowl Street, Miller and Punchbowl streets, Central Middle School, Central Pacific Bank on Alakea Street (the lot entrance is off of King Street), Century Square and on street in the area.
The booths are grouped in categories so take a good look at the site map. If your child is crazy about archery, climbing walls and obstacles courses, you might want to start in the teen zone behind Honolulu Hale. If your little gardener would rather explore the world of insects and pick up a plant, head to the Farm to School Zone between Iolani Palace and the barracks. Learn about space exploration in the State Capitol auditorium walkway then watch a robotics demonstration in the auditorium. HONOLULU Family and Keiki Parkour will be on the Richards Street side of the State Capitol where you can also do origami and paint magnets to take home. Bouncers and other kids activities are on both sides of the lawn in front of the State Capitol. Pick up TruMoo chocolate milk from Meadow Gold Dairies and Go-Gurt and apple slices from McDonalds Happy Meal tent on the Beretania Street side of the State Capitol and catch the train from the nearby stations.
Food trucks will be parked on Punchbowl Street offering everything from jerk chicken and mac n cheese to fried noodles, Pizza Hut pizza and Slush Puppie floats. A portion of proceeds from all food sales will go to Children and Youth Day.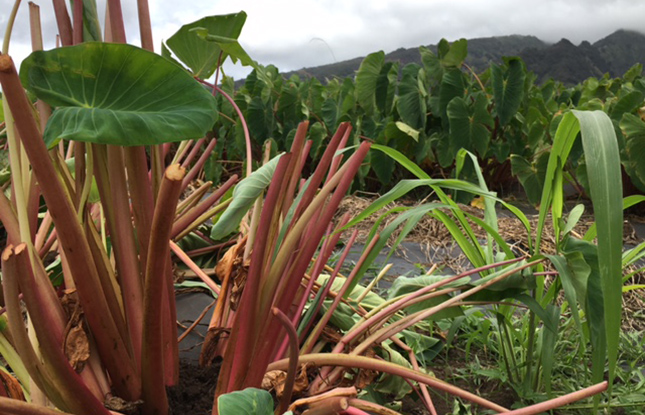 Photo: Courtesy State of Hawaii Department of Agriculture
3 – Preregister for a free kalo plant.
A thousand kalo huli, or taro plants, will be given away Sunday. Fill out the online form ahead of time, then stop by the Farm to School Zone near Iolani Palace for a short lesson on growing kalo and pick up yours to plant at home. Any plants not picked up by 2:30 p.m. will be given away.
4 – Stop by the information booth.
There are four, one in each zone. This is where you can pick up a CYD goodie bag with Taco Bell and Pizza Hut coupons, information on other great family events and a coupon for a free keiki meal at Tony Roma's. Workers can also give you a map, schedule of entertainment and a Keiki Card to fill out and redeem for a prize including necklaces, books, stuffed animals and other donated gifts.
5 – Don't forget the free tours.
Walk into Iolani Palace for free to see the rooms of America's only royal residence and the royal jewels, then play Hawaiian games, learn ukulele and see throw net demonstrations on the lawn. Hawaii State Art Museum will have a visit from Daniel Tiger of PBS' Daniel Tiger's Neighborhood show, hands-on arts and crafts and performances including Castle High School and the Performing Arts Center of Kapolei. Our blogger says to make sure to stop by the "I Love Art" room before you go. Boy Scouts can earn their Law and Justice Merit Badge with a free tour of the state's courts and legal history at the King Kamehameha V Building.
6 – Bring donations and electronics.
Children and Youth Day is collecting gently-used clothes for United Cerebral Palsy of Hawaii and National Kidney Foundation of Hawaii. You can also e-cycle in the Green Zone.
7 – Pack water, a recyclable tote, blanket and snacks.
Most of the event is outside. Bring drinks so you can stay hydrated. A tote will help you carry around all those free giveaways. When you need a break, there are designated picnic areas on the Richards Street side and behind the Capitol. You can also set up a spot under the trees on the front lawn of Iolani Palace.
8 – Stop by the bathroom first.
Restrooms are available. Plan ahead, it could take a while to get there. Bathrooms are located in each corner of the State Capitol, but you will need to take an elevator down to the chamber or up to the second floor. Other restrooms are in the Iolani Palace barracks and just outside the Kalanimoku Building behind Honolulu Hale.
9 – Get there early to run.
Registration for the second ever CYD Fun Run closed last week. Your kids can join the 1K and 3K race but they will not receive a medal or goodie bag.
Other activities at the 23rd Annual Event:
• Walk into ambulance displays and receive coloring books, tattoos and pencils from AMR Ambulance.
• Shoot an arrow for a chance at a prize or play DodgeBow with Best of HONOLULU Family winner Archery for All.
• Capture Pokemon or jump into the battle arena at BAYADA Home Care's booth.
• Get your face painted by Big Brothers Big Sisters Hawaii.
• Play futsal on an inflatable field with Bulls Soccer Clubs.
• Buy items on a pretend budget at Financial Reality Foundation's booths.
• Keiki ID by the Hamada Financial Group and New York Life Insurance.
• Do make-and-take arts and crafts with the City and County of Honolulu Department of Parks and Recreation, Family Hui Hawaii, Hawaii Association of Independent Schools, Hawaii Behavioral Hawaii, Kamaaina Kids, Mental Health American of Hawaii, Parent and Children Together and more.
• Make goop (and take it home) with the Partners in Development Foundation.
• Pick up a vegetable plant from Monsanto Hawaii or Kawaiahao Church.
• Climb a wall and try Rope-a-Phobia with Kamaaina Kids.
Children and Youth Day is Sunday, October 2 from 10 a.m. to 3 p.m. at the capitol grounds. hawaiicyd.org