Our Guide: 11 Tips for the Ko Olina Children's Film & Music Festival
From food to shows, we asked for tips to the big Disney film event at Ko Olina.
With nine films, seven live performances, golf and ukulele lessons and more, this one-day event is packed. We asked organizers for tips to navigating the big festival in West Oahu.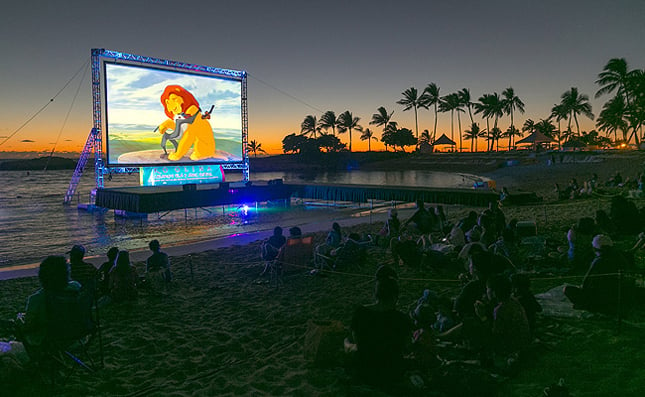 Photo: Ko Olina Children's Film and Music Festival. Last year's film was The Lion King. This year, families can watch Frozen on the beach.
The grounds and ballrooms at Ko Olina will be packed this wekend. It's the second annual Ko Olina Children's Film and Music Festival, a benefit for Kapiolani Medical Center for Women & Children. From 1 to 8 p.m., families can watch favorite Disney films and family-friendly films from the Hawaii International Film Festival, see live performances, try kid activities and more at the lagoons, the ballrooms and grassy areas of both the Ihilani and the Aulani. It all wraps up with a showing of Frozen on a big screen on the beach.
With so much ground to cover and so much to do, we asked some of the organizers of for their tips to the big event.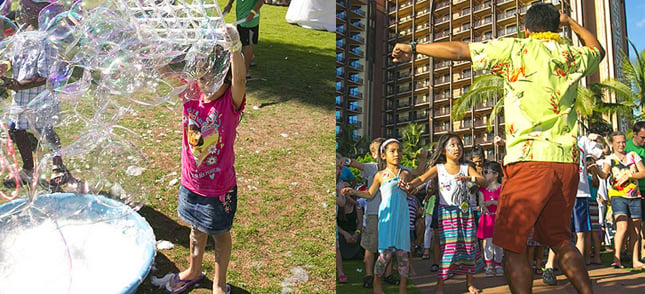 Photo: Ko Olina Children'a Film and Music Festival
1 – Wear comfortable shoes, a visor or hat, sunscreen and bring water. Most of the venues are outside and it can get hot. Coolers are not allowed but bottled water or water in closed containers are fine. Don't forget, you can always take a break to watch a Disney or HIFF film in an air-conditioned ballroom.
2 – Set your schedule. The 25+ events are spread out between the Ihilani, the Aulani and the Kohola Lagoon. That could be a lot of walking back and forth for little legs. So start at the schedule (scroll to the bottom of the home page) and prioritize your "must do" list.
Remember, live performances, such as the popular Disney's Aloha Fun Show, only occur once so you might want to plan around those moments. The photo op with Tucker, Kapiolani's "Chief Canine Officer" is only 3-5 p.m. Face painting, tattoos, balloon artists and crafts occur all day.
3 – Buy tickets early, save $5. Presale tickets for adults are $25. They're $30 at the door. Presales will close online Saturday morning. Kids 12 years and younger are $10 both presale and at the door.
4 – Save your spot on the beach early. It's open seating at the Kohola Lagoon for the sunset showing of Frozen. The giant screen will be visible from many different places, but if you have your heart set on a certain area, you can start reserving spaces when the event starts at 1 p.m. Remember a blanket or mat. Umbrellas and high back chairs will not be allowed.
5 – Want a blue light-up wand? Stop at the Lagoon first. The Kapiolani Medical Center tent will be set up at the Kohola Lagoon with sun and safety tips. Kids can also pick up a Frozen wand perfect for when the sun goes down, while supplies last.
6 – Don't forget the recording and camera studios. The Hawaii Film & Camera Studio will be holding interactive activities with professional filmmaking equipment (Aulani's Ballroom Lawn). The Honolulu Community College Recording Studio (Ihilani Resort, Pool Level) will let young musicians record, edit and even mix a track.
The Ukulele lessons at 3:15 p.m. and interactive percussion and wind instrument demonstrations at 1:45 p.m. will also give kids a chance to make music.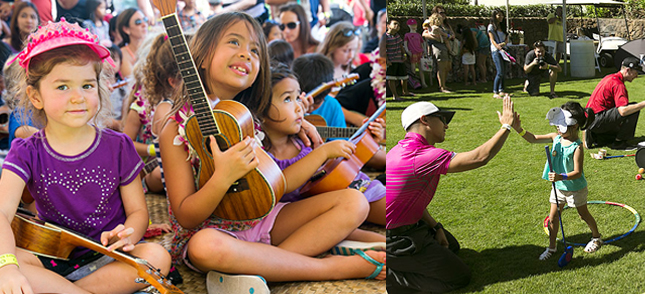 Photo: Ko Olina Children'a Film and Music Festival
7 – Review your food options. We did get a look at what food vendors will be offering on site.
Best of HONOLULU Family winner Teddy's Bigger Burgers will have bacon cheeseburgers, chicken tenderloins, corn dogs and even fried ice cream ranging from $5 to $10. Kids combos are $7 for chicken tenderloins or a cheeseburger with fries.
Box Lunch will offer hot dogs, bacon dogs, chili cheese dogs and nachos for $5 or $6.
Haahaa Shave Ice will have the icy treat with 100-percent organic handmade syrups in blueberry, lilikoi and mango, as well as green tea and strawberries 'n' cream starting at $6.
8 – Arrive at movies early. All seating is on a space-available basis.
9 – Not allowed: Alcohol, coolers, glass containers, umbrellas (on the beach), high back chairs, jumping into the Aulani and Ihilani pools. The pools are for registered guests only. FYI, there are still rooms at the Aulani and Ihilani available for the special festival rate of $289 a night. (Click on the "accommodations" tab on the Festival's home page for information.)
10 – Parking is at the Ko Olina Marina. Event parking is $10, versus $35 normally. A trolley will drop you off at the festival entrance.
11 – The show will go on. Rain or shine. For a better sense of what the skies will be like this weekend, check with the National Weather Service.
The Ko Olina Children's Film and Music Festival is Saturday, March 7. For the full schedule, to buy tickets and all other information, go to koolinachildrensfestival.com.