Grazing Fun: L'Ulu at Leeward Community College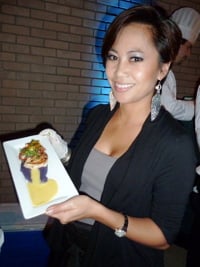 It rained hard from time to time Saturday evening, meaning that Leeward Community College's culinary students were forced into the unfamiliar role of squeegee-ing down the walkways.
But the rain did not dampen the spirits at Leeward Community College's annual culinary gala, L'Ulu,
Hawaii's community colleges are our major centers for culinary education, and L'ulu gives Leeward a chance to raise funds—and to prove their students can play in the big leagues.
Leeward chef instructor Ian Riseley stood back and supervised as his students prepared kiawe-smoked lomi lomi salmon with produce from Mililani's Mari's Garden.
Their work stood up that of the name chefs who'd come out to support the school.
Leeward alumni Alan Wong was there with Big Island farmer Richard Ha. His dish had Ha's tomatoes three ways, as soup, roasted and in an ume tomato sorbet.
Ed Kenney cooked up Kahaluu Pork Sausage with MA'O Farms bitter greens. Roy's Jackie Lau did Kauai shrimp with goat cheese grits.
Some of the best dishes were remarkably simple in concept. Goran Streng of Tango did Reuben sandwiches with Kobe beef pastrami and potato salad. He got heavy traffic.
Dean Okimoto of Nalo Farms (left) did a fresh vegetable tsukemono (eggplant, daikon, cucumber) with rice that many swore was the best thing they'd eaten all night.
And the ever irreverent Elmer Gusman of Poke Stop (right) did a corn dog. Really. A sausage made with pork shumai mix wrapped in a batter with Nozawa corn, spicy catsup optional, but recommended.
Joan Namkoong (left) was over from the Big Island on behalf of the Hawaii Cattleman's Association, promoting Hawaiian Red Veal, named by HONOLULU Magazine as the best local meat.
She'd converted Eric Leterc of the Pacific Club. Despite shuttling back and forth to an event at the club and preparing for Mother's Day the next morning, Leterc whipped up something simple and delicious—a veal stew with spring vegetables.
"Fresh local ingredients, how can you go wrong," he said. "Besides, everyone needs a little stew to warm them up on a cold and rainy night."
If you missed this year's event, next year's L'Ulu will be held May 5, 2012.