Got $1,000 for dinner? Tix for Hawaii Food & Wine Festival now on sale.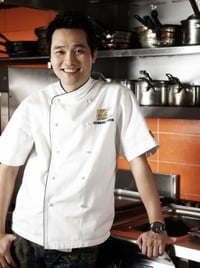 The much anticipated Hawaii Food & Wine Festival, headed by Roy Yamaguchi and Alan Wong, is bringing to Honolulu an international roster of chefs, some 30 in all.
On Sept. 29 to Oct. 1, there will be two days of culinary seminars and excursions, and three signature evening events. Since you may want to get tickets for the signature events in advance, here's the rundown.
At $1,000, The Gala Dinner is pricey, but the festival is a fundraiser for two important local beneficiaries, the Hawaii Agricultural Foundation and the Culinary Institute of the Pacific.
Thursday, Sept. 29: Streets of Asia: Morimoto & Friends, presented by Hawaiian Airlines.
This will be a walkaround, with chefs' interpretations of Asian popular street food, held at the Sunrise Pool of the Waikiki Edition. In addition to Masuhara Morimoto, the event will include chef Edward Kwon of Korea, Susur Lee (left) with an international group of restaurants including Canada and Washington, D.C., Justin Quek of Singapore and several more, including Chai Chaowasaree of Chai's Island Bistro.
6 to 10 p.m., Waikiki Edition, $200 ($75 tax deductible).
Friday, Sept. 30: Cocktail Party and Gala Dinner
This is the centerpiece of the festival: a Garden Terrace cocktail party and major formal dinner, with master chefs from Hawai'i, Japan, Australia and the United States, including Nancy Silverton (right), Alessandro Stratta, Hubert Keller and Tetsuya Wakada, including the Halekulani's own chef Vikram Garg.
Garden Terrace and Ballroom, Halekulani, 6 p.m. cocktails, 7 p.m. dinner, $1,000 ($800 tax-deductible).
Saturday, Oct. 1: From Mauka to Makai
A major culinary extravaganza on the Great Lawn of the Hilton Hawaiian Village: 15 celebrity chefs, from Marcel Vignernon and Celestino Drago (left) to Hawaii culinary stars like Peter Merriman, George Mavrothalassitis, Roy Yamaguchi and Alan Wong–all known for their farm-to-table cuisine and support of sustainable agriculture.
6 to 9 p.m., Hilton Hawaiian Village, $200 ($75 tax deductible).
You can purchase tickets on the festival's web site, click here.