Good Reads: May 2015 Editor's Picks
Our editor's picks of new books for keiki of all ages.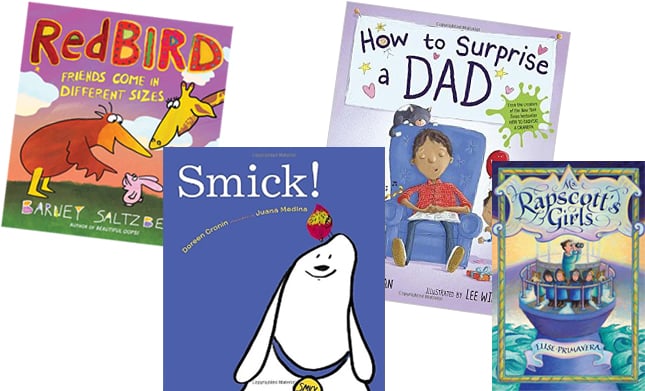 I grew up with my nose stuck in a book. You can ask my mom. Once I opened a story by some of my favorite authors such as Betsy McDonald (Mrs. Piggle Wiggle), Maud Lovelace (Betsy, Tacy and Tib), Edward Eager (Half Magic, Knight's Castle) and Roald Dahl (The BFG, James and the Giant Peach), I didn't hear or see anything that happened around me.
My daughter started reading at the age of 3 and one of our favorite moments of the day is settling in for three or four stories just before bedtime.
So, you can imagine my glee (yes, I believe I even giggled a little) when I discovered that the HONOLULU Family editor's mailbox fills up with stacks of children's and youth books every week.
We asked three HONOLULU Family reader's kids to review some of the new releases and choose their favorites. You can see their selections in our current issue. I have the pleasure of reading every book before passing them to the child reviewers, so I have a personal list of my own favorite titles that came out this spring. Here are my picks. Click here to enter to win!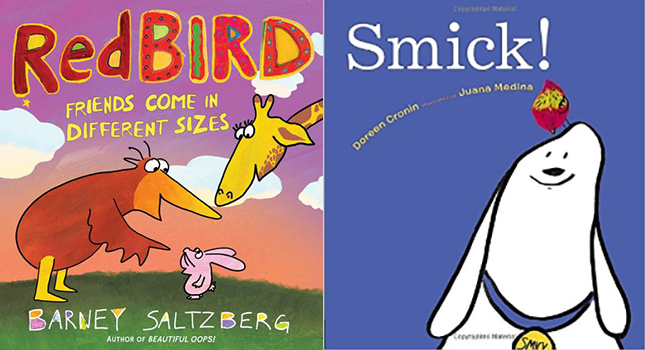 Toddler
Redbird: Friends Come in Different Sizes, by Barney Saltzberg
These joyful new board books by the author of Beautiful Oops! introduces kids to RedBird and his friends. In this story, RedBird learns that all friends are important, whether they're big, small or sporting costume mustaches. The story is delivered in fun-to-read rhyme and colorful illustrations. Ages 0-4 years. $5.95, Workman Publishing.
Preschool
Smick!, by Doreen Cronin
Just a few pages into Doreen Cronin's (Click, Clack Moo: Cows that Type) newest book and I was in love. It is pure, playful simplicity. From the handdrawn look of the illustrations (the bird character is crafted from a flower petal with a few added lines) to the ultra succinct action lines (think easy reader versions of Dick and Jane) the story of a dog, a bird and a stick is full of joy. 3 to 5 years. $16.99, Viking Books for Young Readers.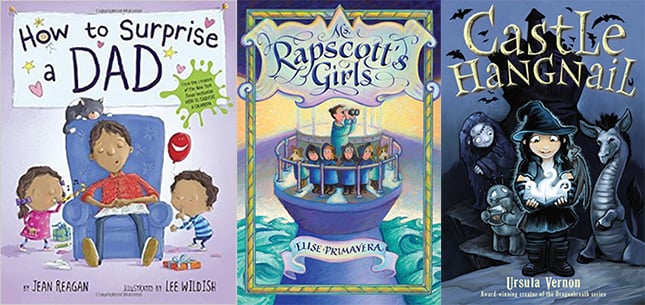 Kindergarten-Third Grade
How to Surprise a Dad, by Jean Reagan
The quest for a perfect Father's Day present turns into a secret-filled adventure in this imaginative "how-to" book. From surprise gift ideas to tips on how to avoid suspicion (one thought: distract dad with a "crazy dance"), kids will enjoy every page. 5 to 8 years. $16.99, Knopf Books for Young Readers.
Fourth Grade and Older
Ms. Rapscott's Girls, by Elisa Primavera
Full disclosure: The first few pages of this imaginative book may make working parents feel a bit guilty. I did. But, the magical tale of a special school just for the much-ignored children of the world's busiest parents kept me entertained until the end. Five, quirky girls are packed into postal boxes and carried by the wind to an isolated lighthouse school. But one disappears when her parents forget to tape the box. Between daily servings of birthday cake ("what's birthday cake?" one of the girls asks) and boot camp on basic tasks, the others set off to find the missing girl and discover a lot more about themselves along the way. 8 to 12 years, $16.99, Dial Books for Young Readers.
Fourth Grade and Older
Castle Hangnail, by Ursula Vernon
A wicked witch has arrived to save the embattled Castle Hangnail. What the castle's hunchback, magical suit of armor, minotaur/chef and mermaid/genie don't know is that 12-year-old Molly is not a wicked witch. She's a mere evil twin with dreams of finding a place to fit in. She's also seriously endearing. See how Molly battles leaking pipes, a list of magical tasks and a suspicious castle crew all while trying to avoid a seriously annoying good twin sister and the real sorceress who could take the entire castle. I found this story so entertaining, I couldn't wait for our 10-year-old reviewer to give it back so I could find out how it ended. 8 to 12 years, $16.99, Dial Books for Young Readers.
This is just one of five HONOLULU Family giveaways for your summer. Click here for the full details!