Good Reads: July 2014
Book Recommendations for Your Keiki—from Preschool Through Eighth Grade, Plus a Little Something for Mom and Dad.

Preschool
Picnic
by John Burningham
What is better on a bright summer day than a picnic? Sheep, Pig and Duck join the Boy and Girl until a bull interrupts. The animals each manage to lose something, so it's up to you to help find the missing hat, ball and more.
Kindergarten
Kite Day: A Bear and Mole Story
by Will Hillenbrand
One morning bear finds the wind is right for a kite day. He and mole design, build and fly their kite. But when the weather changes, what will happen next?
First Grade
Cam Jansen and the Spaghetti Max Mystery
by David Adler
While at the airport to meet Cam's father's childhood friend, Cam finds herself trying to solve two mysteries. Can they track down a traveler's missing daughter and her dad's old friend?
Third Grade
King for a Day
by Rukhsana Khan
Malik is ready for Basant, the Pakistani celebration of the beginning of spring. His big goal is to use his kite to take down other kids and be named king for a day. But when a girl is targeted by a bully, Malik has to make a decision.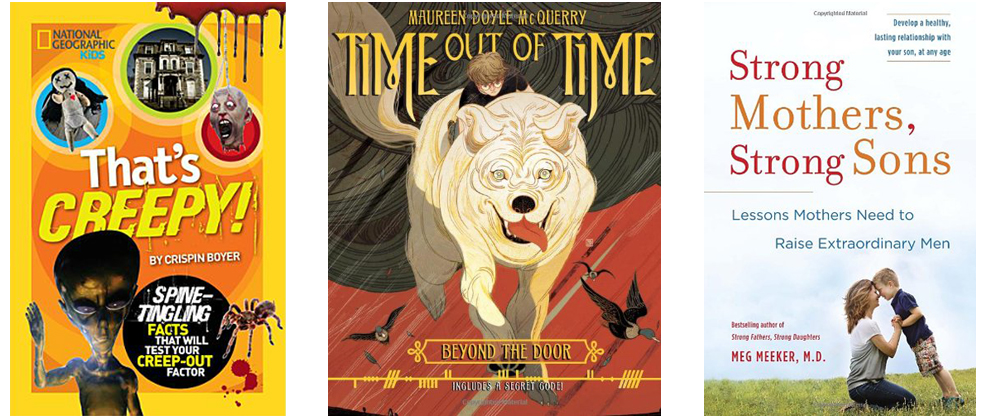 Fifth Grade
That's Creepy!
by Crispin Boyer
If it's kooky, mysterious and spooky, it's in this National Geographic Kids book. Learn about werewolves, vampires and even the Death's-Head moth that makes a spine-tingling sound when annoyed.
Seventh Grade
Time Out of Time: Book One: Beyond the Door
by Maureen McQuerry
Mom and dad may have told you not to leave the door open at night. Timothy does and strange, menacing creatures come in. Soon, everything has changed and he and his sister must work together to fight the forces of the dark.
For Parents
Strong Mothers, Strong Sons: Lessons Mothers Need to Raise Extraordinary Men
by Margaret J. Meeker
How do mothers raise their sons? Margaret Meeker's common sense suggestions help you bring up boys who are confident, respectful, appreciative of women, hard workers and good citizens.
These books and many others for all ages are available at your public library or you can place a request for titles. You can borrow "all you can carry" for a three-week loan period with your public-library card. Please check the Hawaii State Public Library System website for a list of library locations, hours and free, family-friendly programs at a library near you at librarieshawaii.org.