From Good Mornings to Good Nights
Hawaii News Now's 6 and 6:30 p.m. anchor and mom-of-two Tannya Joaquin talks about her move to evening news.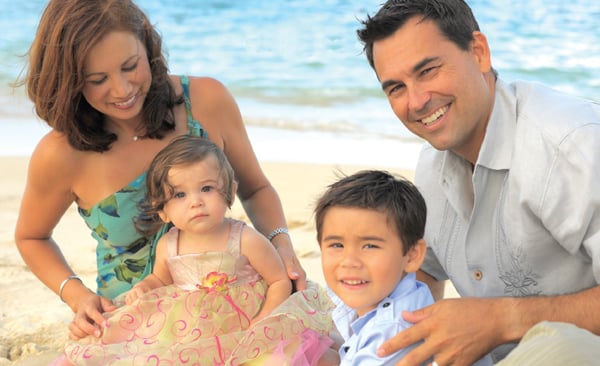 Tannya, Hana, 1, Kaimana, 4, and husband Alan. Photo: Christiaan Phleger
ADVERTISEMENT
For two years, Tannya Joaquin spent her Sunrise with more than a quarter million viewers every week. Now, she spends her mornings in front of a not-always-captivated audience of two. She couldn't be happier.
In March, Joaquin made the switch from top-rated morning news anchor to the morning mommy shift; preparing breakfast, dressing her kids and droppping off 4-year-old son Kaimana and 1-year-old daughter Hana, before heading in to the Hawaii News Now newsroom to report, write and anchor the 6 and 6:30 p.m. newscasts. Although she misses the fun of morning news and the Sunrise team, the move has been a blessing.
"On paper, morning news sounds like a great way to have more time with the family," Joaquin says. The reality was different.
"I remember picking my son up from school one day and reading their day's lesson board. They were learning about emotions and talked about what made them sad. Some kids said things like 'my friend won't share their toy with me.' I got down to Kaimana's and my heart sank. It said 'Mommy left for work when I was sleeping.'"
[Now] I'm home early enough in the evenings to play with the kids, tuck them into bed and steal some alone time with my husband, Alan. For the first time, I stayed awake to watch a Hawaii Five-0 episode live on Monday night with him, too. May sound small, but that was huge for us."
Any moment of downtime is a rare luxury for the couple. While Joaquin knows breaking news could call her to the newsroom at any time, Alan is constantly on the go as the founder and driving force behind FarmRoof. The innovative local company installs unique, proprietary garden systems on the roofs of everything from private homes to Castle Medical Center. Add two kids under the age of five in the mix and the word "busy" is an understatement.
But Joaquin's focus on family has created some unique opportunities for her little ones. This past fall, she was chosen to cover the canonization of Saint Marianne Cope in Rome. Joaquin turned the assignment into a family trip, with full support of the station.
[Hawai'i News Now general manager] Rick Blangiardi said, "I really hope they go with you," Joaquin recalls. "How great is that? He also thought it was cute when my son Kai popped up on the news while I was reading a story one morning because he didn't want to stay home during a storm."
On weekends, you'll find the family heading to the beach, the zoo, museums and any spot with a waterslide—one of Kai's favorite activities. Though Joaquin has no regrets about the career that has covered everything from the OJ Simpson trial in California to the red carpet live premiere of Hawaii Five-0 in Waikiki, the legacy that matters most to her are the lessons she leaves her kids.
"I hope Hana and Kai take to heart the importance of family, education, travel and making the most of every minute. If I've done that, I've done my job as Mom."
Watch Tannya Joaquin weeknights on Hawai'i News Now at 6 p.m. on KGMB and Hawai'i News Now at 6:30 p.m. on KFVE.