Good Food, Good Times
Be the life of the party and prepare tasty delights everyone will love. From savory to sweet treats, to familiar with a twist, these five dishes will leave your guests satisfied and happy.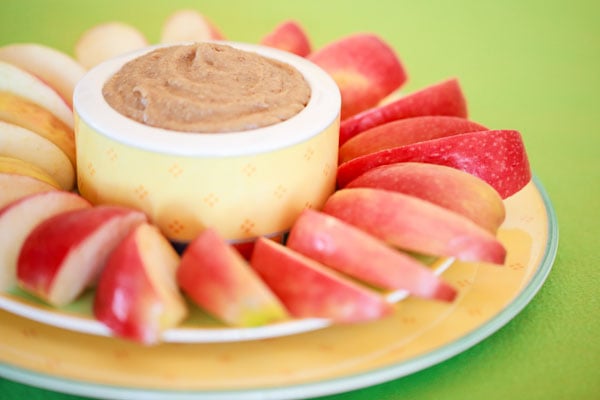 Photography by Karen DB Photography
Healthy "Caramel" Dip with Apples
Ingredients:
1 cup raw cashews
1 cup pitted medjool dates
1/4 cup maple syrup
2 teaspoons vanilla
A pinch of sea salt
Water used for soaking dates
Directions:
1. Soak the cashews in water for 2 to 3 hours. Soak the dates in a different bowl, for 2 to 3 hours as well.
2. Drain and rinse the cashews then place them into a food processor or blender along with the dates (save the water), maple syrup, vanilla and salt. Add about 3 to 5 tablespoons of the water from the dates and blend until very smooth, adding more water and scraping down the sides if needed. Serve with apple slices.
S'mores in a Bowl
No camp fires needed for this S'more recipe. Add dried cherries or cranberries for a tangy fruit-filled twist.
Ingredients:
1 box of Golden Graham cereal
1 bag of mini marshmallows
1 cup chocolate chips
Directions:
1. Mix all ingredients together in a bowl.
2. Place bowl of mixture on the table.
3. Watch it disappear!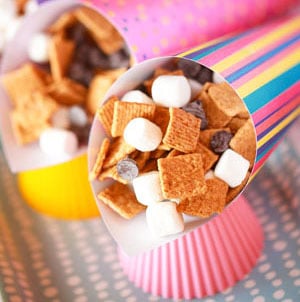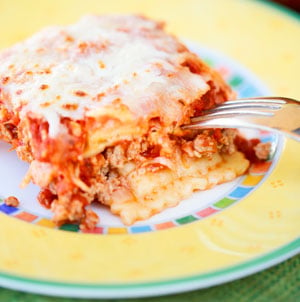 Ravioli Lasagna
This easy, versatile recipe has many possibilities. Add chopped spinach instead of ground turkey for a vegetarian version, or switch the kind of ravioli you use. Sprinkle Parmesan cheese on top before baking, and/or add sauteed, chopped veggies.
Ingredients:
1 package ground turkey
1 jar of marinara sauce
1 package (25 ounces) of frozen ravioli
2 cups shredded mozzarella cheese
Directions:
1. Brown the ground turkey.
2. In a 9-x-13 casserole dish, layer:
• 1/3 of the sauce
• 1/2 of the ravioli
• 1/2 of the ground turkey
• 1/2 cup cheese
3. Repeat these layers again, ending with the rest of the sauce and the cheese.
4. Cover with foil and bake at 400 degrees for 40 to 45 minutes. Take the foil off the last 10 minutes to brown the top.
Energy Bites
I made a double batch of these for my kids and their cousins this summer and they were gone in a few hours. They are super easy, and the kids can help form the balls. You can add chopped nuts, dried fruit or other flavored chips.
Ingredients:
1 cup old-fashioned oats
2/3 cup toasted coconut flakes
1/2 cup peanut butter
1/2 cup ground flaxseed or wheat germ
1/2 cup chocolate chips
1/3 cup honey
1 teaspoon vanilla
1 tablespoon chia seeds (optional)
Directions:
1. Mix all of the ingredients in a bowl.
2. Chill for 30 minutes.
3. Roll into balls, then store in an airtight container and keep refrigerated.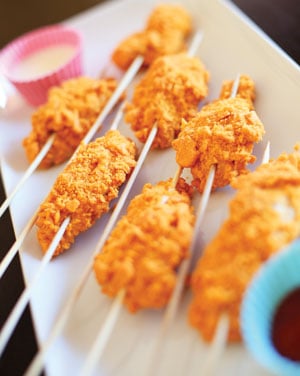 Incredibly Easy Chicken Nuggets
This recipe contains three ingredients kids love—Goldfish crackers, crushed pretzels and chicken.
Ingredients:
1 package of chicken breasts or tenders, cut into thin strips or 2-inch-long chunks
1 package of Goldfish crackers
1 cup of ranch dressing
Directions:
Cut the chicken into bite-size pieces or long tenders. Crush the goldfish crackers in the package. Let the kids help to smash them to bits. Pour the crumbs into a shallow bowl. Pour ranch dressing into a second shallow bowl. Dip the tenders into the dressing to coat, then into the cracker crumbs. Press the crumbs onto the tenders. Place on a foil-lined cookie sheet and bake for 15 to 20 minutes at 350 degrees. Serve with more dressing or ketchup.
For inspirational ideas and recipes, visit these great family-friendly, food websites: gimmesomeoven.com, tasteofhome.com, nourishingmeals.com.