Good Eats: Holiday Dishes for Your Family From Two Hawaii Chefs
Chicken nuggets and sandwiches are fine for the other 11 months of the year. Celebrate the holiday season with these surprisingly kid-friendly dishes from two chef dads.
Juggling a family and work is challenging for all of us. Imagine being a new dad while running the kitchen of one of Hawai'i's busiest restaurants–a restaurant that never closes, even during the busy holiday season.
Chefs Darren Demaya and Danny Chew know exactly what that's like. The chefs at the Sheraton Waikīkī are responsible for turning out delicious dishes for more than 50,000 diners every month. After work, Demaya goes home to his active 18-month-old son, Addysen, and Chew to his bubbly 11-month-old little girl, Olivia. We asked these talented dads to help upgrade our holiday menus. They delivered four dishes dressed up for adults, but with flavors kids will love. Our kid testers gobbled them up!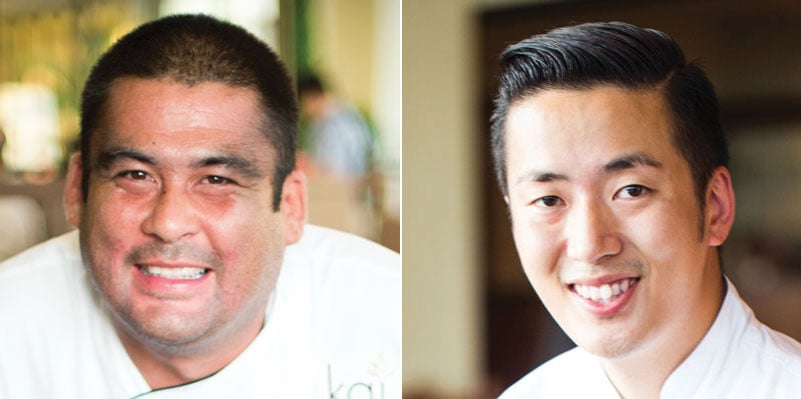 Steamed Manila Clams in Lup Cheong Broth
By Chef Darren Demaya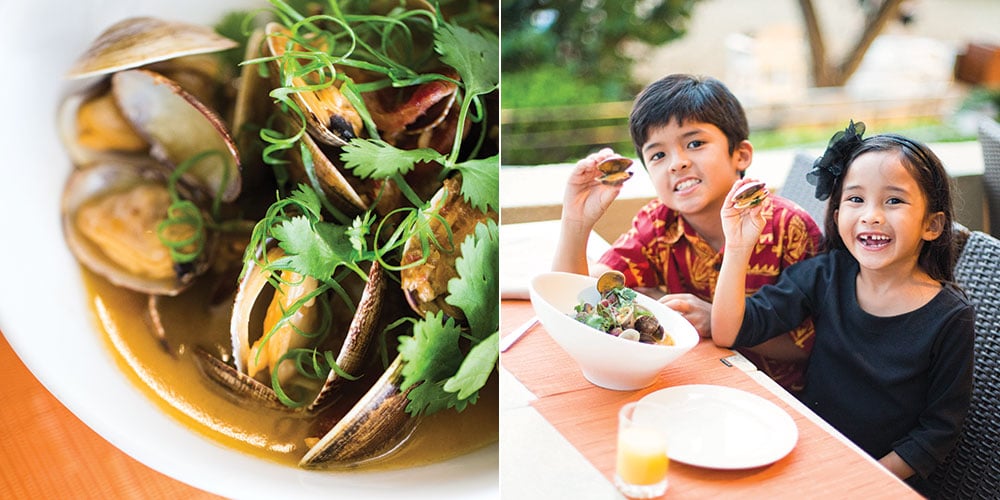 Sweet soy sauce and Chinese sausage make a broth our kid tasters slurped up with gusto.
Photos: Karen DB Photography
INGREDIENTS

1 pound Manila clams

1 stick lup cheong sausage

2 ounces shallots, minced

1 ounce sambal (chili sauce)

4 ounces kecap manis,

Indonesian sweet soy sauce

Salad oil

2 ounces unsalted butter

Green onion and cilantro for garnish

Salt to taste

 
INSTRUCTIONS
1. Heat salad oil in a skillet. Add minced shallots and sweat over medium-low heat for two to three minutes.
2. Add kecap manis and sambal.
3. Place clams, butter and lup cheong sausage in a pot, add sambal and kecap manis mixture and cover with lid.
4. Steam clams until all have opened.
5. Serve clams in a bowl. Garnish with green onion and cilantro.
Parmesan-Crusted Chicken Breast with Hāmākua Tomato Marinara Sauce
By Chef Darren Demaya
Italian flavors and an oven-crunchy crust make this anything but the typical chicken strips and dip.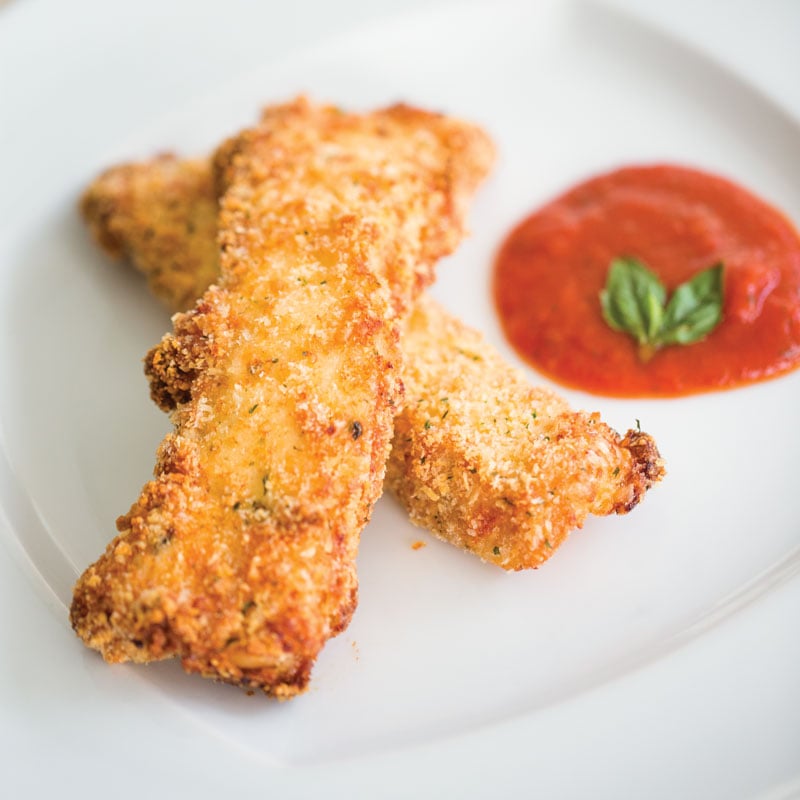 INGREDIENTS

1 pound chicken breast

2 cups panko

2 cups parmesan cheese

2 cups mayonnaise

1 teaspoon Italian parsley, chopped

INSTRUCTIONS

1.  Cut chicken into one-inch-thick strips.  



2. Combine cheese, panko and chopped parsley.  



3. Rub chicken with mayonnaise and crust it with the cheese mixture on all sides.



4. Bake at 350 degrees for 8 to 10 minutes.
Hāmākua Tomato Marinara Sauce
INGREDIENTS

1 pound Hāmākua tomatoes

4 ounces tomato paste

3 ounces olive oil

2 teaspoons dried oregano

6 tablespoons basil, chopped

1/2 ounce garlic, minced

3 ounces onion, minced

4 ounces white wine

Salt and pepper to taste

 
INSTRUCTIONS
1. Place tomatoes, dried oregano and basil in a food processor and pulse until smooth.
2. Pour olive oil into a skillet on medium-low heat, sweat garlic and onions for three to four minutes.
3. Deglaze pan with white wine.
4. Add blended tomato mixture and tomato paste, then simmer for 30 minutes.
5. Salt and pepper to taste.
Filet-O-Fish
By Chef Danny Chew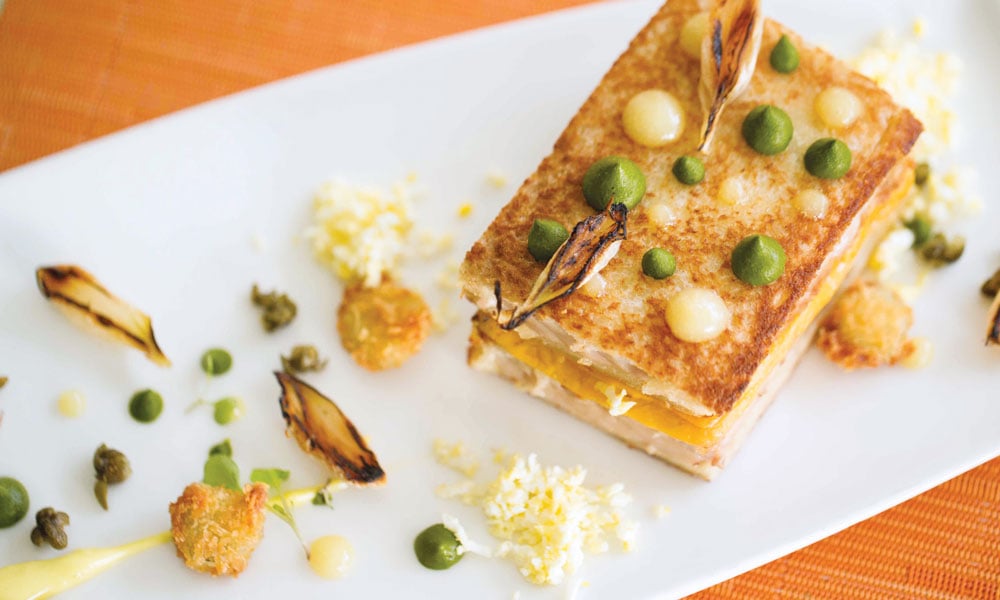 If you loved ordering this at the fast-food drive through as a kid, you'll love the nostalgic flavors, upgraded with 'ahi belly and aged cheddar cheese.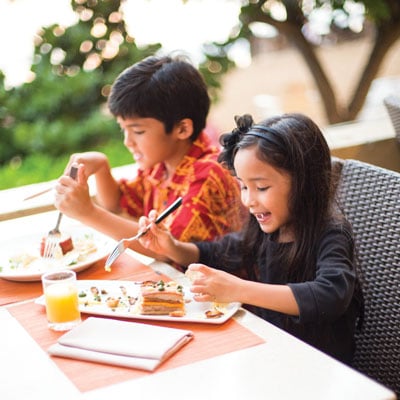 INGREDIENTS

 4-ounce 'ahi belly, trimmed into 4-by-2 inch pieces

 8 pieces of white bread, crust trimmed

 1/2 pound butter, room temperature

 2 ounces of aged cheddar cheese
INSTRUCTIONS
1. Flatten bread slices with a rolling pin.
2. Trim the bread slices to the same size as the fish.
3. Generously smear butter on one side of the bread.
4. Season the fish with salt and place on top of the bread.
5. Cover the fish with the other piece of bread. Repeat with remaining fish and bread. Chill for two hours.
6. Melt a bit of butter in a large non-stick pan and brown both sides of each sandwich. The fish should be medium rare.
7. Put a slice of cheddar cheese on two of the sandwiches. Bake the sandwiches at 500 degrees for four minutes.
8. Place a "plain" sandwich on top of the one with cheddar. Plate with tartar sauce for dipping.
TARTAR SAUCE INGREDIENTS
Try a flavor experiment! Make Chef Danny's seven "Tartar Sauce" condiments and have the kids taste each. Then mix them together for a complex flavor.
1. Fried Capers
1 cup capers1 cup vegetable oilHeat oil in a pan to 350 degrees. Fry capers until crispy.
2. Herb Vinaigrette
¼ cup tarragon leaves
¼ cup Italian parsley
½ cup spinach
2 tablespoons white balsamic vinegar
1 tablespoon extra virgin olive oil
2 tablespoons xanthan gum
Salt to taste
INSTRUCTIONS
1. Blanch spinach in salted water. Then quickly "shock" the spinach in ice water. Drain well.
2. Put spinach, tarragon, parsley and vinegar in a high-speed blender and blend until smooth, about one minute.
3. Blend again while adding in xanthan gum. Blend for about 30 more seconds, then add olive oil.
4. Salt to taste.
3. Roasted Lemon Paste
8 lemons
3 cups sugar 
INSTRUCTIONS
1. Wrap four lemons together in foil. There should be two packets.
2. Roast at 300 degrees for 35 minutes. Pull lemons out and let rest for 10 minutes.
3. Open the packets and save all liquid in a bowl.
4. Cut lemons in half and spoon out the flesh. Avoid getting any white parts of the peel and remove seeds.
5. Skin the lemon and toss the white part of the skin.
6. In a non-stick pan, combine lemon flesh, skin and sugar. Cook until it resembles a paste, then blend in a blender until smooth.
4. Egg Powder
2 hard-boiled eggs
Dry the eggs with paper towels. Grate fine, then mince and keep dry.
5. Fried Gherkins
½ cup gherkins sliced into ¼ inch pieces
1 egg, lightly beaten
1 cup all-purpose flour
1 cup panko
1 cup vegetable oil
Salt to taste
INSTRUCTIONS
1. Dip gherkins in flour, egg and panko.
2. Heat oil to 350 degrees and fry until golden brown.
3. Drain and season with salt.
6. Aioli
1 raw egg
1 cup grapeseed oil
½ cup olive oil
1 tablespoon garlic, chopped
2 tablespoons lemon juice
1 tablespoon white balsamic vinegar
Salt to taste
Blend egg, garlic, lemon juice, vinegar and salt in a blender. Slowly drizzle in oils until it emulsifies.
7. Charred Pearl Onion
1 cup pearl onions, peeled and cut in half
Vegetable oil and salt to taste 
Heat a skillet until scorching hot. Add oil and quickly put the onions in, cut side down. Sear until blackened. Remove from heat and season with salt.
Orange Chicken in a Bacon Wrap with Brown-Butter Apple and OJ Reduction
By Chef Danny Chew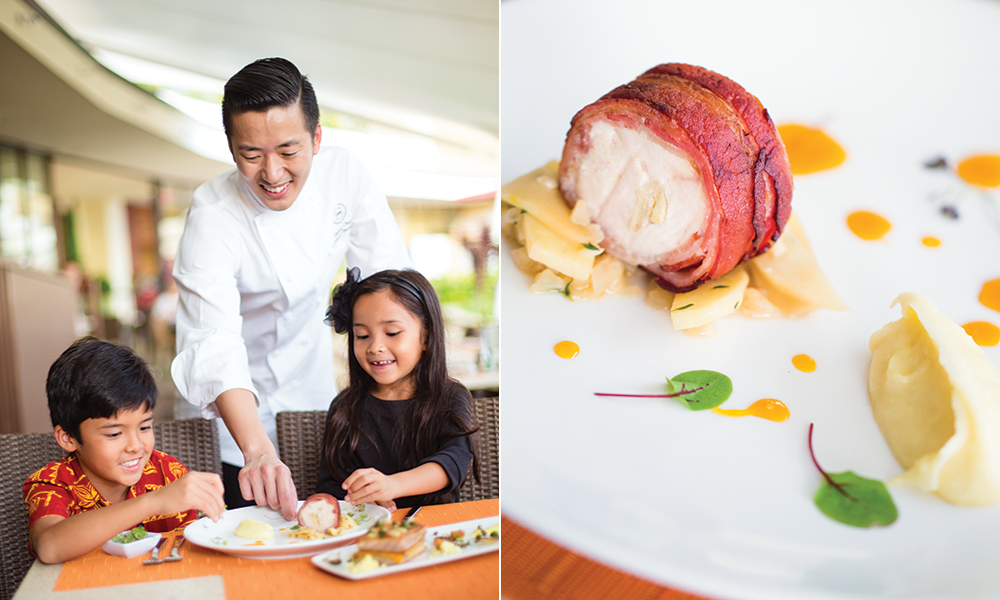 The plate is party ready, but this tasty chicken dish is surprisingly simple to put together.INGREDIENTS

24 pieces of bacon, sliced thin

2 chicken breasts

4 ounces Brown-Butter Apple (recipe at right)

 
INSTRUCTIONS
1. Butterfly chicken breast. Put apple slices in the middle of the chicken and close the chicken up.
2. Lay bacon on a cutting board with each piece slightly overlapping, similar to the way it appears in the store package.
3. Place chicken on top of the bacon, pull the bottom part of the bacon over the chicken, then roll it up.
4. Chill the bacon-wrapped chicken in the refrigerator for two hours.
5. Sear the chicken on medium-high heat, then brown it evenly around.
6. Place chicken on a roasting rack and bake at 500 degrees for about 10 minutes.
7. Rest chicken for 10 minutes, then slice it into one-inch-thick pieces.
8. Serve with orange juice reduction and pommes pureé (recipes in next column).
Orange Juice Reduction

INGREDIENTS 

 3 cups orange juice

 1 cup sugar

 1 tablespoon white soy sauce

INSTRUCTIONS

1. Combine all ingredients in a pan.



2. Cook and reduce until thick.
Pommes Pureé
INGREDIENTS
1 pound Yukon Gold potatoes, peeled
1 pound butter, diced
1 tablespoon heavy cream
Salt to taste
INSTRUCTIONS
1. Place potato in a pot and cover it with water.
2. Bring to a boil and cook until the potato falls apart.
3. Heat up cream in a separate pan.
4. Rice the potato with a fine strainer and add hot cream to potato. Fold in butter then season with salt.
Brown Butter Apple
INGREDIENTS

1/4 cup onion, diced fine

1/2 cup macadamia nuts, diced and lightly toasted

1 cup Granny Smith Apples, peeled and sliced thin

3 sprigs thyme

1/2 cup white wine

Sugar to taste

Salt to taste



INSTRUCTIONS

1. Heat up a sauté pan until you see light smoke. Add butter and let it brown.



2. Add onion, macadamia nuts, apple and thyme.



3. Keep over medium-low heat for 30 seconds.



4. Deglaze pan with white wine.



5. Season with salt and sugar.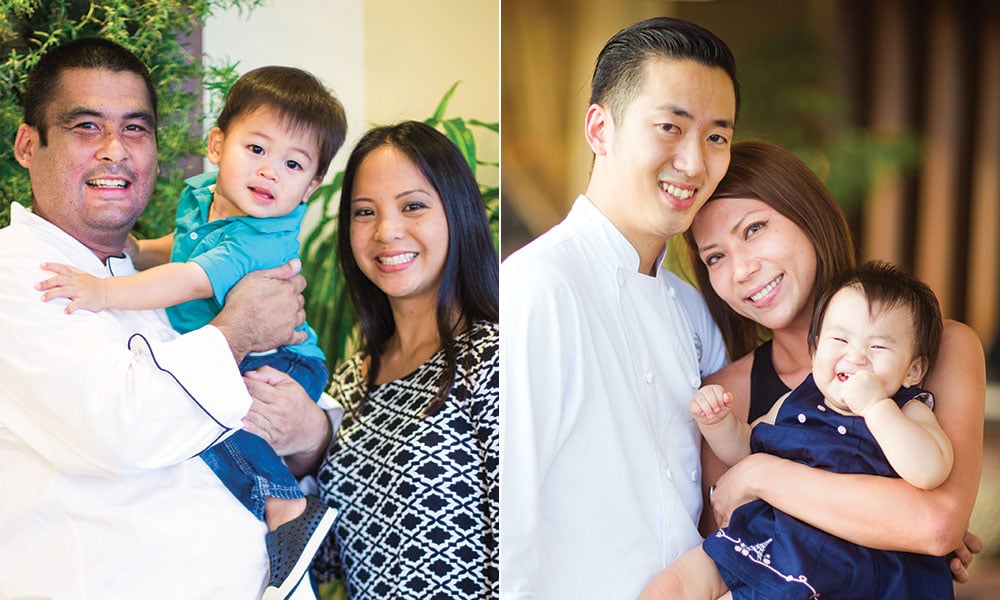 Want to try more of chef Demaya's and Chew's dishes?
Kai Market focuses on featuring the fresh flavors of locally-grown ingredients and is open daily for breakfast and dinner.
RumFire combines the spicy flavors of the Pacific Rim with the cool touches of Waikīkī and is open for lunch through late night.
Sheraton Waikīkī, 2255 Kalākaua Ave., Sheraton-waikiki.com, 921-4600.