Good Eats: Healthy Meals to Go
Local store owners and moms help make feeding Baby a lot more easier.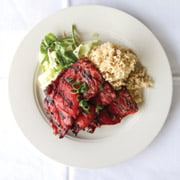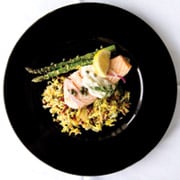 Home-cooked meals are optimal, but sometimes a busy parent needs options, like healthy take out. It's easy to resort to familiar haunts that don't typically offer much in the way of variety and good nutrition. With a little research and input from friends, you would be surprised at what healthy gems you can unearth in your pursuit of good-for-you foods to go. My family and me were.
Diamond Head Market and Grill
If you are in the Diamond Head area looking for yummy, healthy takeout, don't drive too fast or you might just miss the low-profile, unassuming eatery at the corner of Monsarrat and Campbell. Diamond Head Market and Grill serves up two takeout options, hot food from the grill and warm-up-and-eat items from the market. Chef Calvin Ro and his employees at Diamond Head Market and Grill are trained chefs and graduates of the Kapiolani Culinary Arts program.
Dubbed the "sneaky chef," Ro is on a mission to change bad habits and perceptions about healthy food. "People think that healthy food doesn't taste good and are unwilling to 'go try' because they associate healthy with bland or strange flavors," says Ro. He substitutes familiar ingredients with healthier alternatives when developing his recipes in order make his food better for you.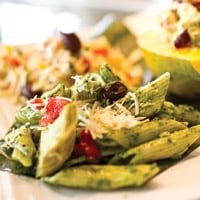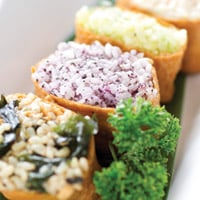 The popular fried rice is made with brown rice, not white. Main-course items, such as chicken, steak, fish and vegetables are grilled over a fire. Some healthy items snuck into dishes include flaxseed (contains Omega-3, antioxidants and fiber), mushrooms (contains vitamins that boost your immunity), onions and stewed tomatoes (both contain cancer-preventing properties and rich vitamins and antioxidants).
Selecting food from the market allows you to pick and choose a little bit of this and little bit of that to create a colorful, tasty meal that can be heated up at home and served on your own dishes. So what if everyone thinks you slaved over a hot stove?
The grill offers hot, ready-to-eat options that are seasoned perfectly and grilled to perfection. All plates are accompanied by a tasty salad served with their signature honey-mustard vinaigrette.
Diamond Head Market and Grill, 3575 Campbell Ave., 732-0077.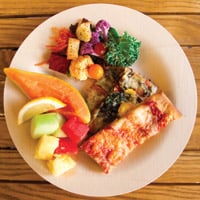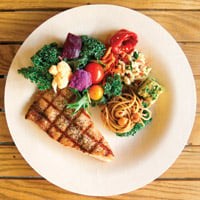 Whole Foods, Kahala
Step through the doors of this establishment and you quickly realize you've entered a mecca of good, healthy food. Once you pass the tempting sweet treats, your senses are teased by the many hot and cold options spread before you in the buffets and food stations. The good news is, it's all good for you.
According to marketing supervisor Natalie Aczon, "Whole Foods has pretty strict health standards." If you visit its website you will see a list of 80+ unacceptable food ingredients, such as artificial colors, flavors, aspartame, high-fructose corn syrup, etc.
The seafood department will cook you a fresh fish fillet on the spot. I sampled the most delicious ono that was sprinkled with a little salt, pepper and grilled perfectly. Add a few sides from a nutrient-rich salad bar packed with superfoods, such as kale, watercress and collard greens, along with the brown rice looking quinoa, an amino acid-rich protein, and you have the ideal meal to share with the family.
Take advantage of the weekend special: buy a take-and-bake-pizza and get another one free Saturday and Sunday. The 8-inch pizza starts at $5.99 and prices go up to $14.99 for the 16-inch pepperoni. You can also mix up the variety to include a vegetarian option as well. Whole Foods offers a healthy-eating class for kids called "Keiki in the Kitchen." This free hands-on class is structured for keiki 5 to 12 years old and is offered every third Saturday at 11 a.m. Email spmmm-marketing@wholefoods.com to sign up.
Whole Foods, Kahala, Kahala Mall, 738-0820.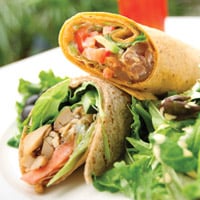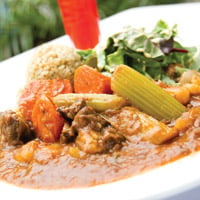 Kakaako Kitchen
This popular Ward Center eatery offers Chef Russell Siu's home-style gourmet plate lunches. General Manager Billy Bal says that Siu was the first to introduce this new and improved style of local food to go.
The portions are large, which makes it great for sharing family-style. The slow-cooked beef stew is filled with melt-in-your mouth beef and perfectly cooked potatoes, carrots, celery and onions in a perfectly-seasoned, well-balanced gravy that is delectable over hot brown rice.
Tofu patty served with lettuce, tomato, avocado, alfalfa sprouts, roasted pepper mayo, whole-wheat bun.
Hibachi chicken, furikake mahi, and blackened ahi wraps, starting at $11.75.
Deliciously seasoned chicken or fish is accompanied by chopped vegetables, such as lettuce, tomato, cucumber, alfalfa sprouts and gourmet mayos, yuzu sesame, soy ginger and wasabi, all wrapped in whole-wheat or tomato tortillas.
Kids' options include spaghetti with meat sauce and taro roll, sweet chili chicken fingers with brown rice, shoyu chicken and brown rice, linguine with butter and cheese.
Kakaako Kitchen, Ward Center, 596-7488.
The key to these take options is family-style sharing. Allow your children to sample the variety offered at each location. Sauces can be requested on the side. Little smiles included.