Going out for Thanksgiving? Some Hawaii dinner options.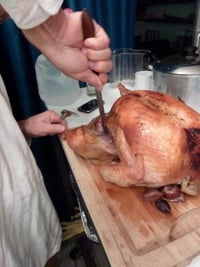 This article is from 2011. Check out the 2014 guide, here.
Make it a real holiday. Let someone else cook Thanksgiving dinner. Here's an update of your Honolulu dining options, most of which offer traditional Thanksgiving turkey and options for the turkey-averse.
In addition to its regular menu, Wolfgang's Steakhouse is offering a traditional turkey/stuffing/mashed potato/gravy dinner that begins with Caesar salad or lobster bisque and ends with a slice of pumpkin cheesecake, $49.95. Royal Hawaiian Shopping Center, 11 a.m.-10:30 p.m., reservations (808) 922-3600. (Picture below right.)

The three restaurants at the Hilton Hawaiian Village (808-949-4321) all have Thanksgiving special menus. The Tropics Bar & Grill offers roast tom turkey with cornbread stuffing and cranberry compote, kabocha pumpkin soup, salad and pumpkin pie with spiced ice cream for $50. Bali Steak & Seafood offers a $75 four-course prix-fixe menu with choice of entrée: Kona sea salt-brined roast tom turkey; prime rib; pan-roasted Kona kampachi fillet; and vegetable risotto with Ali'i and oyster mushroom. The Waikiki Starlight Luau (808-941-5828) will add Thanksgiving turkey and ham to its luau offerings, $98 for adults and $49 for children.
In addition to their regular menu, the five Ruth's Chris Steak Houses statewide offer a New Orleans-inspired harvest menu: corn and crab chowder or Steak House salad; traditional roasted turkey with cornbread Andouille stuffing, roasted garlic mashed potatoes, Kahuku corn and pumpkin pie or New Orleans Style pecan pie. From 4 p.m., $45 per person, $19 for children. Restaurant Row (808-599-3860), or for Waikiki Beach Walk (808-440-7910), Mauna Lani (808-887-0800), Lahaina (808- 661-8815) and Wailea (808-874-8880).

At the Halekulani (808-923-2311), House Without a Key is offering, in addition to its regular menu, a $38 three-course menu of pumpkin and carrot soup, roasted turkey with Portuguese sausage stuffing, and cranberry pecan tart with pumpkin ice cream. La Mer has, in addition to its regular menu, a Thanksgiving special that includes cured duck breast with shaved fennel, sunchoke soup, and quail stuffed with turkey and foie gras mousse, for $106. Orchids has a Thanksgiving brunch and dinner buffet, both of which are sold out. (Orchids Christmas brunch is also sold out. Christmas and Christmas Eve dinner not quite yet.)

The Willows (808-952-9200) has both a lunch and dinner buffet for Thanksgiving, $42.95 per adult and $21.50 per child (4 to 10 years old). The menu is extensive, from snow crab legs to turkey with peppered bacon and garlic stuffing, kiawe smoked roast pork, and prime rib. A whole list of desserts, including petite pumpkin crunch pies.

3660 On the Rise (808-737-1177) has a Thanksgiving buffet from 3:30-7 p.m. with fresh oysters on the half shell, turkey, salmon and prime rib, plus what it calls "dessert favorites," $42.25 adults, $18 children (3 to 10 years old).

The Moana Surfrider's Beachhouse Restaurant (808-921-4600) has a Thanksgiving dinner buffet 3-8:30 p.m., with a menu that goes on for pages, from beechwood-smoked wild Atlantic salmon through prime rib, turkey and ham to two dozen desserts, adult $85, children $45.

For $55, the Hau Tree Lanai (808-921-7066) has a four-course prix fixe menu with traditional roast turkey, lobster risotto, salmon and goat cheese salad, and pumpkin pie.

The Sheraton Waikiki's Kai Market (808-922-4422) also has a buffet that includes turkey with truffle and mushroom stuffing, Lehua honey-rubbed bone-in ham and salt-crusted prime rib, not to mention Chinese salt-and-pepper prawns. $59 for adults, $19 for keiki ages 4-12 and free for keiki 3 and under. For $10 more, adults are offered unlimited sparkling wine. Whoo hoo.

The Original Roy's in Hawaii Kai is closed for the Thanksgiving holiday. Roy's Waikiki (808-923-7697) and Roy's Ko Olina (808-676-7697) are both open, menus to be announced.

Both Alan Wong's King Street and The Pineapple Room will be closed for the holiday.