Go Pho It!
This flavorful Vietnamese dish packs flavor and tons of healthful benefits.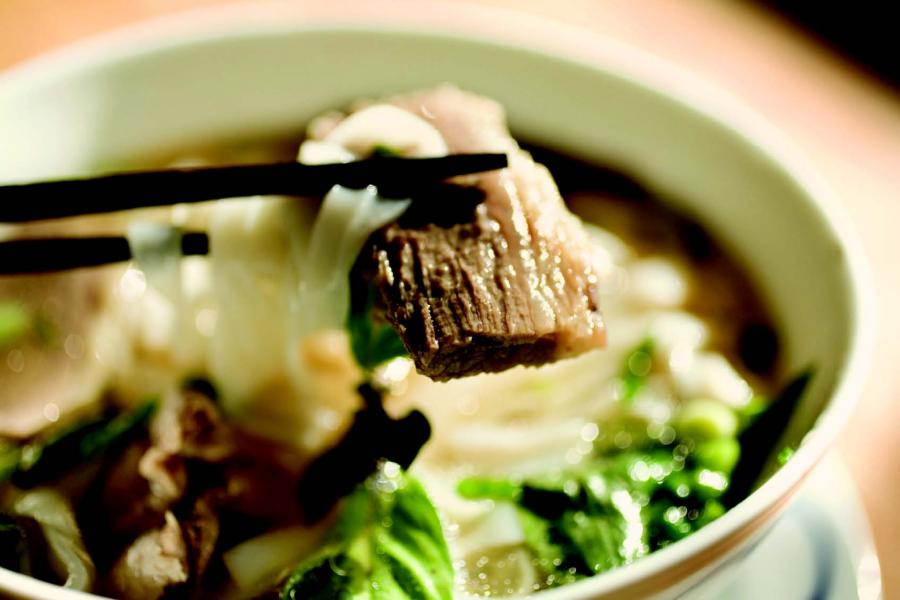 Craving something warm, hearty, packed with flavor and good for
your health? Grab the family and head over to the new Pho Vietnam in Kapolei for a "good for you" tasty meal even the keiki will enjoy. Owners and sister-in-laws Sylvia and Cindy Ngo are excited to bring their heritage and passion for Vietnamese food to the west side of the
island. Cindy found that her picky son would devour pho and not much else. It makes sense that keiki would find this tasty noodle
soup pleasing to the palate.
Pho, a delicious Vietnamese soup filled with rare beef, chicken or tofu is the perfect healthy meal in a bowl. Filled with bean sprouts, lime, basil, cilantro, jalapeno peppers and hoisin sauce, this super bowl is brimming with protein, vitamins and minerals such as A, B, C, E, calcium, iron, potassium and more.
The savory soup's light broth is painstakingly made overnight with little oil or fat and a lot of love.
Rare beef, chicken or tofu offer protein punches for meat-lovers and vegetarians alike.
A handful of raw, low in calories, vitamin C-filled bean sprouts are added to the bowl along with fresh basil, cilantro, lime and jalapeno
peppers for those who enjoy spicing things up.
Red jalapeño peppers contain a substance called capsaicin—a potent inhibitor of inflammation which has been shown to reduce high blood cholesterol, heart attacks and strokes.
Cilantro and basil add flavorful zing and health benefits. With zero calories, these herbs are known to aid digestion. The tangle of delicious rice noodles at the bottom provides low-calorie carbohydrates, which contain no gluten, have no cholesterol and are very low in fat.