Date Night Idea: 2018 Hale 'Aina Awards
Sip, dine and mingle under the stars at the Royal Hawaiian.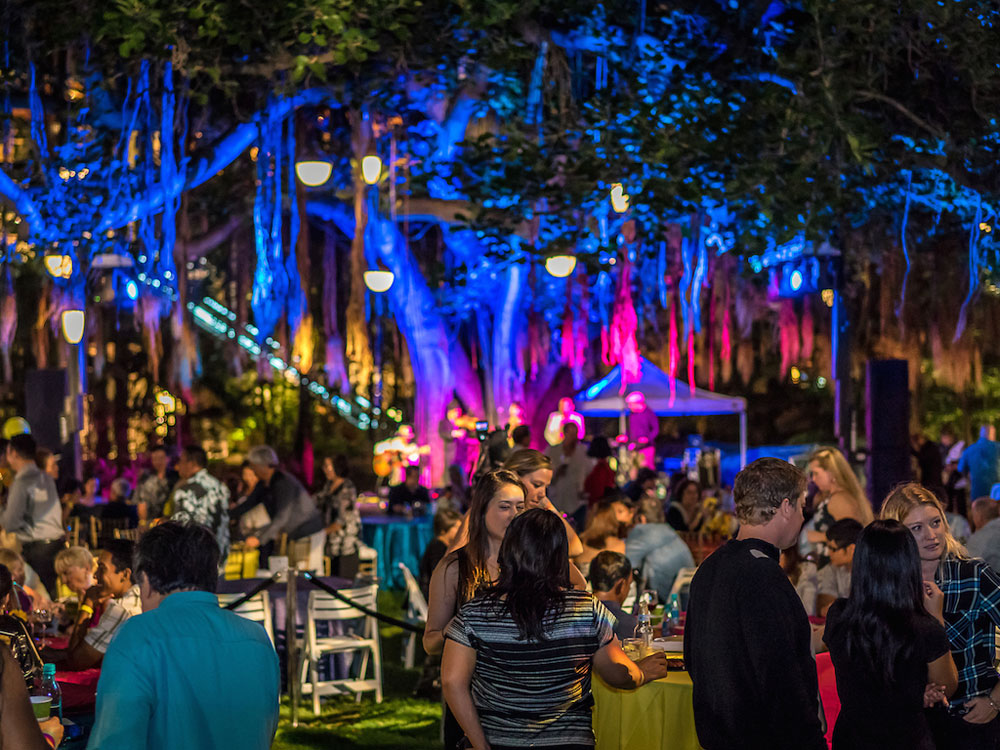 Photo: HONOLULU Magazine
New restaurants, new chefs, and creative dishes and cocktails are always popping up in Honolulu's vibrant dining scene. For parents, our cuisine "scene" often involves mac and cheese, sometimes stuck in our keiki's hair. When we do score a rare date night, we can spend days just trying to answer the question "Where should we eat?"
At the 2018 Hale 'Aina Awards, you can try dishes from 13 award-winning O'ahu restaurants at the Royal Hawaiian, A Luxury Collection Resort, and get home by 10 p.m. This year's theme is "Destination Delicious," so get dressed up, slip on wedges or flats (it's never fun trying to pry stuck stilettoes out of the Coconut Lawn), and prepare for a culinary trip around the world. Here are some of the bites and sips you'll find at this year's tasty event.
Chef Chai-Toasted brioche with foie gras chawan muchi (Japanese egg custard) and berries compote.
Arancino at the Kāhala-Capellini con gamberetti e caviale (angel hair pasta with shrimp and caviar).
Stripsteak Waikīkī– Shabu Shabu, Allen Brothers prime rib eye, mushroom dashi and watermelon radish.
Tiki's Grill & Bar- ʻAhi tartare, with a sunny-side-up quail egg, house-made harissa (Northwest African chili pepper paste) and avocado.
Pikake Terrace's-Southern shrimp and grits with jalapeño cornbread.
Beachhouse at the Moana Surfrider-Tako taco with smoked tako, macadamia nut romesco and charred pineapple.
Buho Cocina y Cantina-Charcoal grilled duck and shishito peppers.
Agu Ramen Bistro-Tomato ramen.
The Pig & The Lady-P&L vegan pho.
Budnamujip-Wooeung gui (pan-fried seasoned burdock root), pumpkin salad.
Jade Dynasty
Yauatcha Waikīkī-Apple vanilla choux (light puff pastry).
Stage Restaurant-Profiterole (cream puff) with Valrhona caramélia ice cream, smoked bananas Foster puree, salted caramel whipped cream and hazelnut praline powder.
No date night would be complete without a cocktail (or mocktail). You'll be happy to learn that beverages are included in the ticket price, so you might want to taxi or Uber back to your keiki. You'll find drinks from:
Maui Brewing Co.
Kōhana Rum
Aloha Beer Co.
Johnson Brothers of Hawai'i, Inc.
The Cherry Co. LTD
Youngʻs Market and Company of Hawai'i
Southern Wine and Spirits
Menehune Water
The Hawaiian 105 KINE centerstage will feature live performances from local artists.
The 2018 Hale 'Aina Awards will be held on Saturday, Sept. 17, from 6:30 to 9:30 p.m. at The Royal Hawaiian, A Luxury Collection Resort, 2259 Kalākaua Ave.