Give Back: Create A Shoebox of Love
Teach your kids about giving by building a gift box for a child in another country, then track it as it travels the world.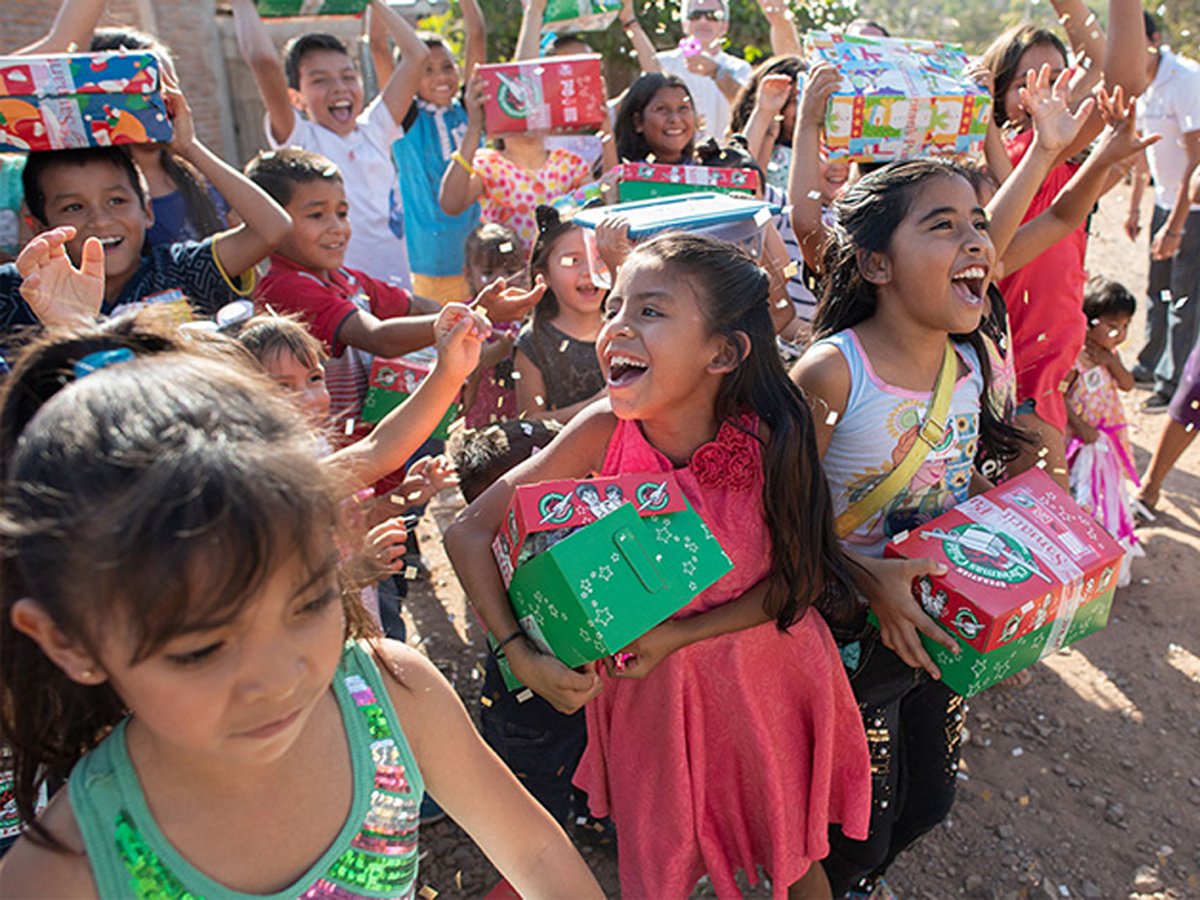 Photo: Samaritanspurse.org
Children receiving shoeboxes.
Editorʻs Note: This blog was updated for 2020.
Operation Christmas Child is run by a humanitarian organization called Samaritan's Purse. Participants fill a shoebox with gifts for a girl or a boy in another country, wrap it up, and take it to a drop-off point. You can also build a box online, selecting the gifts to give away that will then be automatically mailed to a child.
We have filled shoeboxes for years. It has been a really nice way to make "thinking of others" a hands-on activity for the whole family. This year, boxes will be accepted the week of Nov. 16 at eight churches on O'ahu, from Wai'anae to Hawai'i Kai.
What to include? Consider goodies such as slinkies, balls, stuffed animals, jump ropes, flashlights, hair clips, jewelry, toy cars, coloring books and crayons and art supplies.
---
See also: 6 Rewarding Volunteer Opportunities for Hawai'i Families
---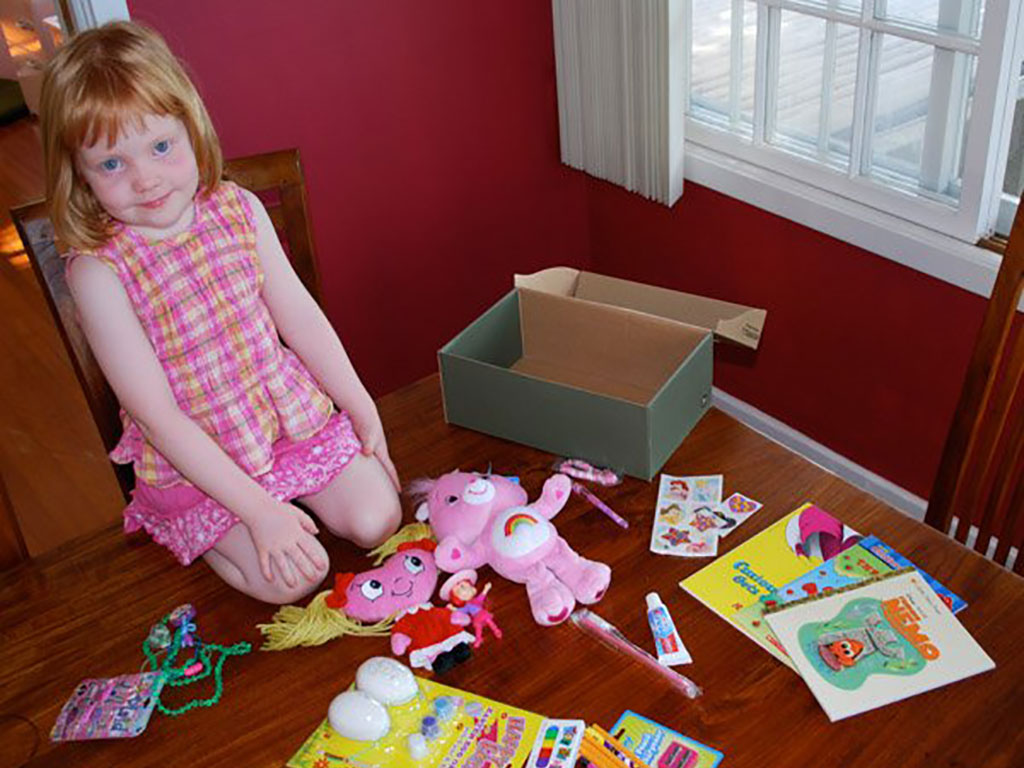 Photo: Michele Aucello
We keep a large empty shoebox in the closet that we fill throughout the year with trinkets that come home from birthday parties, goodie bags from school, toys from restaurants, a puppet from a sports event, even some stocking stuffers that the kids wanted to save for the following year. My kids get a new T-shirt every time they enroll in gymnastics, so we set these unused shirts aside for the next box. This way "thinking of others" becomes a yearlong discussion, not just one night, the week before the box is due. Yes, sometimes they look wistfully at that toy they put in the shoebox months ago and want it back, but chances are they have something very similar already.
We discuss what it might feel like for another child to receive it for the first time. Samaritan's Purse also has stories from kids who have received the gifts in Saipan, the Middle East, Mexico, Peru and more on the website.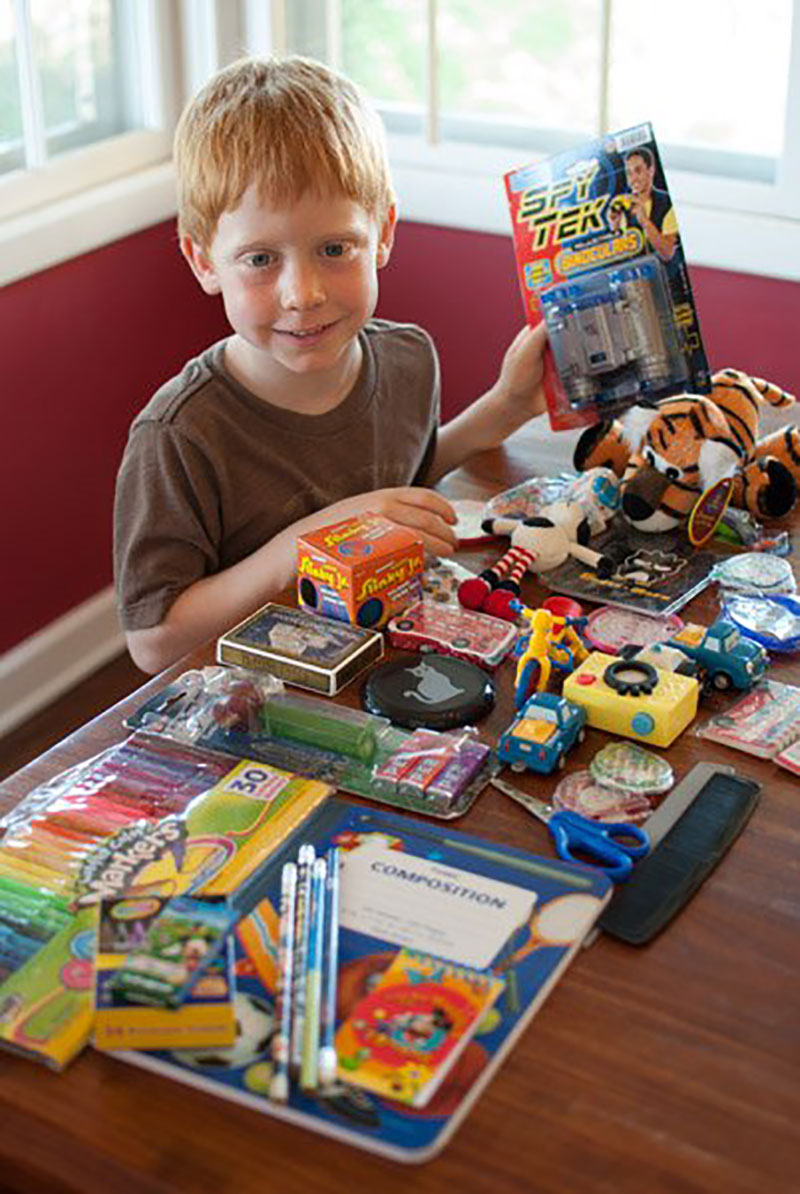 Photo: Michele Aucello
We do not spend very much money. A week or so before it is due, the kids tag along to Target and choose a toothbrush and toothpaste kit, a bar of soap and soap holder, and some combs. We also take a peek at the dollar section up front. We always seem to have numerous colorful, unused pencils at home, but we purchase a pencil sharpener and journal or pad of paper.
Do not include liquids, breakable items such as snow globes, or war-related items such as guns or knives. No chocolate or food is allowed. If you include something electronic, it is a good idea to include some extra batteries as it may be difficult for the child to get more.
You can wrap your gift (but you have to wrap the lid separately) or you can leave it unwrapped. You will be asked to print out labels so that you can specify if your box is for a boy or a girl, and you'll need to specify one of three age groups, ranging from 2 to 14 years old. Secure the lid with a large rubber band, attach your label, and drop it off. The organization requests a $9 donation for each box. Or, you can purchase a tracking label for $9 so the kids can see exactly where their gift is going.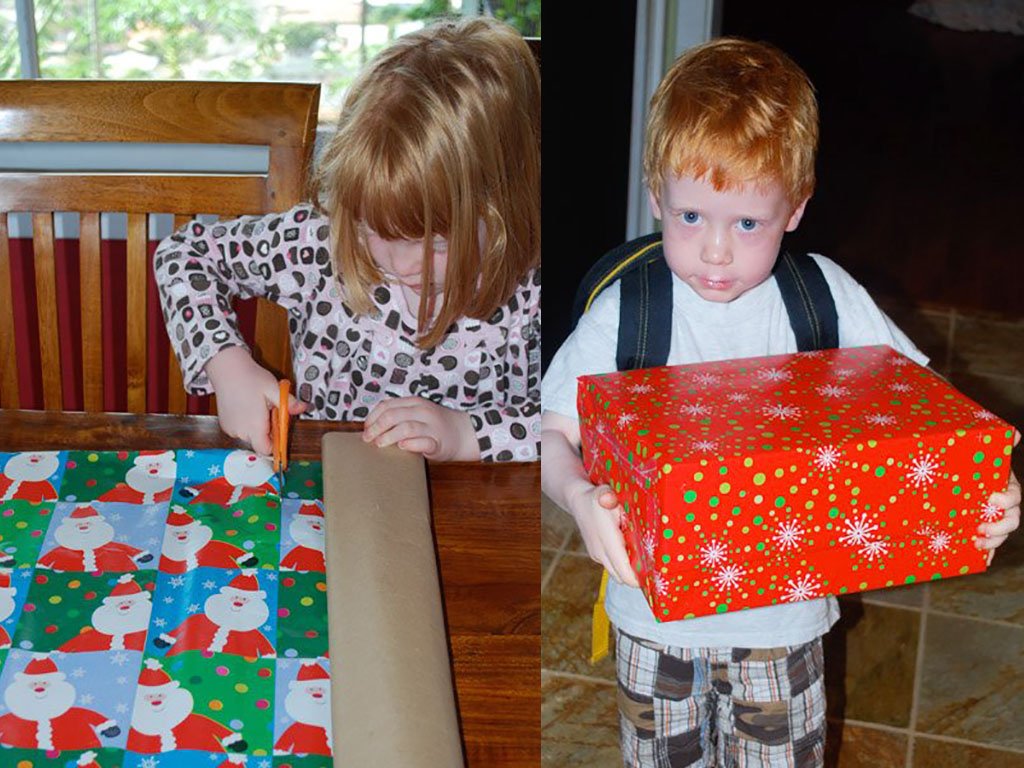 Photo: Michele Aucello
You can also build a custom box online for $25. Kids can choose the types of clothing, school supplies and toys they want to give. Samaritan's Purse will take it from there. If you donate online you can track where your box goes. Last year our boxes went to Indonesia. The year before they went to Nepal.
Find the details and start building at samaritanspurse.org.