Getting the best deal on rent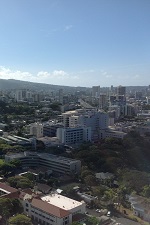 In a rental market where even studios go for more than $1,000 a month, "cheap" is a subjective term.
That doesn't negate the value of AOL Real Estate's how-to guide for renting a cheap apartment, though. As writer Leah Gillis points out, people comparison shop for big ticket items just to save $50. If you can save $50 on rent each month, it's going to add up.
The blog offers tips from real estate experts to help you get the best deal on rent that you can, including:
Research and comparison shop. Instead of committing to the first thing you like, take time to comparison shop, checking out as many as 10 apartments before you decide.
Check on vacancy rates. If a property has several vacant units, the renter is in the driver's seat. Find out about vacancies in the area you want to live in and use the information to your advantage.
Bargain and negotiate. Landlords want their apartments filled and some may be willing to give you a deal on rent if you can move in right away or sign a longer lease. You may be able to move in without a deposit or get a break on your utilities, but only if you ask.
Be honest about your credit. If you have good credit, bring a copy of your report with you. If your credit isn't great, be upfront about what created the problem. If you're trustworthy and likable, a landlord may overlook a bad credit score.
Make a good impression. Meet landlords in person, rather than trying to negotiate over the phone, make sure to be pleasant and dress to impress. A good impression could lead to lower rent.
Read the whole bog entry at realestate.aol.com.