Getting In: What to Expect When Applying for High School in Honolulu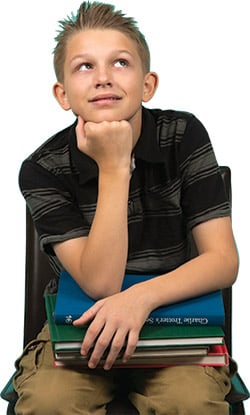 For the 9th grade entry point, the requirements are the same as the younger grades: Interview. Testing. Academic transcripts. Teacher references.
"Every school is different in exactly what they're looking for," says Scott Siegfried, director of admissions for Mid-Pacific Institute, which teaches preschool through grade 12. "We're looking for a consistency in things. A student who does good academic work, has good character—which we get from interviews and references—and students who want to be involved in activities."
Schools are looking for genuine passion for certain subjects or interesting outside interests, as well as participating in their community or leadership experience and skills. This is good news for parents sweating less-than-perfect grades or standardized test scores.
"We're not just going by test scores. If a student is only academic with no activities, we're more likely to choose someone who's more well rounded. We're not afraid of kids who are sparkling and perform well in interviews but may have lower scores," says Hata of Punahou.
Don't fret, though, if your child comes from a small school without a lot of opportunity to take part in extracurricular activities. "We understand that they might come from a small school. We're looking for students who are open to trying new things," says Siegfried.
Each high school's opportunities vary widely. At Mid-Pacific, for example, students can choose a program that focuses on project-based learning or another program that is intensive in AP classes, called the International Baccalaureate program.
Activities help round out the high school experience, so be aware of what opportunities each school provides. "My son sawyer was in the marching band and was an integral component of his high school experience," says Kristie Novak, who has three children, all of whom are graduates of, or currently attending, Punahou.
"His freshman year he went to the presidential inauguration. [In 2012] they went to London and marched in queen's jubilee. Those are incredible opportunities from simply being involved with the Punahou marching band. He's learned to work with a team and to be an integral component with the team—learned to be a leader and help develop him as a person."
For the interview, parents should encourage their kids not to adopt a false persona they think the interviewer wants. "Students come in with different personalities; we understand and appreciate that. There are so many different cultures in Hawaii, the way someone talks and responds between cultures varies. So we can't directly compare," Siegfried says.
But at the same time, a prospective high school student needs to speak up for himself: "Kids need to advocate for themselves in the interview," says Hata. "They need to take the risk of answering. For Punahou, the interviewer doesn't read the application beforehand, so they need to talk about their interests and accomplishments."
Most high schools are looking for a student that's a good citizen and a good student. "They should be kids that want to be part of a community that cooperates and cares about individuals. They should also be responsible and they're curious intellectually. And those things should come across in the personal interview," says Kelly Monaco, Director of Admission at 'Iolani School.
Make no mistake: Getting into private school isn't easy. It requires a lot of time and energy for parents to find the right fit for their child, fulfill all the application requirements and cart kids around to school visits and interviews. But the payoff, say parents, is well worth the effort.
"Girls build a great rapport with teachers and each other," says Wargo of St. Andrew's Priory. "A 2007 graduate sent us a letter and said their classmates would get ready for school by putting on makeup and outfits, but the Priory girls were studying and quizzing each other. Our girls learn it's not what's on the outside that's important."