Fundraiser for Hawaii Dance Crew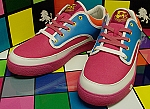 You know you're getting old when you have to research the latest dance craze.
I interviewed Darcie Pulawa, the co-owner of new shoe store Deuces Hawaii, a while back, and she had pointed out a display of bright, round-toed sneakers. "Vlado," she said. "These are the shoes for jerkin'."
Jerkin'? I was only fuzzily aware of this style of street dancing, which came out of California in 2008. Pulawa told me that the Vlado Footwear line is beloved by jerk dancers because of the designs' high, stiff ankle support and retro, eye-popping color combinations.
Now a Hawaii jerk-dance crew, the Starburst Kidz, is headed to compete in a Showdown L.A., a national contest, which takes place April 10. The crew has performed in the store, so Deuces is showing its support with a fundraiser March 29 at Pipeline Café, from 5 to 10 p.m. There will be emcees, live entertainment, jerk and other dance crews, pupu, drinks, raffles, and, of course, a performance by the Starburst Kidz.
Advance tickets are $20 ($25 at the door) and are available at Deuces Hawaii, in Ward Centre.