From Our Files The History of Hawai'i From Our Files: The Legends Who Made Honolulu
For 133 years HONOLULU Magazine has kept its readers and advertisers at the vanguard of fashion, insight and fun. Starting out as Paradise of the Pacific in 1888 with a commission from King Kalākaua, we're the oldest continually publishing magazine west of the Mississippi. Here is a look into our archives from November 2005.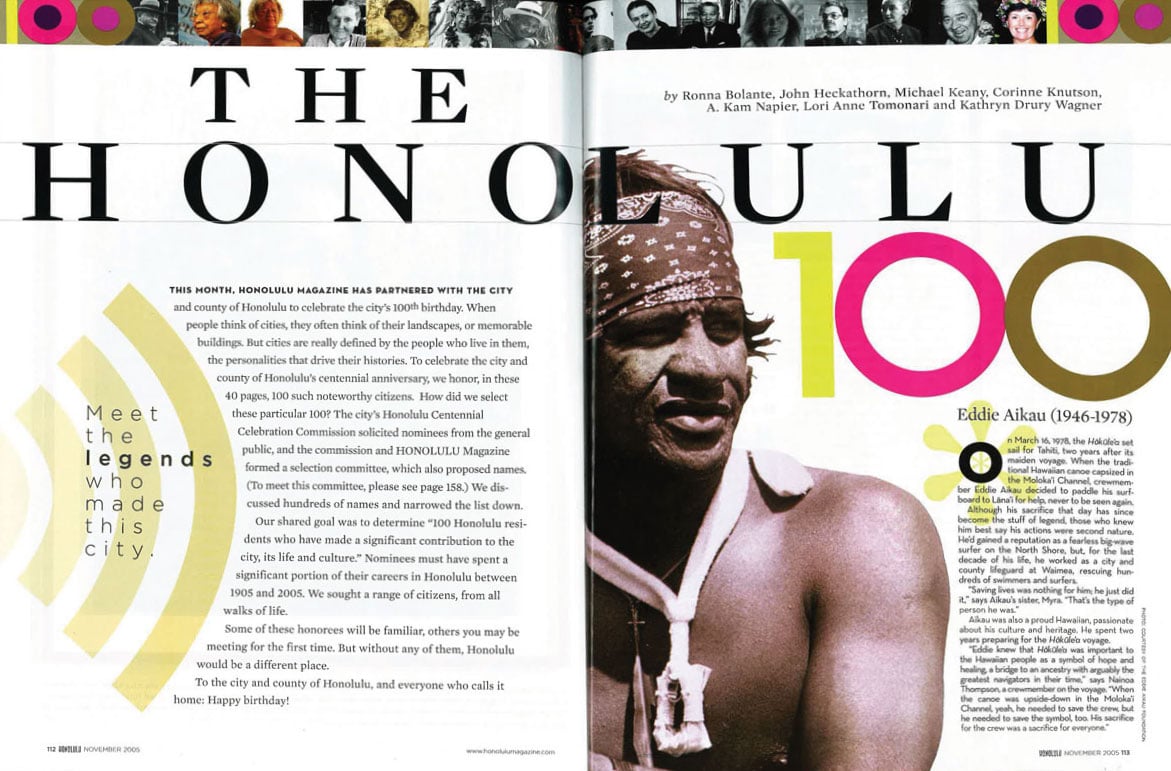 As part of the City and County of Honolulu's 100th birthday, HONOLULU listed the city's 100 most noteworthy residents. Bios include two Dillinghams (Benjamin and son Walter Francis), artists Juliette May Fraser and Madge Tennent, entertainers Rap Reiplinger and Kui Lee, waterman Eddie Aikau, baseball great Wally Yonamine, architects, business leaders, chefs, activists, philanthropists, deejays and more.
SEE ALSO: The Power of 'Ohana: Meet 11 Local Families That Make Hawai'i Great
Harry Weinberg is called "one of Honolulu's most paradoxical figures; he was, in life, known as a ruthless, antagonistic businessman, but his legacy has become one of largesse and philanthropy." On Gabby Pahinui: "Locals also saw him as a folk hero, holding down a day job with the city and county road crew while playing music at night—all to support his wife and 13 children in Waimānalo." On Mary Kawena Pukui: "Some Hawaiians criticized Pukui's work on the dictionary, accusing her of writing for haoles, recalls her daughter, Patience Namaka Bacon. She just told them, 'I'm not writing for haoles. I'm not writing for you. I'm writing for my grandchildren and your grandchildren."
SEE ALSO: 50 Greatest Songs of Hawai'i
Learn more about the evolution of covers in HONOLULU Magazine and Paradise of the Pacific: 125 Years of Covers, available at shop.honolulumagazine.com.
---
Find more photos from Honolulu's past every Thursday on Instagram @honolulumag.