Fresh, new and casual on the Big Island: Pau Pizza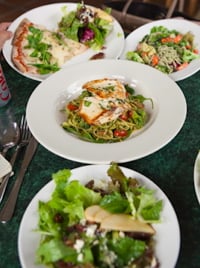 Pau Pizza, Waimea
For a town of 8,500, little Waimea on the Big Island is turning into a culinary mecca. That may have something to do with the fact that it sits amid some of the state's best farms and ranches. Waimea is all about locally sourced food.
Pau Pizza is tucked in a little shopping complex, quite stylish for an order-at-the-counter-then-grab-a-table eatery. If you're staying at one of the glittering resorts along the Kohala Coast, it's always nice to know that a short drive away is a place which doesn't ask you to dress "resort casual" or make inordinate demands on your pocketbook.
For $9, you can get a slice of well-crafted four-cheese pizza with artichoke hearts and arugula, or with Hamakua mushrooms, bacon, roast garlic and white sauce. By a "slice" here, they mean a quarter of a pizza cut into three slices and served with a mound of fresh greens.
The salads themselves come in two sizes, large and larger. Try the "Vinter's Special," with local greens, apples, Gorgonzola and spiced pecans, with a champagne vinaigrette. Or, if you crave noodles, there are chopped vegetables with soba noodles, in (perhaps too much) gingery dressing.
Finally, for a pesto pow—there's pasta with Waimea tomatoes and broccoli, topped with a nicely seared fresh ono. The pasta's tossed in a vibrant pesto, full of local basil, but, as in the soba salad, there's perhaps a touch too much of it.
Still if you're looking for a meal under $10 or $15, and you want your food full of fresh flavors, Pau is an appealing stop, especially since it has a limited, but well-priced wine by the glass program.
Pau Pizza, Monday- Saturday 11 a.m.-8 p.m., 65-1227 Opelo Road, Waimea, Big Island, (808) 885-6325, paupizza.com