Fresh, Healthy & Tastes Good: KCC culinary students show the way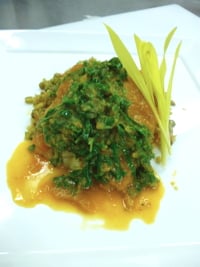 Biting Commentary has judged his share of culinary contests. But this one, held at Kapiolani Community College, was out of the ordinary.
It was sponsored by Kahala Nui Senior Living Community, with about 80 of the residents in the audience.
The point of the contest: To create healthy dishes that also looked and tasted good.
Four teams of KCC culinary students—down from nine in a preliminary competition—vied for $1,000 in scholarship money, $500 each for the two team members.
The results from the four teams of finalists were little short of remarkable. All worked with Kona Kampachi and fresh ingredients they mainly gathered at the KCC Farmers Market.
The winners? The team of Kara Bleday Guthrie and Robert Paik.
Both Guthrie and Paik returned to culinary school after earning degrees, Paik a batchelor's in psychology and communication, Guthrie a masters in business. "Now we can do what we really want to do," said Guthrie. (That's the two of them pictured left, hard at work on their dish.)
Guthrie and Paik came up with the simplest of the dishes: Kampachi poached in a thick tomato-fennel broth with a lentil-couscous salad and wilted kale.
"It often takes a while for a chef to learn to cook simply," said my fellow judge, French-trained Eric Leterc, executive chef of the Pacific Club. "You have to decide what you want a dish to taste like and do that."
If making a broth to poach fish sounds complicated, you should have tasted the other student dishes: mousselines, purees, tangerine reductions, ginger-edamame-hearts of palm-asparagus-red miso-sake-dragon fruit ochazukes. There was no lack of ambition, and the other contestants cooked up such a storm that Kahala Nui gave them each a $100 Williams-Sonoma gift certificate.
Still, Paik and Guthrie deserve kudos for putting together a healthy dish that you'd never guess was healthy, just bursting with flavor. It's more or less achievable by a home cook (although, honestly, Biting Commentary would prefer to see it on a restaurant menu somewhere.)
If you're feeling as ambitious as a 20-something culinary student, here's the recipe. (Oh, and Guthrie says the leftover broth is fabulous on spaghetti.)
Poached kampachi in a saffron, tomato, and fennel broth with warm lentil and couscous salad and wilted kale
Tomato, saffron, fennel broth
2 tbsp olive oil
4 4-oz portions of kampachi
2 cloves garlic
1 medium Maui onion julienned
2 stalks celery
1/2 fennel bulb julienned
2 medium Hauula tomatoes, seeded, diced
2 cup clam juice
1 cup water
1 small pinch saffron
2 tbsp paprika
1 bay leaf
2 branches of parsley
1/2 stalk of cilantro
Kale
1 cup chiffonade kale
1 lemon to garnish
Heat oil, sear fish on just one side. Place aside. Add garlic until fragrant, then add onions, celery, fennel to translucent, stirring often.
Add tomatoes. Add the spices and herbs.
Bring to a boil then simmer and reduce by third.
Puree and strain or remove bay leaf, parsley and cilantro.
Bring back to a simmer. Salt to taste.
Add seared fish. Cook until fish is cooked through, 4 oz portion should only take about 4 minutes if already seared.
Add kale to wilt.
Place on plate, plate kale on top of fish with just a little broth and a spritz of lemon juice.
Lentil and Couscous salad
1/4 cup couscous, dry
3/4 cup lentils, dry
1/2 carrot, peeled and brunoise
1/2 stalk celery, brunoise
1/2 onion, chopped
2 cloves garlic, minced
2 T olive oil
1/2 T butter
1 T cumin
1/2 cup toasted pine nuts, chopped
1/2 cup chopped tomato
1/4 cup chopped parsley
Juice of half a lemon
Salt and Pepper
1. Cook the lentils in boiling water until al dente. Drain and chill in ice water to stop cooking.
2. Bring 1/2 cup of water to a boil. Stir in couscous, remove from heat, and cover for 5 minutes. Fluff with fork.
3. Toast pine nuts in a dry pan, constantly moving the nuts around for about 5 minutes or until golden brown. When cooled, roughly chop.
4. Sauté carrots, onions, and celery in olive oil until soft. Add garlic and toss quickly so it will not burn.
5. Mix in cooled lentils.
6. Make a well in the center of the pan and melt butter. Mix cumin into butter and cook for one minute to release oils. Slowly incorporate into lentil and vegetable mixture.
7. Remove from heat. Fold in parsley, pine nuts, and lemon juice. Season with salt and pepper to taste.