Free Golf Lessons For Keiki
Learn to swing, putt and chip from LPGA and PGA pros.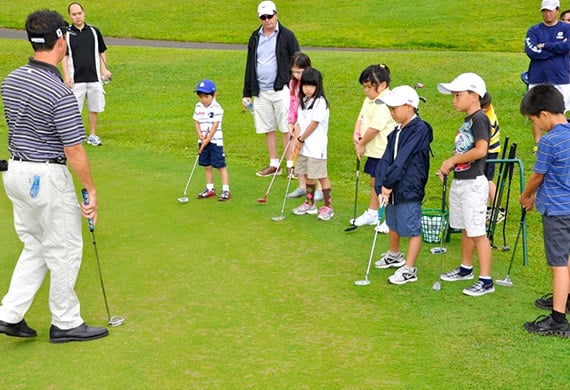 Photo: Courtesy of Hawaiʻi State Junior Golf Association
At Hawaiʻi Junior Golf Day, keiki learn proper form and techniques.
Do your children want to learn to play golf—but you don't have the time for regular lessons? Here's a one-day opportunity. On Saturday morning, March 16, seven golf courses on Oʻahu will offer free lessons for keiki ages 5 to 18.
You read that right. FREE lessons. From 9 to 11 a.m. This Saturday.
The only requirement is that children must be first-time or beginner golfers.
The one-day clinic will be taught by local professionals from the PGA (Professional Golf Association) and LPGA (Ladies Professional Golf Association). Kids will learn to putt, chip and swing their clubs with proper form. They'll also learn golf etiquette and basic rules of the game.
Healthy snacks will be provided, but bring chilled water in reusable containers to keep your kids hydrated. Also, slather your keiki with sunscreen, and bring visors or caps to protect their heads and faces from the sun. Athletic shoes or sneakers are recommended.
This once-a-year program—hosted by the Hawaiʻi State Junior Golf Association and the Aloha Section PGA—is offered statewide at golf courses on Oʻahu, Maui, Kauai and the Big Island.
Click here to register your children as soon as possible. Spaces are filling up fast!
In the registration link, you will be asked to choose from one of these golf courses:
And there you have it. Golf lessons for your children. Enjoy!
---
Hawaiʻi Junior Golf Day 2019 is from 9 to 11 a.m., Saturday, March 16. Call the Hawaiʻi State Junior Golf Association at 532-0559 or visit hsjga.com to register.