For Rent: Renovated Kukui Gardens in Honolulu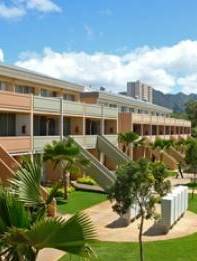 Kukui Gardens, a 40-year-old low-income housing complex on Chinatown's outskirts, has long been an unappealing, uniform series of buildings that looked more like detention centers than family housing. In October 2010, the community began the process of separating into two entities—the mauka half is now owned by a for-profit developer, while the state and EAH Housing, a nonprofit housing corporation, own the makai side. Both have been undergoing a $30-million renovation that includes new landscaping, exterior paint and the repair of roof gutter leaks, all of which should make the community a more welcoming and safe place to call home.
Speaking of which, Kukui Gardens Makai is currently advertising unfurnished three- and four-bedroom units on Craigslist for $1,426 and $1,583, respectively. Rentals feature tile floors, stove/ovens, living rooms and refrigerators and are cable-ready. Laundry is on-site. The listing also touts the availability of an on-site resource coordinator who can provide residents with "information and assistance with health and wellness issues, services for seniors, taxes and other such community and governmental service agencies." Pick up an application at Kukui Gardens Makai Management Office, 1103 Liliha St. #102 or call 532-0033.