Food Network's Anne Burrell to headline Hawaii Wine & Food Festival, May 20-21, Ko Olina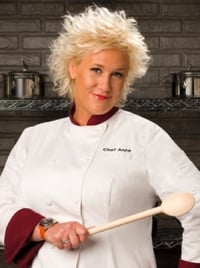 Anne Burrell, star of Secrets of a Restaurant Chef and co-host of Worst Cooks in America, is headed to Oahu in May, to cook at the Hawaii Wine & Food Festival.
There's going to be some confusion, given the similarity of the names. The Hawaii Wine & Food Festival is NOT the Hawaii Food & Wine Festival, scheduled in the fall, headed up by Alan Wong and Roy Yamaguchi.
The Hawaii Wine & Food Festival, in its third year, is already an established gala, with three major events scheduled in Ko Olina May 20 to 21. We'll bring you more detail in a later post, but this year's festival includes a dozen California and French wineries and 15 top chefs, including Burrell.
We finally caught up with Burrell on the phone. She was on an Amtrak train to Washington, D.C., to do a gala for troops departing for Afghanistan. We got in a few questions.
First time to Hawaii? Yes, and I'm super psyched. I'm looking forward to sun and a pineapple.
You were an English major in college? I liked to read. But I'd been waiting tables since 19 because I wanted a car. After college, I had a really miserable job as a corporate headhunter for a year, then decided I wanted to work in restaurants. I went to culinary school and cooked in Italy for a year.
Then you ended up working for Mario Batali in New York? I was the chef at the Italian Wine Merchants, doing wine dinners and pairings for the customers. Then I went on Iron Chef with Mario as his sous chef.
And your TV career just took off? I had to work at it for years and years and years. Cooking on television is unnatural and uncomfortable. If anyone tells you it's easy, don't believe them.
You don't currently cook in a restaurant? No, that's the biggest secret of Secrets of a Restaurant Chef. There's no restaurant. I cook more at home than I ever did when I cooked at work.

What will you cook up at the Hawaii Wine & Food Festival? I met [Halekulani chef] Vikram Garg at an event in the British Virgin Islands, and he suggested I do my faro risotto with rock shrimp, lemon and herbs.
Are you bored on the train? I am working on my book. It's called Cook Like a Rock Star, due out in the fall. It's a cookbook with lots of personal stories. I guess being an English major paid off after all.