Food Films at HIFF Spring Showcase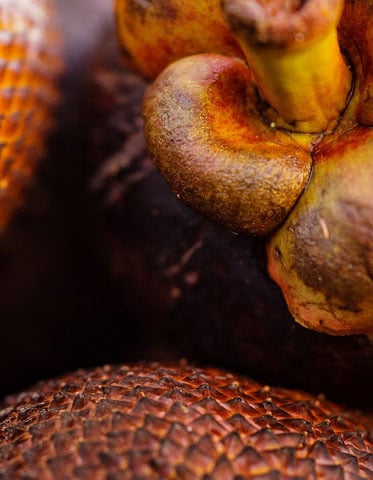 The Hawaii International Film Festival always makes sure to allocate a few selections to the gourmands in all of us, and this year's annual Spring Showcase is no exception. The theme is obsession—for fruit and wine. Screening at Dole Cannery Theatres.
The Fruit Hunters
Remember The American Sportsman? The ABC series that ran from 1965 to 1986 and had celebrities doing adventurous—sometimes bloody—things? You could see Bing Crosby bag a marlin in the Gulf of Mexico and Tom Seaver shoot pheasant in Ireland, presented in a sort of hushed, contemplative manner. The new documentary The Fruit Hunters, reveals just how much the world has changed. Now we've got former leading man and current fruit fan Bill Pullman hacking through Hawaiian bush in search of … mountain apples.
Kona's fruit expert Ken Love appears in the film, introducing Pullman to some of Hawai'i's finest fruits and later appears in Pullman's dream sequence. Hawai'i filming was done on the Big Island, at the Keauhou Farmers Market, Manago Hotel and a number of private farms in South Kona.
Based on Adam Leigh Gollner's best-selling book of the same name, The Fruit Hunters follows six members of a fruit-worshipping subculture, including the "senior curator" at the Fairchild Tropical Botanic Garden in Florida, and Isabella Dalla Ragione, an Italian fruit conservationist who makes it her mission to cultivate Old World fruits—such as the Fiorentina pear—thought to have disappeared.
Director Yung Chang (Up the Yangzte) offers up these stories like Eve proffering the forbidden fruit. You'll definitely want to take a bite.
Wednesday, April 10, 6pm. Purchase tickets online: http://program.hiff.org/films/detail/fruit_hunters_the_2013
Somm
"I cried when my parents died. I cried when my children were born. The only other time I cried was when I passed this exam." That's a guy speaking in the new documentary Somm, which follows four pals studying for the Master Sommelier exam, regarded as one of the hardest tests ever. There are fewer than 200 Master Sommeliers on the planet (and three of them are in Hawaii!). See what it takes to join this exclusive club, where people know the most esoteric grape varieties and can take a sip and say it tastes of "a can of freshly opened tennis balls" with a straight face.
Monday, April 8, 6:45pm. Purchase tickets online: http://program.hiff.org/films/detail/somm_2013