Fontina Scalloped Potatoes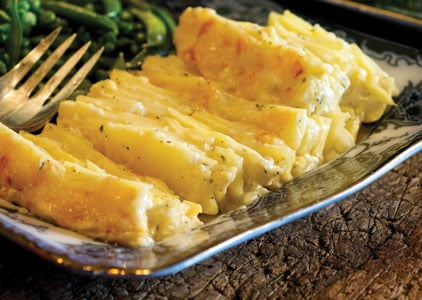 Fontina Scalloped Potatoes
A decadent, yummy side dish everyone will love
Ingredients:
2 T (Tablespoon) unsalted butter
1 (Unit) medium onion, minced
2 (Unit) medium garlic cloves, minced or pressed through a garlic press
1 T (Tablespoon) fresh thyme leaves, chopped
1 t (Teaspoon) salt
0 t (Teaspoon) ground black pepper
2 lb (Pound) russet potatoes, peeled and sliced 1/8-inch thick (about 5 medium)
1 c (Cup) low-sodium chicken broth
1 c (Cup) heavy cream
4 oz (Ounce) Fontina cheese, shredded (1 cup)
Instructions:
Preheat oven to 425°F.
Melt the butter in a Dutch oven over medium-high heat. When the foaming subsides, add the onion and cook, stirring occasionally, until soft and lightly browned, about 4 minutes.
Add garlic, thyme, salt and pepper. Cook for about30 seconds.
Add potatoes, broth and cream and heat to simmer. Cover, reduce heat to medium-low, and simmer until the potatoes are
almost tender, about 10 minutes.
Transfer the mixture to an 8-inch square baking dish. Sprinkle evenly with cheese. Bake until the cream is bubbling around the edges and the top is golden brown, about 15 minutes.
Cool before serving.
Preptime: 15
Source: Food Channel
Cooktime: 30 minutes
Ready time: 1 hour