Flipping Houses in This Economy? You Bet.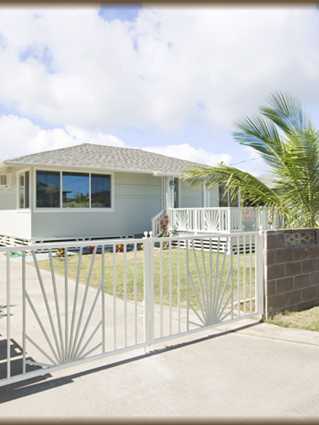 Many local real estate experts would say that you'd have to be flippin' crazy to flip a house in this economy, but that's just what two investors did with this Coconut Grove home. "My clients just bought [the house] three months ago," says listing agent Rachel Barnette. "They bought it with the intent to flip it. It looked like a disaster teardown. The paint was peeling and it was really rundown but the house was solid, I could tell the bones were good and the hardwood floors were nice, so I brought my clients in. It was a diamond in the rough."
So how do you pull off a flip in this market? For starters, houses in Kailua are moving. According to data released by the Honolulu Board of Realtors in September, the year-to-date (YTD) average single-family-homes sales price in Kailua is up 10 percent, and single-family homes in Kailua have been receiving approximately 95 percent of their original listing price. The other good news: The YTD median days-on-market-until-sale category is down 38 percent, from 57 days on market to 35 days on market. Combine the higher prices and faster-moving inventory with the fact that there's simply less to choose from—inventory in Kailua is down about 10 percent in recent months—and you've got a market that seems increasingly ideal for the well-done flip.
The owners completed a top-to-bottom overhaul of the three-bedroom, two-and-a-half-bath home, installing an all-new kitchen, bathrooms, master suite and master bath, deck and new roof, plus they updated the electrical, plumbing, windows and all of the appliances and fixtures. The duo also refinished the hardwood floors and refreshed the landscaping. The result is a totally charming, like-new home that is pretty well priced at $729,000.
Open house: Sunday, Nov. 7, 1 to 5 p.m.
Contact: Rachel Barnette, Prudential Advantage Realty. 224-5886, rachelb@pruhi.com.