Five new restaurants slated for Waikiki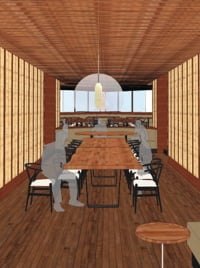 "I think we've milked the present restaurants for all the productivity we can get out of them," says Hyatt Regency Waikiki's gm David Lewin. "We're long overdue for a freshening up."
The Hyatt is getting a $20 million freshening up, which includes the third floor pool deck. But the centerpieces of the renovation will be three new restaurants.
The Terrace Grill closed Jan. 3. In its place will go SHOR, a contemporary American seafood restaurant with a beach view, featuring fresh (but sustainably caught) fish and local ingredients. "It's the first outside dining we've had in 25 years," says Lewin. SHOR is slated for a late April opening.
If you're a fan of Ciao Mein, get there soon. It closes in late April to make way for two eateries.
The Ciao Mein bar will be opened to the outside and become SWIM, an upscale indoor-outdoor lounge with a menu of Latin American-style tapas. "I'm looking forward to having an end-of-day drink or Long Board Ale there," says Lewin. "We're hoping a lot of other people will as well."
Finally, most of Ciao Mein will be gutted and treated to a $3.6 renovation to emerge as Japengo, a contemporary sushi bar with an Asian-fusion menu—some Chinese, some Thai, some Vietnamese influences.
"Our Ciao Mein is the last in the chain," says Lewin. "There used to be 22. The Japengo concept fits where Hyatt is going." The Hyatt Regency on Maui opened its Japengo Jan. 22. "Ours may be even more beautiful," says Lewin.
In other news, Matteo's is back. George Vandeman's Restaurants Hawaii LLC, which own's Sergio's Italian Table in the Hilton Hawaiian Village, is bringing back the venerable Italian eatery in the Marine Surf Waikiki condominium.
Matteo's will actually become two restaurants. The dining room will become Matteo's Italian Bistro, a more casual, family-oriented restaurant than the old white-tablecloth Matteo's. "We don't think the whole waiters in tuxes, tableside service thing would work any more," says Restaurants Hawaii's Buddy Moore. (Picture left: the old Matteo's)
The new menu will be created by Sergio's executive chef, Rodhel Ibay, and the restaurant will hire a chef de cuisine for the restaurant.
Outside in the Marine Surf lobby will be Matteo's Café, serving sandwiches, panini, pizza by the slice. "It will be more grab-and-go," says Moore.
As a side note, I asked Moore why the group had been forced to shutter their last experiment in bringing back old restaurants, the Ranch House in the old Sam Choy's Kapahulu location.
"It did great on Friday, Saturday, Sunday," said Moore. "But during the week, the crowd on Kapahulu is younger than the restaurant's demographic. So wrong location, perhaps."
The old Matteo's, which still lingers on websites and in guidebooks, may just the right location for what is essentially a new Italian offering in Waikiki. Scheduled for a July opening.
Hyatt Regency Waikiki Resort and Spa, 2424 Kalakaua Ave., (808) 923-1234, waikiki.hyatt.com

Matteo's Italian Bistro, Marine Surf Waikiki, 364 Seaside Ave., (808) 922-5551, matteoshawaii.com