Five new restaurants for Royal Hawaiian Center, Waikiki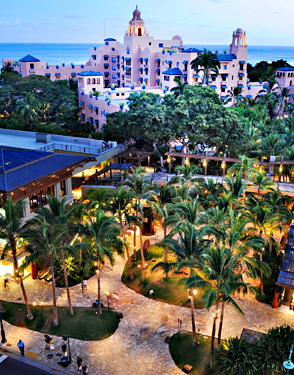 The Paina Lanai food court at the Royal Hawaiian Center was underperforming financially, so last March the center hired Los Angeles restaurant consultant Jerry Prendergast to fix it. The court has been reconfigured, and there will be a new anchor tenant.
• Five-0 Bar & Lounge will replace the former, unmemorable bar at the Diamond Head end of the food court. The new 3,500-square-foot lounge will be done up in ohia wood, and offer live music daily. Open in March.
Prendergast, who produces restaurants for chefs and investors, has three more Royal Hawaiian projects in the works.
• Five Star Restaurant won't be called Five Star, the name is still under discussion, but the restaurant deal is signed, sealed and going forward. The Five Star group, with two restaurants in Japan, will open a large, 5,000-square foot Japanese buffet next to the new Forever 21 store in the center's C building, near Cheesecake Factory. Opening August.
• Oxymoron Café. No, that's not what it's called. Still, how's this for an oxymoron: healthy hot dogs. Two heavyweights in the natural food business are planning a chain of healthy hot dog restaurants, having already sourced organic buns, hormone-free meats, organic mustard and so forth. This deal is still under negotiation, but Royal Hawaiian food court looks like an ideal place to open the prototype away from big market media scrutiny.
• Contemporary Seafood. Also under negotiation, but Prendergast is working with a chef-driven contemporary seafood restaurant, which already has Hollywood and Santa Barbara locations, and is eyeing the Royal Hawaiian Center for expansion. Prendergast won't reveal his client. Still, with any luck, it's chef David Lenz's highly rated Hungry Cat, which fits the description and would be a major addition to the Waikiki scene.
Prendergast isn't involved with the final project, but this one's not just promised. It's putting finishing touches on the interior, ready to soft open late this month, with a grand opening mid-January.
• Il Lupino Trattoria & Wine Bar. Wolfgang Zweiner, who brought Wolfgang's Steak House to the center, is opening a restaurant to serve the Italian food of his European boyhood. Indoor and alfresco bar and dining, an open kitchen, and a salumeria. It's supposed to casual yet sophisticated, a blend that Wolfgang's Steak House does manage to pull off. I'm really looking forward to this last one. I know Zweiner's a German guy running an Italian place, but since most Honolulu Italian eateries actually are run by Vietnamese, let's see what a Wolfgang can pull off.