First Taste: J2, JJ's new restaurant in Kaimuki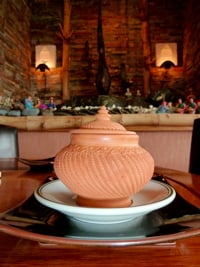 Why another restaurant? "People just keep coming," says Praseuth "JJ" Luangkhot.
JJ, the inventor of the chocolate pyramid and the creator of desserts for a host of Honolulu eateries, opened his first Waialae Avenue location as a pastry shop in 1999. In 2001, he expanded into soup and sandwiches.
The menu kept growing (pastas, pizzas) and so did the restaurant. In 2007, JJ took over a neighboring storefront and added 60 seats. The next year, he found more neighboring space and added 40 more—mainly as a party space. Soon he had more requests for private functions than he had dates. "Double book, double book, all the time, can't take everyone," he laments.
When a restaurant called Wild Orchid shut down a few doors away, JJ took over that location as well, improved the decor with his own refined Southeast Asian design sense, and opened his second restaurant: J2.
J2 is less bustling than JJ's Bistro, the menu is a bit more sophisticated, thanks partly to JJ's brother, chef Jack Sophavandy, who moved back from Florida to launch the new kitchen.
Still, the two restaurants share a great deal, including JJ's desire to offer the most affordable four-course meal in town: soup, appetizer, entrée and dessert from his array of pastries, all for less than $25.
He doesn't want the headaches of a liquor license, so you are free to bring your own wine, no corkage charge. "I'm just happy when people come eat," he says.
We, of course, launched into all four courses. The "Yum Yum" soup arrives in a Laotian-style clay pot. It's an elegant version of tom yum, tart with tamarind, hot with the deftest touch of chili pepper, filled with teardrop tomatoes and other vegetables that still had life in them. I pulled out a leaf. "Kaffir lime?" I asked the server. "Yes, Dad's always picking them off the tree in our backyard," she said. Turns out she was Nattha, JJ's daughter, on break from USF.
Thoughtful presentation on the appetizer plates. On the left here is a crispy, flavorful crepe filled with tofu and vegetables, including some housemade sun-dried tomatoes. Our other appetizer was a spring roll sliced and stacked in a tuille basket. Both came with salad, two different salads. The little red dots are hot sauce.
Finally, the entrees. J2's "Special Noodles" (see right) are a variation on pad Thai. "We came up with our own sauce," says JJ. That was a good idea because the noodles come out less sweet and gloppy than the usual Honolulu pad Thai. Plus JJ's version is full of shrimp and salmon and other seafood.
Our other entree was a rack of lamb, perhaps a little too medium instead of rare, a fault that could be cured by simply asking the patrons their preference. "We'll do that," says JJ. The East-West-inspired black bean-shiitake-leek-cream sauce on the lamb made up for it anyway.
A note: if you choose the grilled lamb or the baked duck among the entrees, that adds $5 to the $24.70 four-course meal. But, still, you're eating a rack of lamb etc. for less than $30.
Dessert turns you loose to choose anything in the pastry counter—little jewelbox pastries, full of flavor, light in weight. We went with coffee and a remarkable mang0-peach.
The food is serious here—well presented, not too heavy, plenty of flavor, and amazingly well-priced. The J2 atmosphere is quiet enough for a business lunch, but hardly fussy. It's got that relaxed Kaimuki feel.
The new restaurant's a nice step forward for JJ, who's eyeing the beauty parlor space between his bistro and J2. And the produce stand between his block and Town's. "That area would make a great sidewalk cafe," he says.
J2 is open daily 11 a.m.-9 p.m., at 3441 Waialae Ave., (808) 626-5368, jjbistroandfrenchpastry.com