First Look: Amazing Adaptations at Waikiki Aquarium
Seahorses, pipefish and seadragons come to Waikiki.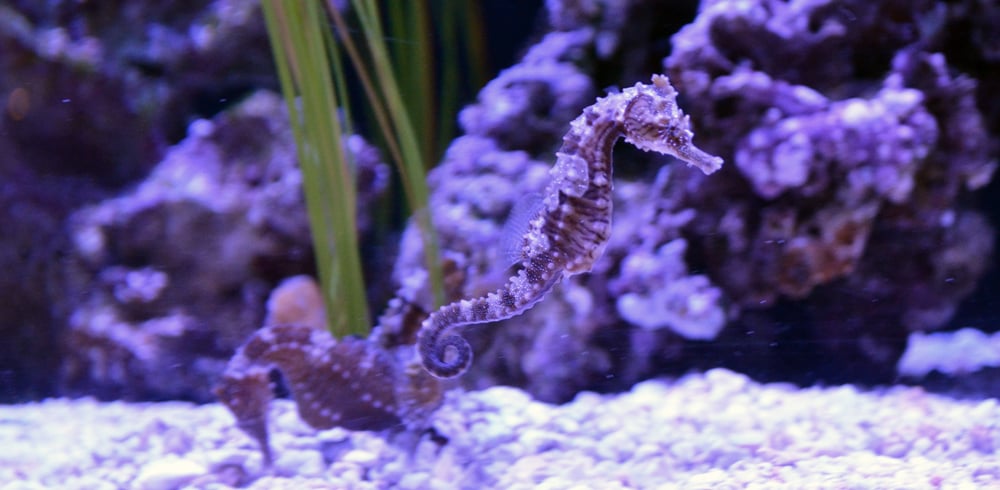 Amazing Adaptation exhibit at Waikiki Aquarium
Before today, I knew three things about seahorses.
1 – They have curly tails. I wasn't even sure you could call it tails.
2 – The men carry the eggs. This fact tends to pop up in those last, whale-like days of pregnancies.
3 – They are cute.
Tomorrow, the Waikiki Aquarium officially opens its new Amazing Adaptations exhibit. The section, which took six years of careful planning, introduces us to not only seahorses, but species of pipefish and seadragons from around the globe. What ties them all together? (A brief science lesson here.) All three are syngnathids. They have fixed jaws resulting in snouts or tube-like mouths, and, instead of internal bones, syngnathid bodies are made of bony plates covered by a skin. Also, the males all carry the eggs. I just like pointing this out.
Back to the exhibit. Amazing Adaptations consists of nine exhibits, 3,000 gallons, mostly situated along the left wall in the back of the aquarium. Two are close to the ground, just right for small marine buffs. Two are larger tanks for the biggest seahorse in the exhibit and the rarely-seen sea dragon.

The creatures are fascinating to see in action. Smooth seahorses swim by, then wrap their tails high around sea grass while the larger Potbelly seahorses largely stay anchored to the floor. We're guessing kids will adore the dwarf seahorses. Shorter keiki will need a boost to peep through the porthole-style window where they can spot about 50 tiny seahorses that grow to a maximum length of one inch.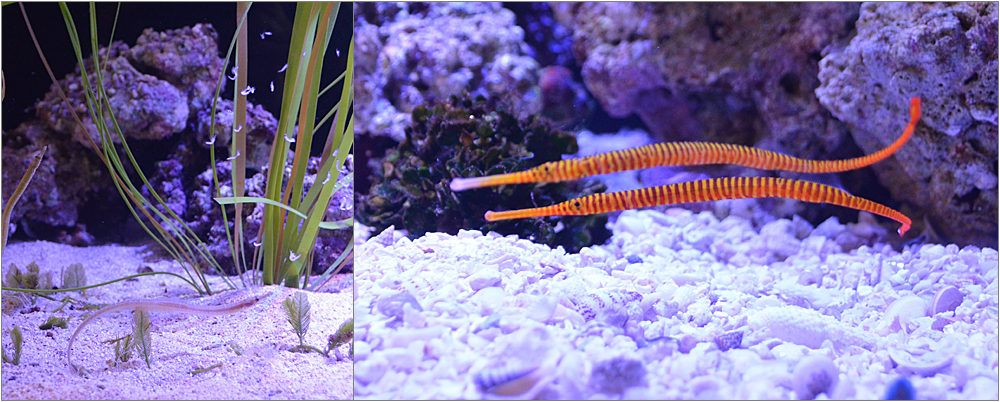 At adult eye level you'll find the pipefish. These elongated fish feature a variety of colors, from red to blue to camouflage-beige, finished off by a small, colorful tail. Several of the pipefish are currently carrying eggs, visible as a kind of light fringe below the belly.
My favorite was the shy but ornamental common sea dragon. I've never heard of these fragile creatures. The two currently on display avoided visitors, staying mostly in the back during the preview. I was lucky to receive an education plus a behind-the-scenes look at the aquarium's sea dragons from aquarist and caretaker of the Amazing Adaptations exhibit, Malini Pather.
Pather is a biologist with an extensive background in turtle rehabilitation, quarantine and disease. Her knowledge is key as even the seahorses and pipefish that are found in local waters must be placed in quarantine for quite some time before going into an exhibit.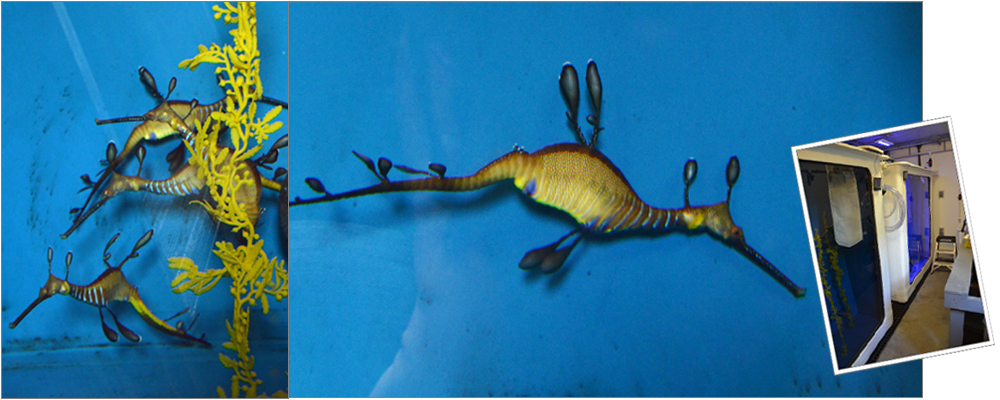 Seadragons are native to Australia's reefs and are protected. In a tight, tank-dominated room in the back, I was able to closely observe seven common, or weedy, seadragons kept away from public viewing.
They were mesmerizing to watch. Pather and a specific team keep detailed records on everything from water temperature to the multiple, daily tank cleanings to eating habits (ie. were the seadragons fed fresh or frozen food? Which ones ate? Which ones didn't?). The goal is to get the sea dragons comfortable enough to eventually face the public. The hope is that some of them will actually reproduce.
The exhibit is still evolving. Also behind the scenes, we visited a group of razorfish that just arrived. Razorfish have a tendency to swim together with heads pointing downward, making them resemble a patch of long grass waving in the water. It will take some time to ensure the newest arrivals will be comfortable enough to put on display. Across the aisle from Amazing Adaptations is also a space intended to be a seahorse nursery. It holds live food now, but several of the pipefish are already carrying eggs and aquarium experts are hoping the seahorses will be next.
Amazing Adaptations opens July 4. Learn more about the celebration in our Weekend Guide.
General admission is $12, $8 for kamaaina with ID, $5 for keiki 4 to 12, kids 3 and under are free. 2777 Kalakaua Ave. 923-9741. waikikiaquarium.org