Finally, Will the Legendary Eddie Aikau Big-Wave Surf Contest Actually Go?
Quiksilver has green-lit the competition for Thursday, Feb. 25.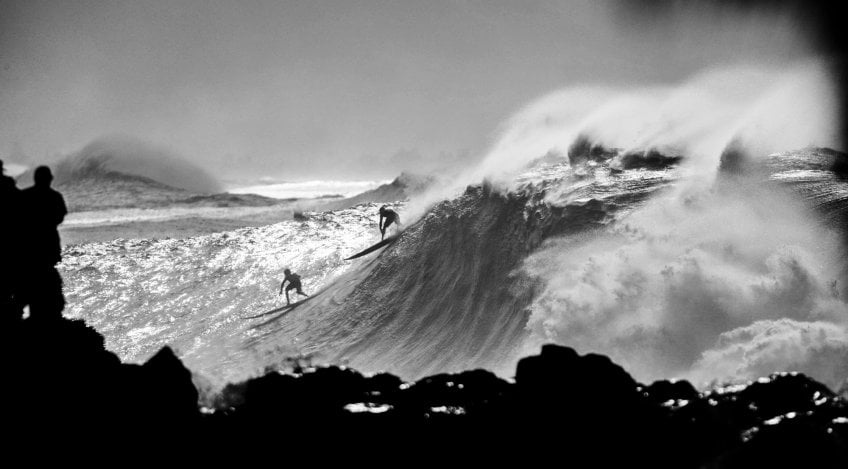 Photo: Courtesy of Quiksilver
The world's best big-wave surfers are gathering at Waimea Bay, again, this week to catch the monster waves pounding O'ahu's North Shore.
On Tuesday night, Quiksilver gave the green light to possibly run the 31st annual Quiksilver in Memory of Eddie Aikau—or The Eddie—on Thursday, Feb. 25. A giant swell is expected to bring wave faces around 40 feet high, which are required for organizers to run the contest.
SEE ALSO: The Eddie Aikau Big Wave Contest Didn't Go, But Will It Go Later This Month?
If the surf conditions are right, organizers will make the final call at 6 a.m. Thursday. Event director Glen Moncata says he is hopeful the contest will go on.
"We're set up and ready to go," Moncata says. "But we can't say—it's Mother Nature."
Almost two weeks ago, surf fans from around the world woke up to disappointing news when organizers called off the competition at the last minute after storm swells faded. Organizers hoped to squeeze in the event before the Feb. 29 holding period deadline. The contest has only been held eight-and-a-half times since 1984.
"We're crossing our fingers and hoping that Eddie lets us run it," Moncata says.
If you're planning to venture to the North Shore, here are some tips to know before you go:
Get there early
The competition could begin as early as 8 a.m., and finish as late as 4:30 p.m. Don't be surprised if there are no parking spaces by 5 a.m. for an event that has happened only eight-and-a-half times in the past 32 years. There's only one road to the North Shore, so get there super early (Wednesday night) or you'll get stuck in traffic. Consider carpooling with friends or sleeping at a North Shore friend's house the night before, so you can avoid traffic Thursday morning.
A Memorial
There'll be a memorial for the late Eddie Aikau, who was the first official lifeguard at Waimea Bay. You'll also see a memorial for North Shore big-wave surfer Brock Little, who died last week after battling cancer. If you're planning to attend, bring cut flowers (plumerias, not lei) or ti leaf to honor their memories, Moncata says.
Parking
Avoid parking along Kamehameha Highway near Waimea Bay during the tournament. There will no public parking at Waimea Bay Beach Park on the day of the competition. You're not allowed to park on either side of Kamehameha Highway from Iliohu Place to St. Michael Parish with Missions of Sts. Peter and Paul starting at 10 p.m. Feb. 24 until the end of the competition around 4:30 p.m. the next day. Several Honolulu Police Department officers will be patrolling the area to ticket any cars parked illegally.
Bus Service
TheBus will provide additional service on route 52 (Honolulu-Mililani-Hale'iwa) and route 55 (Honolulu-Kāneʻohe-Hale'iwa) to accommodate the anticipated increase in ridership. Here's the schedule:
Ala Moana Center, Kona Street
No. 847

Alapai Transit Center
No. 2288

*5 a.m.

*5:10 a.m.

*5:30 a.m.

*5:40 a.m.

*5:45 a.m.

*5:55 a.m.

6:05 a.m.

6:15 a.m.

*6:20 a.m.

*6:30 a.m.

6:35 a.m.

6:45 a.m.

7:05 a.m.

7:15 a.m.

7:35 a.m.

7:45 a.m.

8:05 a.m.

8:15 a.m.

Morning Departure from Ala Moana Center to Hale'iwa from Route 55 (Kāneʻohe-Hale'iwa)

*5:15 a.m.

*Added service
Where to Watch
You don't need to drive to North Shore to see The Eddie. You can watch it from the comfort of your home or office. If the swell comes as predicted, you can catch a live broadcast on Oceanic Time Warner Cable channels 250 and 1250HD or live streaming on the World Surf League's website and Quiksilver's website.
Social Media
We'll be sharing photos and videos from The Eddie on social media. Follow us on Twitter and Facebook for live news updates during the event.