Recipe: Fiesta Breakfast Casserole
The perfect, make-ahead casserole to pop in the oven in the morning.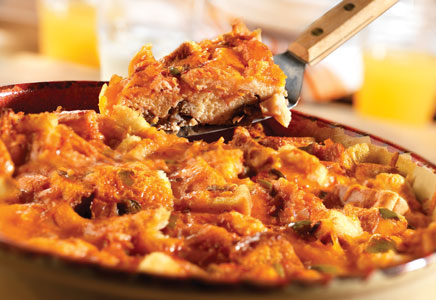 Fiesta Breakfast Casserole
Ingredients
Bulk pork sausage
12 slices of Pepperidge Farm white sandwich bread, cut into cubes
1 cup shredded cheddar cheese
1 cup Pace Picante sauce
4 eggs
Milk
Instructions
Preheat the oven to 350 degrees. Cook sausage in 10-inch skillet over medium-high heat until well browned, stirring often to separate meat. Pour off fat.
Spoon sausage into 2-quart, shallow baking dish. Top with bread cubes and cheese.
Beat picante sauce, eggs and milk in medium bowl with fork or whisk. Pour picante sauce mixture over bread mixture. Stir and press bread mixture into picante sauce mixture to coat.
Cover and refrigerate 2 hours or overnight.
Uncover the baking dish and bake 45 minutes, or until knife inserted in center comes out clean.
Tip: Prepare the casserole the night before and pop into oven in the morning. It's great when you have overnight guests. Add a simple side of sliced melon and breakfast is ready!
Prep Time: 20 minutes
Cook Time: 45 minutes
Ready Time: 1 1/2 hours
Source: Family Features