Festival of Hope Brings Much-Needed Support to Families Affected by COVID-19
Hosted by Child and Family Service and funded by the First Hawaiian Bank Foundation, the drive-thru event provided an array of resources and items to 647 local families.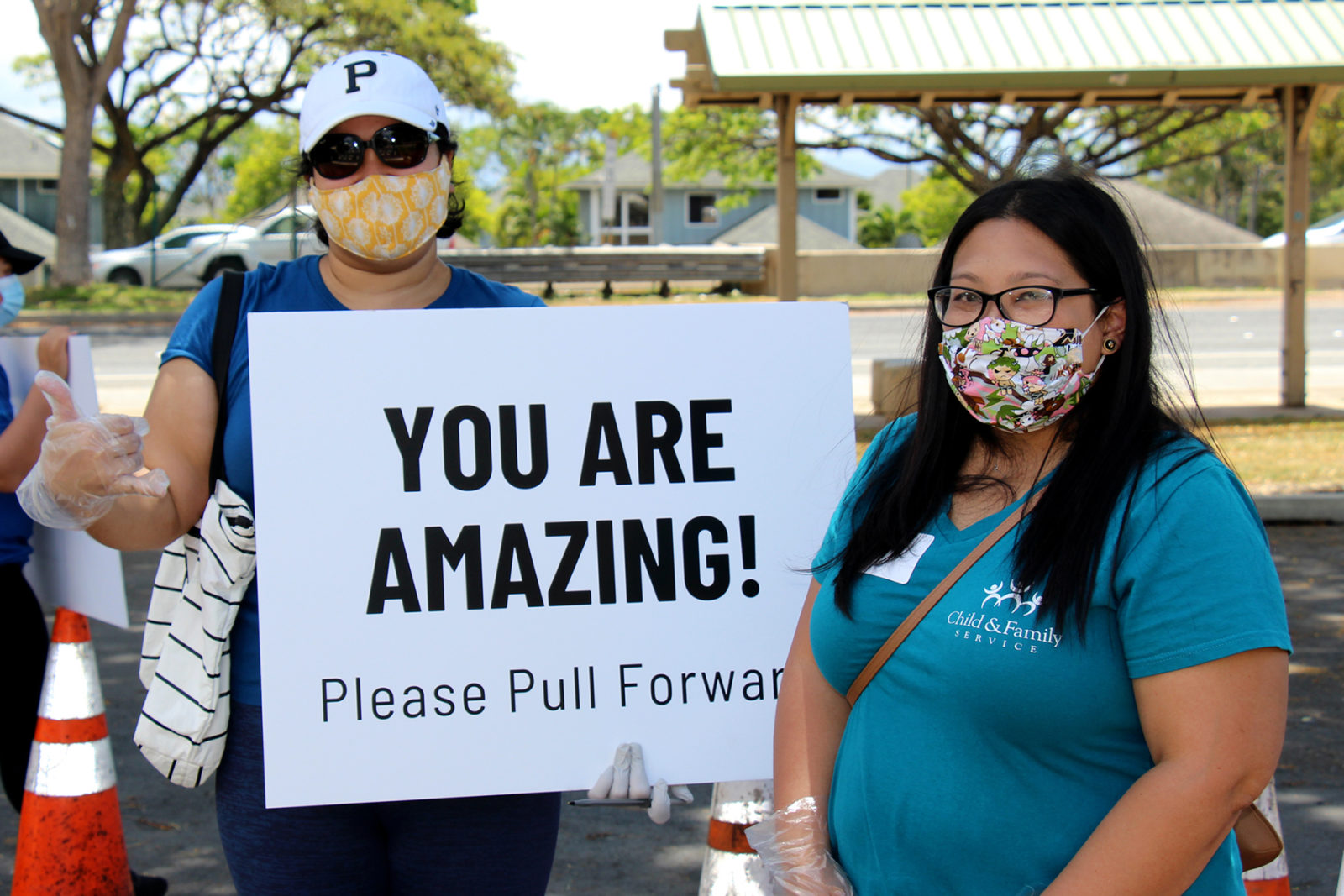 Child and Family Service (CFS) hosted the Festival of Hope for Families, funded by the First Hawaiian Bank Foundation, on Saturday, May 9th, 2020 from 9 a.m. to noon at the CFS Ewa Beach campus.
Participants were able to sign-up for the event online and schedule a window to drive-thru, eliminating a long wait in line. "Since this pandemic, we have all carried shared experiences: coping with fear, anxiety, despair, isolation and more. The Festival of Hope was uplifting. And during this time, I'm so grateful to have had the opportunity to connect through hope," remarked a member of the CFS staff, one of 33 who worked at the event alongside 78 volunteers from a host of organizations including HIHO (Hands In Helping Out), Servco, Hawaii Life, and Waipahu High School.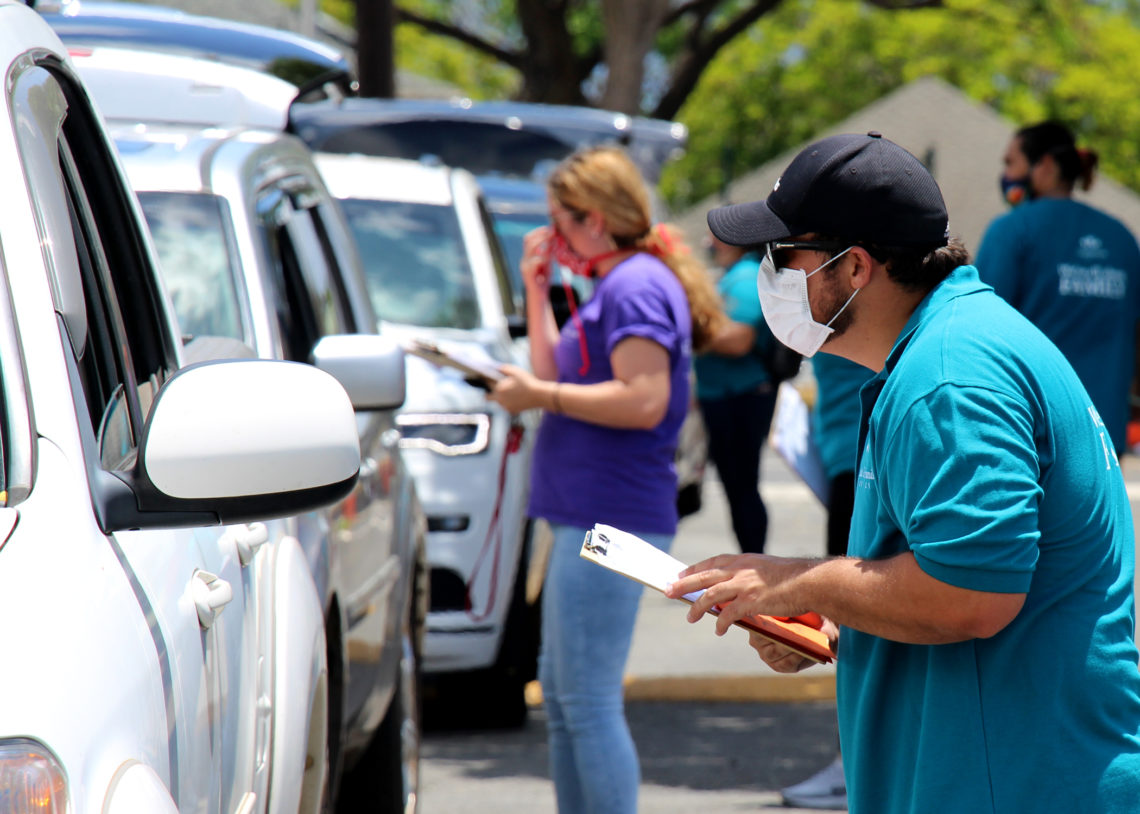 647 families impacted by the Coronavirus stay at home order were served at the drive-thru grassroots event that followed social distancing guidelines to provide an array of resources and items for families: games, books, activities, groceries, chef-prepared family dinners, screening and follow-up services. One participant expressed, "I never thought I would need this kind of help and felt shame. You made me feel better and not alone."
Only 2% of Festival of Hope for Families attendees were existing CFS members. "CFS is not afraid to be innovative. We found a creative way to bring those in need to us. The fact that over 90% were not receiving services from CFS was testament to the need out there!" a CFS staff member noted. 70% of attendees were invited by CFS or partner organizations, 27% came in through social media, and 3% were recruited through grassroots efforts such as posters, church and via friends. Signing up online was not a requirement, and this flexibility made a valuable difference for one participant in particular: "Thank you so much for letting me come without a ticket. I didn't know I needed one but I need help because my sister passed away last week and I need supplies to take care of my niece and nephew."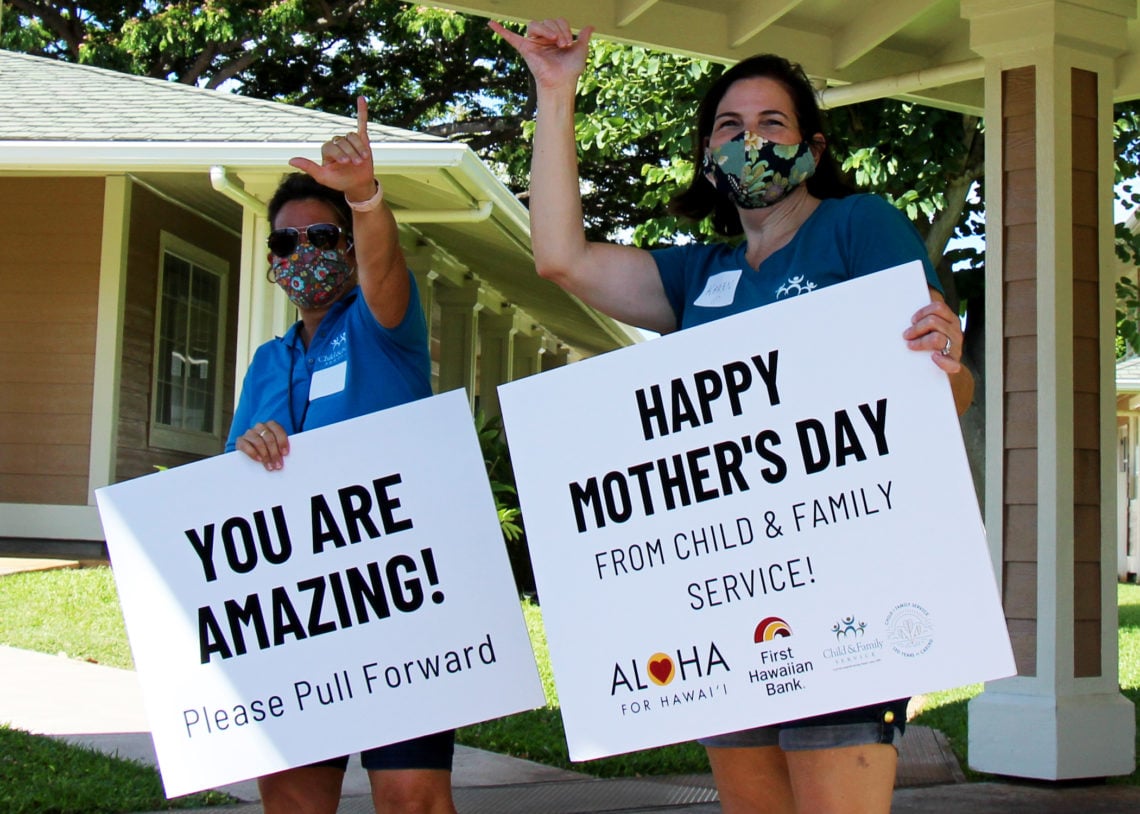 Approaching the CFS campus, attendees received a warm and welcome greeting as volunteers waved signs printed with "You are amazing!" and "Happy Mother's Day" while music played. One participant stated, "I could feel the love from all the volunteers and it brightened my day." Clearly marked signs indicated how to proceed through the event and pick up supplies and resources provided by partners including Aloha Diapers; Aloha Harvest; Chef Hui/Pili Group; DVAC; HIHO; HPD; Hawaii Life; Servco; Ultimate Innovations, Inc.; Under My Umbrella (UMU); Waianae Coast Comprehensive Health; and Waipahu High School.
In their open car trunks participants received products and resources donated by Bess Press; Big Island Candies; Cades Foundation; Cake Works; Every1Hawaii; First Hawaiian Bank; Haku Collective; Hawaiian Airlines; Hawaii Food Bank; Honolulu Cookie Company; Kimie Miner; Kokua Hawaii Foundation; Lanakila Health; Na Kama Kai; Pacific Biodiesel; and Watanabe Floral. The majority of the purchases made for the event were through local businesses. Many participating businesses chose to provide products and services at no cost or at a reduced cost – totaling more than $50,000 in-kind donations.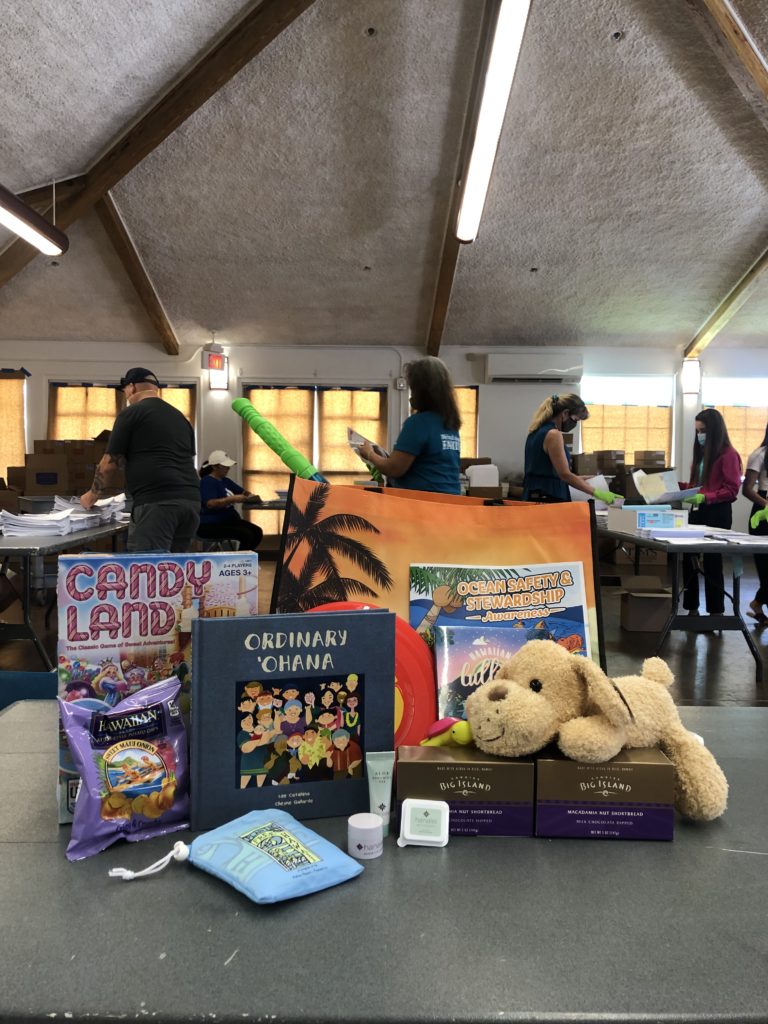 CFS staff wearing masks screened participants for 3 things, asking 1. "Are you safe at home?" (screening for domestic violence), 2. "How are things at work?" (checking for job insecurity), and 3. "How is virtual learning at home going for your family?" (academic support for children). 67% requested services and 7% reported feeling unsafe at home. These individuals were provided with resources and support. "Thank you for asking me how I am doing, instead of just passing out food," a family member said.
At subsequent stops in the drive-thru festival, volunteers waved signs stating "Aloha! Please stop here" and "Turn here if you love fun." 56% of the attendees, 166 families, received educational support by meeting with certified teachers from CFS Hale O Ulu alternative school. They also received educational resources, including Hope & Healing information.
The 109 attendees who requested employment counseling services are receiving follow-up outreach from CFS staff. "Both my husband and I were laid off and still waiting for unemployment so this will help our family for now until we get back on our feet," said a participant.
By touching 2500 lives in just three hours, the event was deemed a success. The Festival of Hope for Families will next rollout across the state to serve additional communities. Private funding is being secured in $25K increments and the pop-up formula is being refined while island directors organize. "Bringing agencies together in a short time period provided me with the understanding of how embedded and far reaching CFS is. The power of HOPE was incredible and will be part of the legacy that is CFS and that I was a part of this organization," shared a CFS staff member.