Feed The Hunger Fundraiser, Sept. 8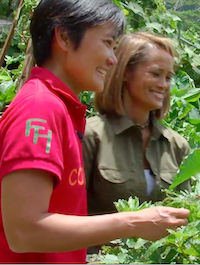 Feed The Hunger Foundation helps low-income entrepreneurs who have businesses in Hawaii's food system and want to make local, healthy food available to all. That includes small farmers, aquaponic farmers, farmers market managers, food truck operators, small restaurateurs.
Feed The Hunger makes small loans to help these critical members of our food chain become self-sufficient.
The goal is to reduce the import of food to Hawaii and provide not only healthy food for Hawaii's people, but preserve the traditions, customs and culture that bring us together.
That's a lot of abstractions. Perhaps you can get a better view of Feed The Hunger by watching this video from the Biting Commentary TV show.
The show features Denise Albano and Patty Chang of Feed The Hunger (here, at left, with one of their borrowers), plus one of their partner chefs, Ed Kenney of Town.
If Feed The Hunger's mission makes as much sense to you as it does to Biting Commentary, you can help by attending a fundraising dinner with the somewhat lengthy title, Destination Hawaii: Creating Our Food, Investing in Our People and Strengthening Our Community.

It will be held Thursday, Sept. 8, 5:30 to 9 p.m., at the Hilton Hawaiian Village, Coral Ballroom. Individual tickets are $200, and reserved tables for 10 start at $2,500.
For tickets and information, (415) 793-­2429, feed-hunger.com or email here.