Family Restaurant Review: Scratch Kitchen and Meatery
Pancakes covered in cereal and soup topped with popcorn make this Kaka'ako restaurant an adventure for kids.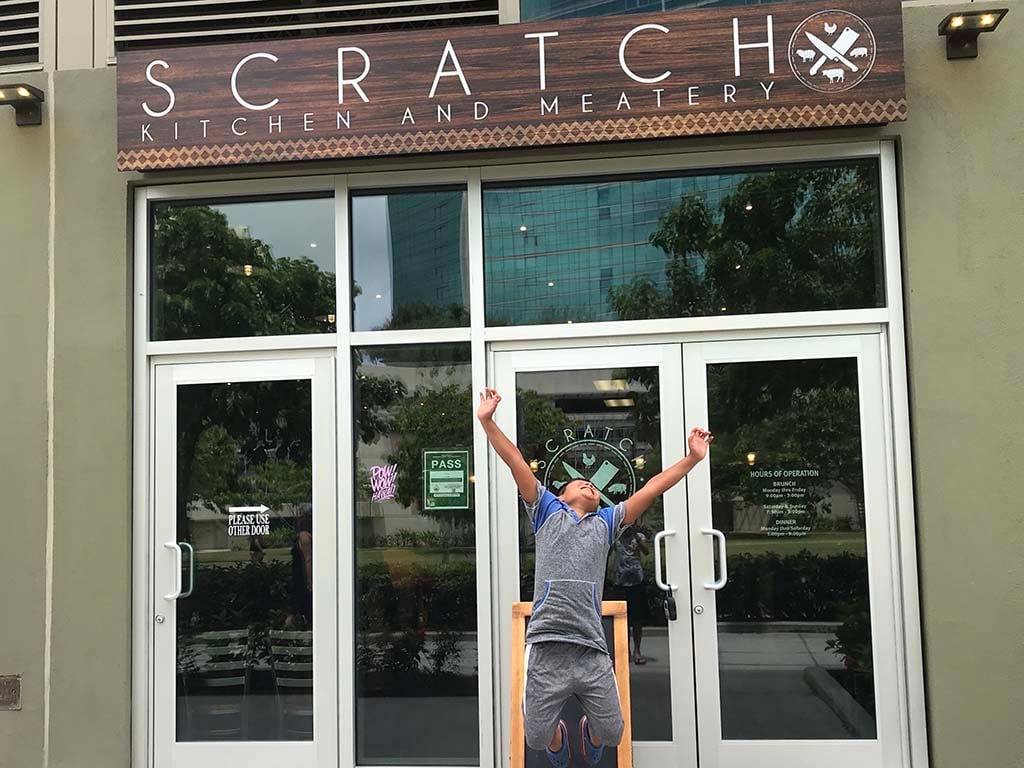 Photo: By Wendy Awai-Dakroub
Kids jump for joy knowing that Scratch Kitchen and Meatery is across from Kolowalu Park, the playground at Ward Village.
Editor's Note: We've launched a new series, "Family Restaurant Review," featuring local eateries that welcome kids. We hope these will enhance your family's experiences around the food table. Food you don't have to cook, of course.
We will begin every review with our "Family-Friendly Checklist," six items parents want to know before deciding if the restaurant is a good fit for their little ones. Then, you'll read reviews from HONOLULU Family and HONOLULU Magazine's dining teams.
OUR DINING CHECKLIST:
Ambiance: Rustic and clean with large windows and natural lighting made it very cozy and welcoming. It was a bit on the noisy side because the restaurant was crowded the morning we visited. The open kitchen concept is fun for kids as they sat facing the bar to watch the food being prepared. Staff was warm and friendly.
Parking: Lots of free parking in the structure adjacent to South Shore Market at Ward Village (near Nordstrom Rack and T.J. Maxx).
Bathrooms: Restrooms are partially shared with other businesses within the mall but easy to access from the restaurant. Baby-changing stations are available.
High Chairs/Stroller-Friendly: Stroller-friendly, though some areas are a bit tight. High chairs are available for toddlers.
Keiki Menu/Takeout Option: No children's menu. Scratch Kitchen is a great place for foodie families that want their kids to try tasty, unique and satisfying dishes with a New Orleans flare. Takeout is encouraged when the restaurant is busy. We witnessed some people ordering takeout prior to their arrival, then eating on the tables within the mall.
What To Know About Scratch Kitchen and Meatery:
Across the street is Kolowalu Park with playground equipment for kids, great to burn off the sugar they consume. Scratch Kitchen also has a text-message system when the restaurant has a long wait time, allowing you to shop or go to the playground. A great option when you have children and/or a large group.
Our Little Foodies:
Leah, 10, loves all things from the sea. The adventurous foodie's favorites include grape leaves, kibbeh (Lebanese raw meat with spices) and sushi.
Jaffer, 8, loves fruit and vegetables. His favorite place to eat is Down to Earth; he has a weakness for sweets, and his favorite foods are Spam musubi, chocolate chip pancakes, pears and mussels.
Not your typical Sunday brunch restaurant, Scratch Kitchen and Meatery hails as one of Kakaʻako's best for a fun-with-the-family, fusion breakfast.
After humble beginnings at their first location in Chinatown, Scratch relocated to Ward Village's new South Shore Market. The modern, open-kitchen concept gives the restaurant its inviting appeal and is much larger than its previous location.
Scratch, as the name implies, is a made-from-scratch kitchen. So, if you've got starving kids, this is not the place I would choose for a last-minute breakfast. Though our food came out promptly, I heard it's a much different story on weekends with wait times exceeding 45 minutes.
The breakfast and lunch menu is fun, creative, unique and satisfying, however, I've only ever eaten here for breakfast and lunch. It is open for dinner from 3 to 5 p.m. with menu items, such as chicken fried deviled eggs with charred jalapeño aioli and pickled red onions ($8); and pork belly and apple pasta with jalapeños, a soft egg and gorgonzola ($12).
It all sounds delicious, so perhaps a date night with the spouse should happen sooner, than later.
Back to brekky. We arrived on a Tuesday afternoon around 11 a.m., and the restaurant wasn't too crowded. We were seated near the counter, which was nice since the kids wanted to watch the chefs prepare our food.
The Scratch Kitchen daytime menu is small, with a few "brekky" items and "lunchy" items with interesting, paired ingredients. My 10-year-old ordered the 'milk n' cereal' pancakes topped with bananas, berries and condensed "milk" syrup ($12). And, for myself, the haupia crème brûlée French toast with seasonal fruit, toasted coconut and coconut-infused maple syrup ($12).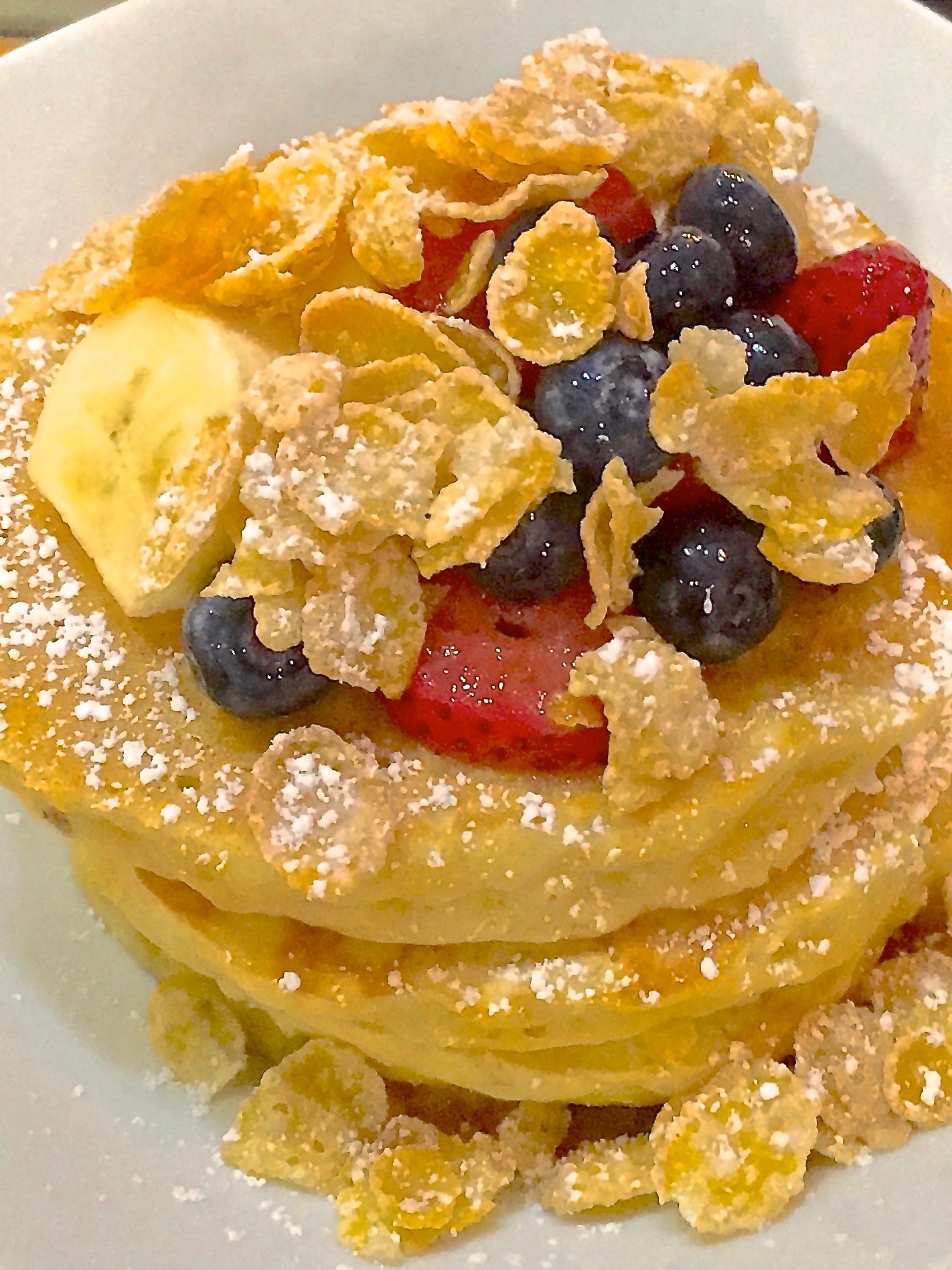 Photo: By Wendy Awai-Dakroub
Cereal, berries, bananas and condensed-milk syrup on top of five pancakes.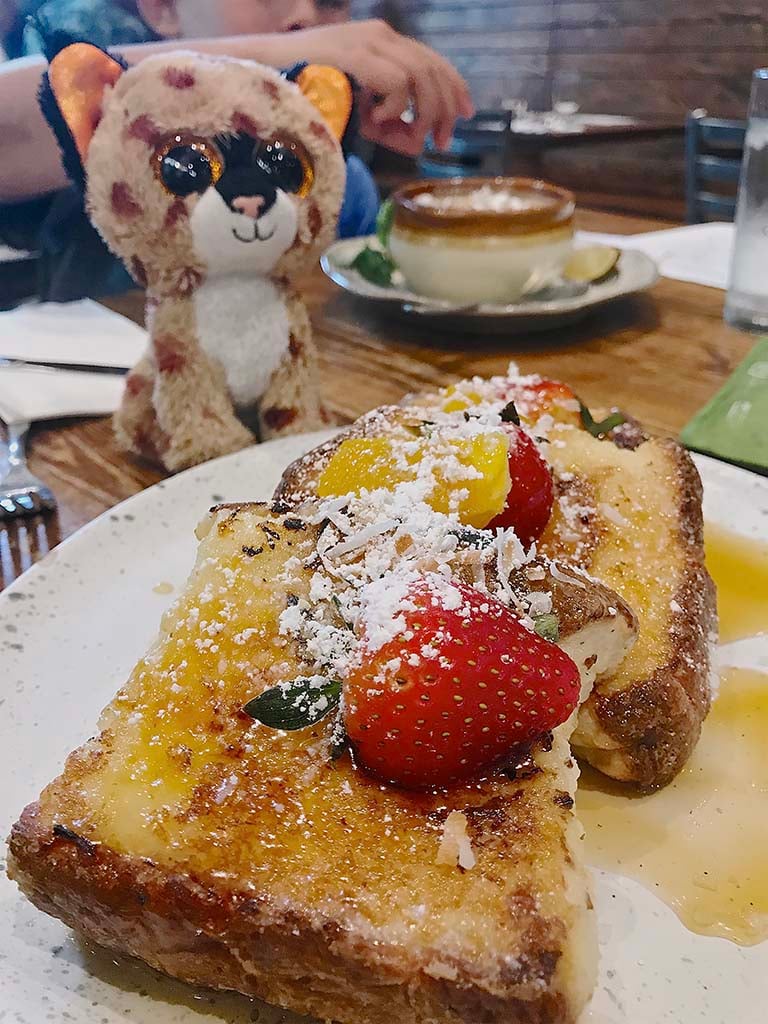 Photo: By Wendy Awai-Dakroub
Season fruit, toasted coconut and coconut-infused maple syrup complete the crème brûlée French toast at Scratch Kitchen and Meatery.
Both breakfast dishes were perfectly cooked and so delicious. We also ordered the Creole shrimp 'n' grits with andouille sausage, hominy (ground corn and grits) with a sunny-side-up egg and red eye gravy. My daughter loved this dish. The shrimps were large and full of flavor, and the grits were creamy, absolutely wonderful.
My 8-year-old ordered a bowl of charred corn chowder ($8), which was topped with bacon popcorn and cilantro. It was not as sweet as he had expected, so he ordered the BC Burger ($15), grass-fed Kauaʻi beef with smoked bacon, aged cheddar cheese, apple slaw, whiskey barbecue sauce on a brioche with a side of smashed tots (which were not the tater tots from a supermarket, but more like a smashed potato).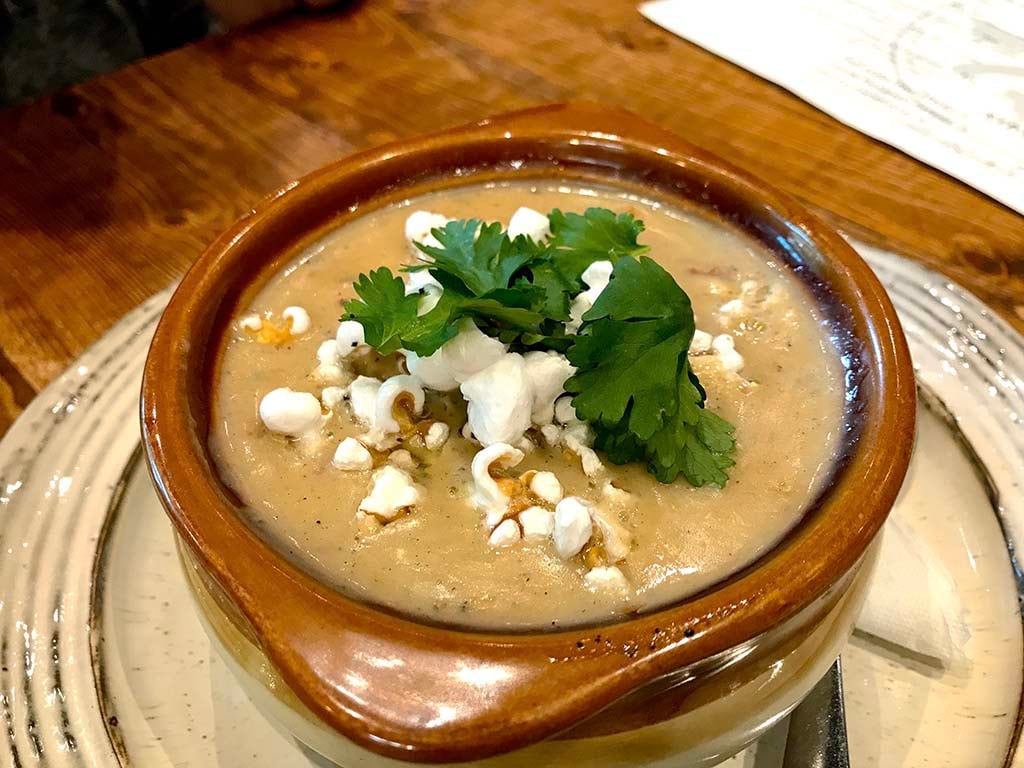 Photo: By Wendy Awai-Dakroub
Charred corn chowder sprinkled with bacon-enhanced popcorn and cilantro.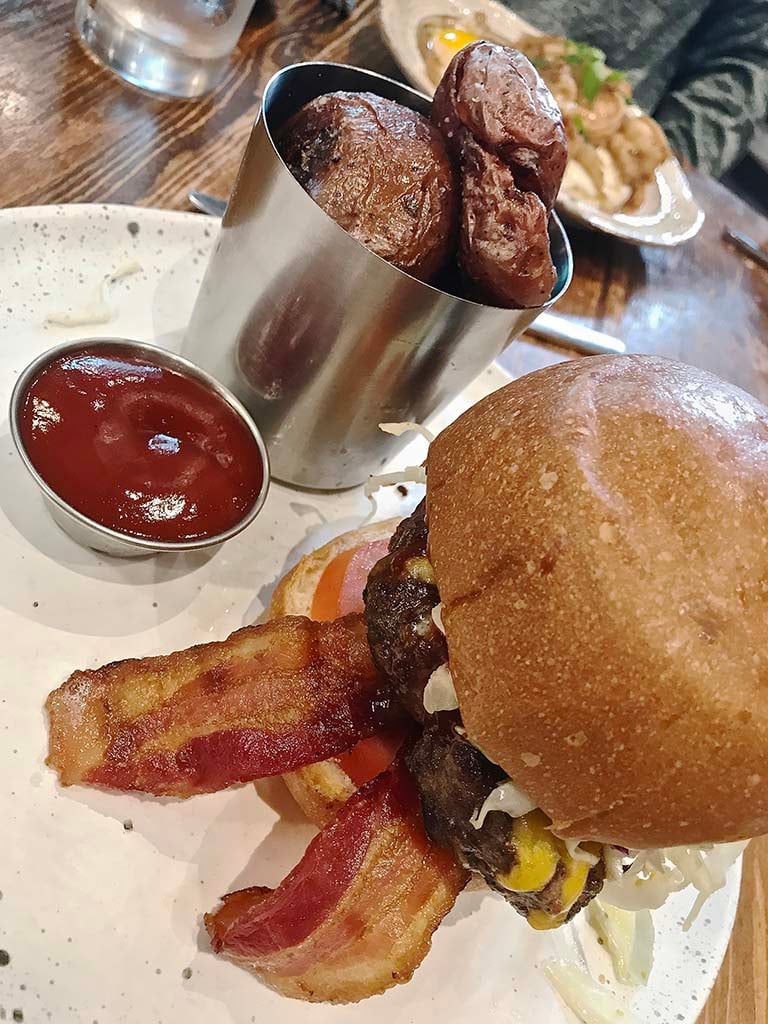 Photo: By Wendy Awai-Dakroub
The BC Burger is grass-fed Kauaʻi beef with smoked bacon, aged cheddar cheese, apple slaw, and whiskey barbecue sauce on a brioche with a side of smashed tots.
Unfortunately, he didn't quite take a liking to his burger either, claiming it was too dry and too large for his hands and mouth to hold. And, although it came with a huge knife, he struggled cutting it. Thankfully, he had already consumed the last three pancakes his sister couldn't finish (five total), and my leftover French toast. So, he was happily satisfied.
It was obvious we ordered way too much food for three people, but our curiosity got the best of us. There is a nice selection of cocktails and non-alcoholic beverages, including teas, coffee, juice and sodas from which to choose. But no desserts.
Prices are moderate, but worth it for the quality of food and service. Scratch is worth checking out if you're in the Ward area and looking for something unique and filling.
Scratch Kitchen and Meatery is open from 9 a.m. to 3 p.m. for "brekky;" 10:30 a.m. to 3 p.m. for "lunchy;" and 5 to 9 p.m. for dinner. South Shore Market, Ward Village, 1170 Auahi St. (808) 589-1669. scratch-hawaii.com
---
Wendy Awai-Dakroub is a Hawai'i-based writer, founder of pintsizegourmets.com, photographer, traveler, and mom to kid-foodies Leah and Jaffer.