Family Restaurant Review: DB Grill
Meat lovers rejoice at this tasty upgrade on a sports bar in Kapolei.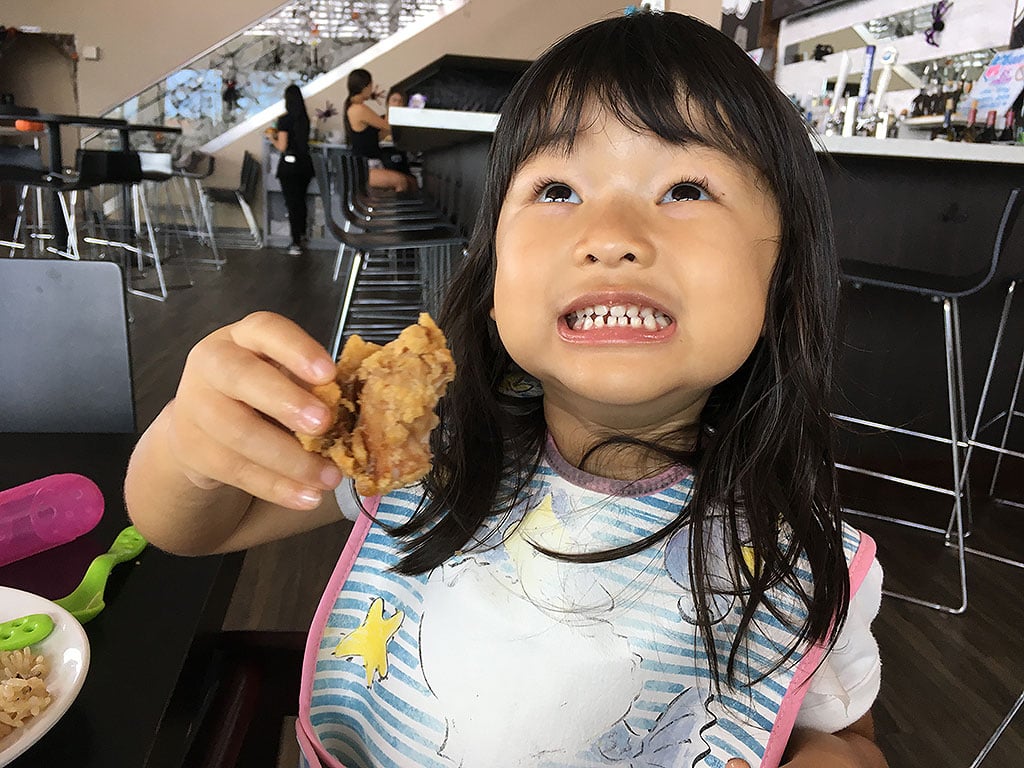 Photo: Christi Young
With multiple big-screen TVs suspended on the high walls of DB Grill, kids eyes are rarely on their food.
Editor's Note: We've launched a new series, "Family Restaurant Review," featuring local eateries that welcome kids. We hope these will enhance your family's experiences around the food table. Food you don't have to cook, of course.
We will begin every review with our "Family-Friendly Checklist," six items parents want to know before deciding if the restaurant is a good fit for their little ones. Then, you'll read reviews from HONOLULU Family and HONOLULU's dining teams.
OUR DINING CHECKLIST:
Ambiance: Casual, open with the bar and eight big-screen TVs as the main focus. Noisy kids are not an issue, since games are always playing, and no one blinked when our toddler made a mess. Note: We went during lunch. Several readers mentioned that the atmosphere is less kid-friendly at night, when not-so-family-friendly music may be playing.
Parking: Kapolei Commons has a big lot.
Bathrooms: Inside and well-cared-for. Sinks are in a common area outside the family stalls, which have full floor-to-ceiling doors, so kids can wash up without having to go into a separate room.
High Chairs/Stroller-Friendly: Yes. When it's not busy, a stroller could roll up to a table.
Keiki Menu/Takeout Option: No/Yes.
What to Know: Soft drinks come with one free refill. Happy hour is 2 to 5 p.m. and 10 p.m. until closing, when small dishes and draft beers are discounted.
OUR LITTLE FOODIES:
Cassera, 8, would love to be a vegetarian. Her favorites are roasted zucchini, eggplant, Brussels sprouts, pretty much any vegetable except for mushrooms and tomatoes. She loves noodles, chicken and fish, dislikes any meat with "squishy parts." Not a rice fan.
Sabrina, 3, is the carnivore. She's a fan of meat, noodles and all carbs. We can coax her to eat broccoli with the promise of rice or french fries.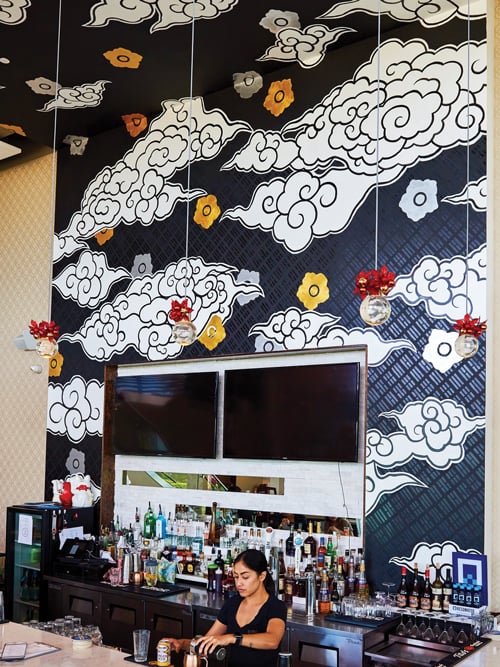 Photo: Steve Czerniak
Walking into DB Grill is like reliving my Saturday mornings before I had kids. That's when weekends consisted of waking up and heading directly to one of my friend's favorite sports bars to catch the early college matchups. Surrounded by big-screen TVs broadcasting various games, the flashback was cemented when I watched a waitress take two shot glasses to the table nearby, before noon.
DB Grill's Kaka'ako counterpart, Cafe Duck Butt, has been known for its better-than-typical bar food for years. Last year, the owners opened a West O'ahu location, offering some of their most popular dishes from town in a bigger, more airy space.
SEE ALSO: 5 Spots That Are Making Kapolei the Next Foodie Destination on Oahu on honolulumagazine.com
First off, finding the door is a bit confusing. DB Grill's entrance is not located on the same sidewalk as nearby Eating House 1849, La Tour Cafe, Gyu-Kaku and Regal Kapolei Commons 12. The door on that side is locked, which I discovered while walking into it at full speed. Instead, go to the end of the sidewalk and turn right to find the entrance.
The mood in the large, open eatery is upbeat and casual. Families mixed with construction workers on lunch break and single sports fans who were glued to the games. Service was friendly, if not speedy. But the kids were mesmerized by the screens—my 3-year-old will watch anything on TV and didn't get too fussy, even though they were hungry.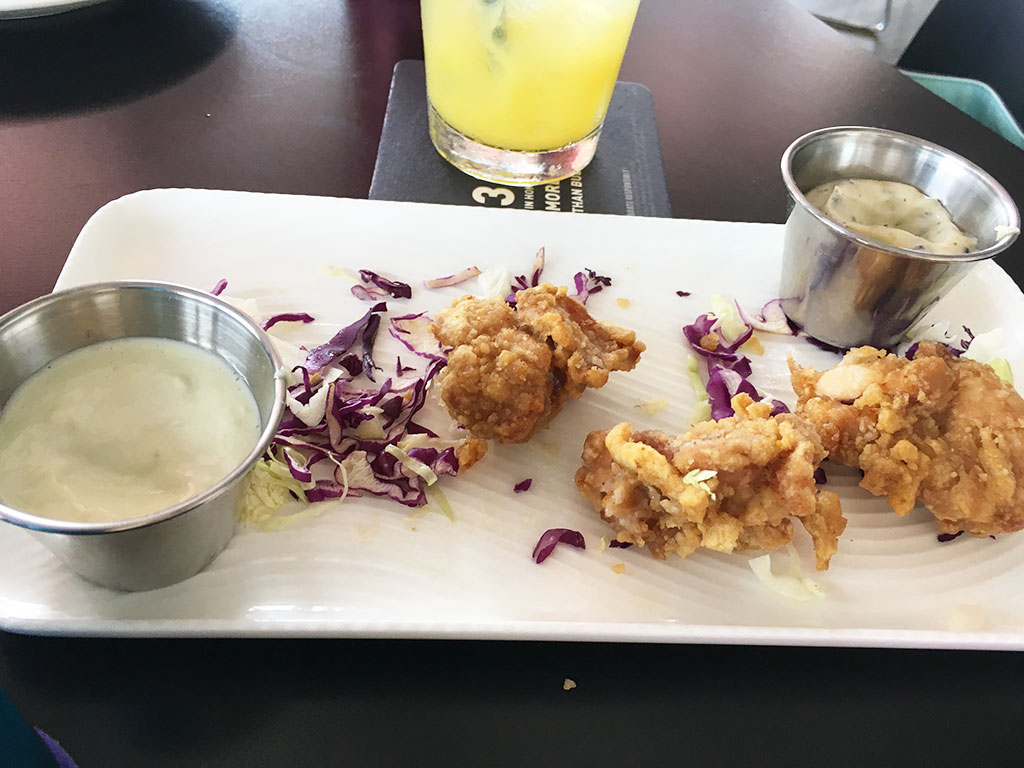 Photo: Christi Young
The girls grabbed the chicken karaage so quickly, this was the only photo I could get.
DB Grill does not have a keiki menu but we were informed that you can alter the spiciness of most of the dishes on the Korean-inspired menu. We ordered the chicken karaage, with spicy mayo sauce on the side, and kimchi fried rice, the mild version, and asked the egg on top be scrambled. My husband ordered the ramen fried chicken sandwich, a signature dish of DB Grill.
The kids kept busy with orange juice while we waited. Small dishes and utensils came out for everyone, so we could eat family style. The food doesn't come out with lightning speed, so be ready with toys or your typical restaurant diversions. But when it arrived, it was hot and looked good.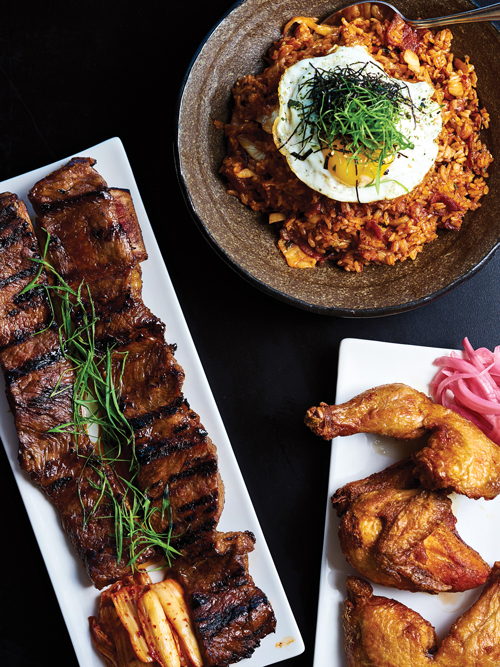 Photo: Steve Czerniak
Left to right: Ed's signature kalbi, adult-ready kimchi fried rice with sunny side egg and Duck Butt chicken.
The girls enjoyed the chicken karaage. The sizable pieces were crunchy, seasoned and still moist. The menu mentioned furikake, but I didn't see or taste it. The spicy mayo sauce, which only the adults tried, was a satisfyingly creamy complement with just a hint of heat. To be fair to the kimchi fried rice, we had stripped out most of the star players; kimchi and the spicy sauce were on the side and we opted out of the runny yolk. (Despite my best sales pitch for it, Both girls said "ewwww" when we offered.) So the fried rice was fine, offering a bacon-forward bite. When my husband and I mixed in the kimchi and sauce, the pickled cabbage and what appeared to be gochujang-based mixture, the added ingredients uplifted the rice with pops of of vinegar and spice, and had me wistfully thinking about a sunny-side egg to break on top.
The ramen fried chicken sandwich is crunchy, as advertised, and the buttermilk left the breast juicy under the ramen coating. After that, the adult reactions were mixed. My husband thought the chicken was lost in the slaw and miso honey mustard while I enjoyed the creaminess and sour notes from the pickled elements. The crinkle cut fries were fine.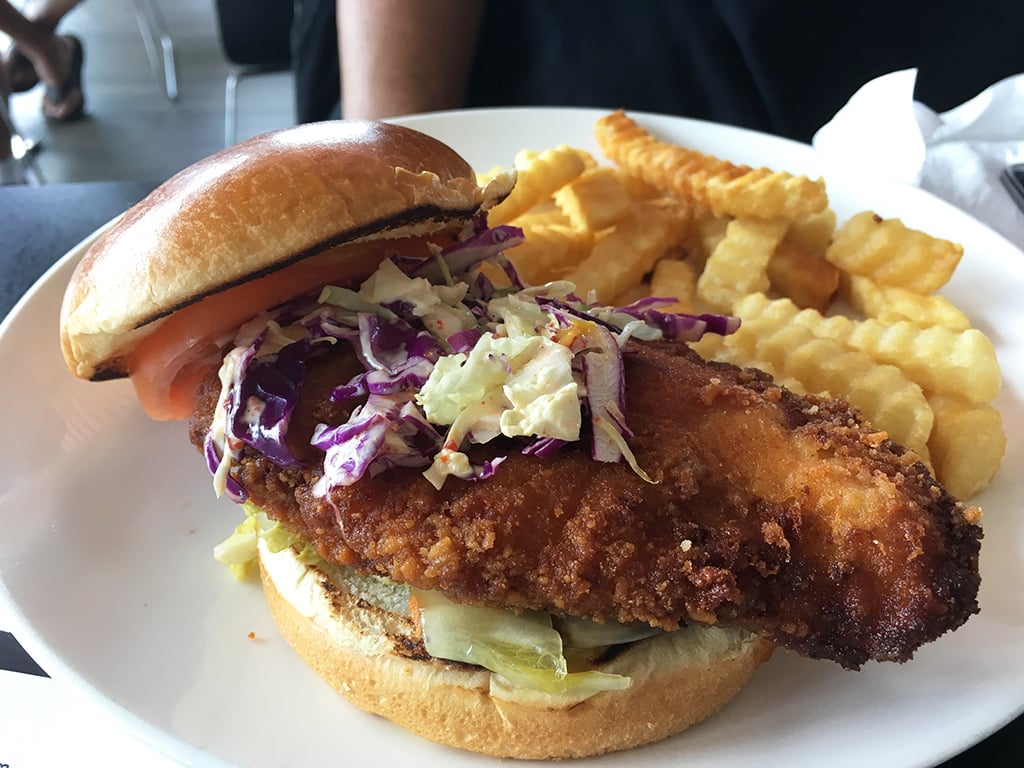 Photo: Christi Young
Ramen fried chicken sandwich
Because we had to consider our non-spice-loving kids we didn't order as wide a variety as we would have liked; with main plates ranging between $13 and $22 it can quickly get pricey. There also were few vegetable options, except for salads, so we didn't worry about a balanced meal. We did want to try other items such as DB Grill's signature kalbi plate with duck-fat fried rice and sautéed kimchi. So we might make another trip out for lunch, then load up on a fruit and vegetable-heavy dinner at home.
DB Grill, 4450 Kapolei Parkway, Suite 560, Kapolei. Open Sunday through Thursday, 11 a.m. to midnight; Friday and Saturday, 11 a.m. to 1 a.m. Reservations are accepted. (808) 376-0885, dbgrillhi.com.