Family Pets Can Make Kids Healthier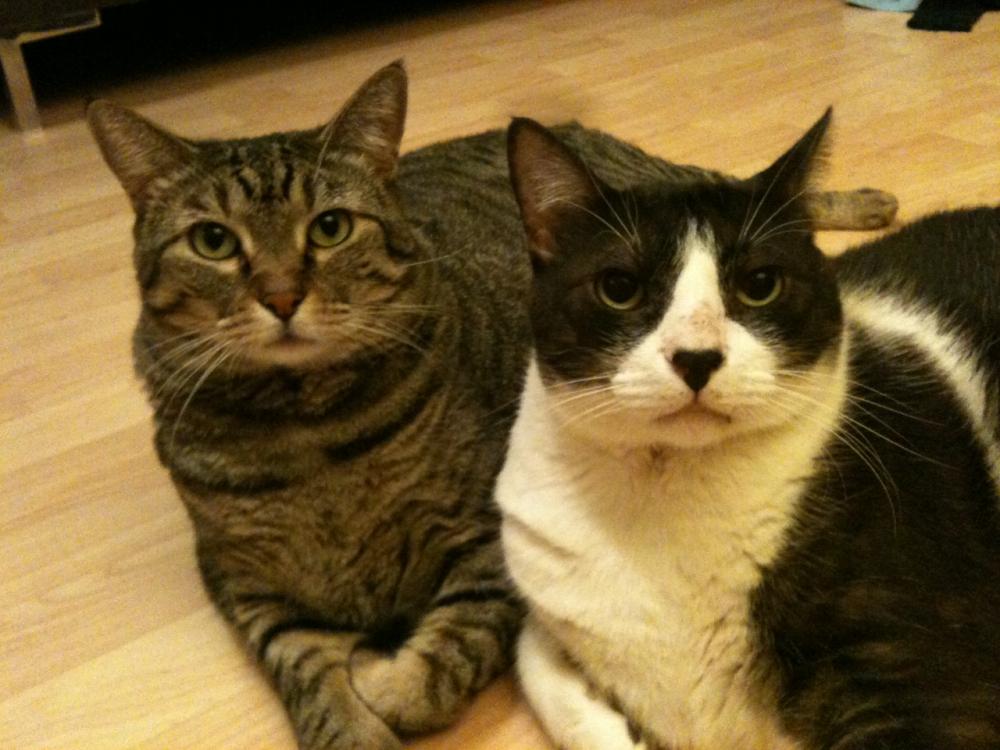 For someone who never really grew up with pets, I'm not sure how I turned into a cat lover. I have to think that meeting my wife Kelly had a huge influence. She had a plump fur ball named Kitty who has since passed.
When we moved to Kaimuki before getting married we adopted our first cat at the Hawaiian Humane Society. A tuxedo cat with a black mask walked up to us, pushed his way into our arms, and entered our lives forever. His name is Jabbey and he has been part of the family for the last 10 years.
Along the way, Solomon (aka Solly) joined our group, a furry Maine Coon given to us a by a friend who Jabbey accepted and enjoyed. He sadly died of heart attack and left us much too soon. After the tragic event, we could see Jabbey was affected by the loss so we decided to adopt another cat—a black and grey tabby we named Tikki. She and Jabbey are now inseparable pals.
Our cats have brought Kelly and me much love and happiness over the years, but we knew things were going to change once we had children. We were concerned about cat allergies and whether or not our cats would be jealous of our children and act out. We also discussed the possibility of having to give them up if faced with challenges of raising cats and kids.
Fortunately, we were lucky that our cats immediately responded with curiosity and love after bringing Ensen and Avery home from the hospital.
Today, my kids and cats share special bond. Jabbey can always be found lying around the kids when they are sleeping, as if protecting them from harm. The kids in turn, love chasing them around the house, providing a great feline workout. The kids are very empathetic towards both cats. Tikki enjoys the attention she gets from Avery.
We believe that having pets around the house has taught our children much about being kind, gentle, caring, patient and loving. The cats have also proven to be good kiddie companions. My children are often found talking and joking with them. From an emotional and physical development standpoint, pets rock!
As I was doing some research for this post, I also came across some research in the Journal of Pediatrics and a subsequent story in the Huffington Post titled "Pet Health Benefits: Study Shows Dogs and Cats May Make Kids Healthier."
The story notes, "New research in the journal, Pediatrics shows that children who live in a home with a pet during their first year of life are also more likely to be healthier, compared with kids who don't live in pet-owning household. Specifically, kids who had a dog during their first year of life had 31 percent fewer respiratory tract infections than kids who didn't live with a dog, researchers found. Kids from dog-owning homes also had fewer ear infections, that's 44 percent fewer than kids from non dog-owning homes, and needed fewer antibiotics, researchers found. Cats also seemed to have a beneficial effect on kids' health, but not as strong as dogs, the researchers said."
I had no idea having pets in the house could have such a positive health impact on our children. It might explain why Ensen and Avery don't get sick too often and don't have allergies.
The benefits of bringing a pet into a home with kids are great. Aside from helping to improve your children's immune systems and overall health, adopting a cat, dog or other loving animal will surely bring much joy and happiness into your lives.
Nathan Kam is a Honolulu public-relations executive, husband and a proud daddy of two incredible kids, Ensen (5) and Avery (2), who enjoys cooking, gardening, traveling, blogging and golfing. You can reach him via email, Twitter, Facebook, LinkedIn or via his personal Kam Family Blog.