Family Matters: What's New
Updates and items from our advertisers and partners.
NEW LOOK
Hawaii Association of Independent Schools Education Fair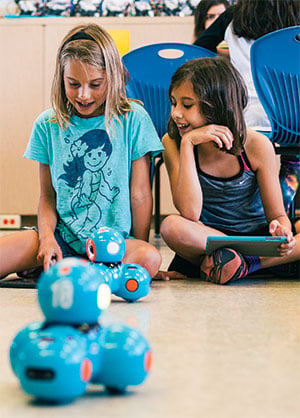 HAIS's Admissions Fairs have been a great resource for parents looking into independent education for years. In 2016, the event is receiving a 21st-century-education makeover. What does that mean for parents? User-friendly sessions on new trends (what is a maker's space anyway?), interactive demonstrations and more hands-on activities for the kids centered around robotics, movement and other subjects found in classrooms today.
There is a misconception that the type of learning we're talking about is more rigorous," said Deanna D'Olier, HAIS director of programs and communication. "It doesn't mean piling on the workload and taking more AP classes. It's about looking at a skill set differently, looking at creativity and collaboration."
You'll find examples at the Education Fair's four learning corners, where independent schools will demonstrate robotics, a maker's corner, art and movement such as physical education, dance and hula. All of the activities will be interactive and will include architecture art, 3D design, game technology, STEM activities and making a wearable plumeria rosette.
That's not the only new feature at the fair. For the first time, HAIS has invited nonprofit organizations that support families to have booths, including the YMCA, Hawaii Children's Discovery Center, Let's Move Initiative and the Polynesian Voyaging Society. The Art Explorium will host creative art projects using reusable items and Archery for ALL will have bows and arrows (with child-friendly soft tips) at the ready. Most of the 35 preschools and schools taking part in the event will have activities including educational ipad games, trivia wheels and make-and-take egg shell planters to keep your little one occupied while you chat with their representatives about their unique missions, programs and curriculums.
If you have questions about money, the popular "Financing an Independent School Education" session is at noon, "Applying to an Independent School" is at 10 a.m. and HAIS executive director Robert Landau will help demystify education lingo in the new "Understanding 21st Century Learning" workshop at 11 a.m.
Break-out sessions are aimed at parents, but kids can sit in on them as they need to be supervised at all times. "A good strategy would be for one parent to attend the sessions, while the other one enjoys the fair with the kids," said D'Olier.
There will also be free giveaways. Each person will receive a free raffle ticket upon arrival and at least two prizes will be announced every 15 minutes throughout the event. Prizes include: Art classes at the Art Explorium, admission to Hawaii Children's Discovery Center, movie and restaurant gift cards and more.

Participating Schools:

Asia Pacific International School

Assets School

Central Union Church Preschool

Christian Academy

Damien Memorial School

Hanahauoli School

Hanalani Schools

Hawaii Baptist Academy

Hawaii Preparatory Academy

Holy Nativity School

Hongwanji Mission School

Honolulu Waldorf School

Iolani School

Island Pacific Academy

Kaimuki Christian School

Kawaiahao Church School

La-Pietra - Hawaii Schools for Girls

Lanakila Baptist School

Le Jardin Academy

Mary, Star of the Sea

Mary, Star of the Sea Early Learning Center

Maryknoll School

Maui Preparatory Academy

Mid-Pacific

Montessori Community School

Our Lady of Good Counsel - Preschool

Pacific Buddhist Academy

Punahou School

Sacred Hearts

Saint Clement's School

Saint Louis Academy

Saint Mark Lutheran School

St. Francis

The Cole Academy

The St. Andrew's Schools

Non-school exhibitors:

Aloha Publishing Hawaii

Archery for ALL

Art Explorium

Elite Prep Hawai'i Educational Services

Hawai'i Children's Discovery Center

HOCU (Honolulu Federal Credit Union)

Honolulu Theatre for Youth

Leahi Swim School

Oahu Fresh

Polynesian Voyaging Society

YMCA of Honolulu

94.7 KUMU The Rhythm of Hawaii
HAIS Education Fair, Saturday, Sept. 24. 9 a.m. to 1 p.m. at The Ala Moana Hotel Hisbiscus Ballroom. hais.org
EXPANDING
Sylvan Learning Robotics Classes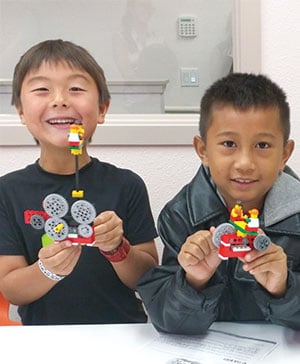 This fall, even more kids will have a chance to build and program robots, design bridges and play with levers, motion detectors and programming at Sylvan Learning. The Best of HONOLULU Family-winning tutoring centers are adding additional robotics and engineering courses to its curriculum. This means not only more space for beginners—students can start as young as first, second and third grades—but advanced students can take their education even further.
"We have the kids start by making robots, talking about robot gears, axles, motion detectors and how cameras work, then move to hands-on building, then they start creating their own," said Sylvan Learning Mililani executive director and owner George Naito. "We encourage the kids to talk among themselves and feed off each other."
Sylvan offers the S.T.E.M-based classes both as weeklong camps during breaks and weekly, one-hour courses so kids have a chance to join in all year round.

Sylvan Learning, 4211 Waialae Ave., #30 in Kahala and 95-1249 Meheula Parkway in Mililani. sylvanlearning.com